The Ceramic Tile Education Foundation (CTEF) is pleased to announce that the $10,000 matching grant from the National Tile Contractors Association (NTCA) to financially support CTEF generated a record response. More specifically, CTEF received tremendous support from three generous company sponsors totaling $25,000 in just one day. When combined with individual gifts and the NTCA grant, the amounts raised totaled over $40,000.
"We never imagined being able to triple the original goal that NTCA's $10,000 matching grant envisioned," said Scott Carothers, CTEF Director of Certification and Training. "Every single donation represents an affirmation that the CTEF mission educating and certifying tile installation professionals benefits the entire tile industry and must continue. We are extremely grateful."
The three corporate gifts were unexpected and greatly appreciated.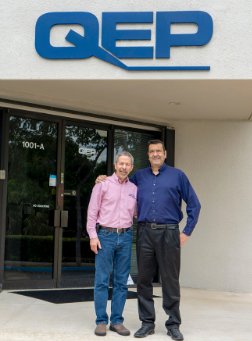 Len Gould, president and chief executive officer of QEP, The Americas (pictured at left with Scott Carothers), started the day off with a phone call to Scott Carothers saying that he wanted to donate the balance of the matching challenge in the amount of $7,500. He stated, "There is a severe talent shortage of tile and stone installation professionals, and that's why QEP is proud to stand with CTEF to educate, train and supply future installers. We have great respect for the profession and want to do everything possible to encourage more women and men to get into this trade. Personally, I am very proud of our long relationship with CTEF and NTCA, and we sincerely appreciate the opportunity to give back to our end users."
Less than an hour later and with no knowledge of the donation from Len Gould and QEP, Jim Whitfield of MAPEI called Carothers, saying that his company wanted to complete the matching challenge in the amount of $7,500. He subsequently made a second call to announce that they wanted to increase the amount to $10,000.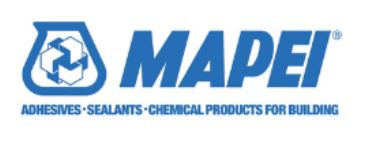 President and CEO of MAPEI, Luigi Di Geso said, "From the founding of MAPEI in Italy in 1937 until today, education and innovation have always been two of our cornerstones. We are proud of our leading role in the industry and of our continued partnership with CTEF and we look forward to seeing CTEF's future programs and to the continued growth of the industry."

Within the same hour and not aware of the other donations, Will White of Custom Building Products donated on the CTEF website through PayPal to complete the matching grant in the amount of $7,500. Will White said, "Custom Building Products strongly supports the efforts of CTEF which raises the level of installer competence in the tile industry. Through education, the availability of quality-oriented tile installation will increase, which will grow the use of ceramic tile."
"We were stunned that within 60 minutes, three tile industry leaders recognized the need of CTEF and rose to the challenge," added Carothers. "These examples of extreme generosity demonstrate that people within the tile industry genuinely care about the future of their industry and are willing to support the needs within."
Although the matching grant campaign is closed, anyone wishing to donate to CTEF can do so by visiting https://www.ceramictilefoundation.org/donate-now