There is no doubt that Unmanned Aircraft Systems (UAS) or "drones" are changing the way that contractors do business. Drones provide a whole new way to provide stunning imagery and videos that connect with potential customers in a whole new way. Tile and stone contractors are using drones to showcase exterior patios, decks, and hardscapes in a way that was not possible even a few years ago. The hardware cost was once a barrier, but now you can get a high-quality drone with an exceptional camera for less than $1,000. Not only are contractors using them for marketing materials, but some are also using them to get quantities for their estimates. Some contractors are even using 2D drone images and converting them into 3D computer renderings as a high-powered tool to turn leads into satisfied customers.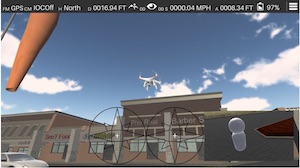 As exciting as the technology is, we wanted to do a deep dive into what the rules are and any resources that tile and stone contractors should be aware of. Dr. Joseph Burgett at Clemson University helped answer some questions. Burgett, or "Dr. Drone," as his students call him, is a Part 107 pilot and teaches a wide range of UAS courses. He is also the President and Director of the nonprofit South Carolina Interagency Drone Users Consortium (SCiDUC).
Are there rules governing drone use? "Absolutely!" Burgett said. "However, the good news is that they are common-sense and easy to follow."
If you are going to fly your drone "commercially," you are more than likely going to be required to follow the FAA 14 CFR Part 107 (Part 107) rules, he explained. These are federal regulations issued by the FAA and apply to every state. The FAA classification of "commercial use" is pretty broad, and if it has anything to do with your business, it likely will fall into that category. While not a complete list, the following are some of the most applicable regulations.
Fly only during the day
Don't fly over people
Always yield the right of way to manned aircraft
Don't fly higher than 400 ft. above the ground
Maintain a constant line of sight with the drone
Don't fly more than one drone at a time
Don't fly your drone while in a moving vehicle (there is actually an exception to this one!)
Don't fly in controlled airspace without air traffic control authorization
Operators must pass a written exam and earn their FAA remote pilot certificate
"Those last two bullets are the ones that scare contractors away from using drones," said Burgett. He added, "They really shouldn't! Yes, you need to pass a test, and yes, you need to know what airspace you're in so you can request authorization. However, these are all knowable things!" Burgett said. The Part 107 rules were designed for regular people and not just those with 20 years of aeronautical experience. The secret is to get help.
Learn about drones online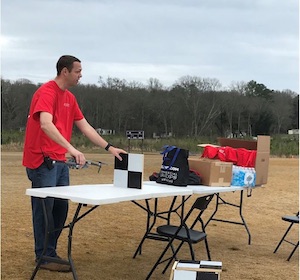 Through Clemson University's professional studies extension, Burgett teaches an "Applied Drone Technology" course tailored explicitly for contractors. The intent was for this to be a one-stop-shop that provides contractors everything they need to start using drone technology. The course is online and self-paced, so professionals can learn what they need at their own speed.
The comprehensive curriculum has four main parts.
The first part focuses on getting contractors their FAA Part 107 license.
The second part takes that to the next level and shows contractors how to perform Part 107 tasks with free apps, websites, and other online tools. These tools allow contractors to quickly find airspace classification, request instant air traffic control authorization, and find airport radio frequencies. The course comes with a suite of checklists and recordings from experts on topics such as drones and privacy.
Part three of the class teaches how to fly. Burgett uses a cutting-edge simulator that approximates the physics of 14 of the most common drone models.
The fourth part of the course is to use drone data to create 3D models, which can be used to take off quantities, create orthophotos, renderings, and topographic maps. Those interested in the course should visit Clemson University's website at https://cu-pro-ed.catalog.instructure.com/ for more information.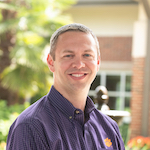 Joe "Dr. Drone" Burgett is a tenured faculty member in the Nieri Family Department of Construction Science and Management at Clemson University.  He has been in university-level academics since 2010 and teaches both undergraduate and graduate-level courses. By trade, Dr. Burgett is a General Contractor and has spent many years teaching online courses for the trade unions.  His primary area of research is in applied drone technology and has worked extensively with the SCDOT.  His research area focuses heavily on using UAS technology for bridge inspections and creating 3-D models to support field operations.  He has published multiple peer-reviewed articles on UAS technology, including titles such as "Accuracy of Drone Image Based Volumetric Surveys," "Evaluating the Use of Unmanned Aerial Systems (UAS) to Perform Low-Slope Roof Inspections," and "SCiDUC: Solution to Address Common Challenges of State Agency Drone Deployment." Dr. Burgett was named Clemson University's 2018 Master Teacher, the University's highest teaching honor.  He currently serves as the President and Director of the South Carolina Interagency Drone Users Consortium (SCiDUC).  SCiDUC is the state's only 501c3 nonprofit drone association exclusive to South Carolina government agencies.  Dr. Burgett is also an accomplished speaker.  He is a familiar presenter at Associated Schools of Construction and American Institute of Constructors conferences.  He has also spoken at the International Symposium on Automation and Robotics in Construction and the International Conference on Construction Applications of Virtual Reality.