Eric Tetrault links technology and certification to his credibility and success
In the One-to-One column, NTCA Executive Director Bart Bettiga interviews industry leaders about pertinent topics. Watch the entire interview on the TileLetter YouTube channel.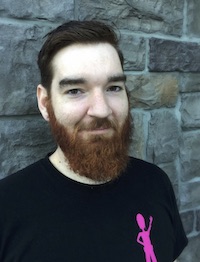 Eric Tetrault of Casavant Tile in Saugerties, N.Y., is quite simply made of the "Right Stuff." Eric is one of those people you would want next to you in almost any setting in life. I have known him for many years, and as a sole proprietor tile artisan and business owner, he has earned the respect of many of his peers for his passion for our industry and his professionalism in his approach to the trade.
Eric is a Certified Tile Installer (CTI) and has also passed many of the Advanced Certification (ACT) tests offered by the Ceramic Tile Education Foundation (CTEF). He also recognized how his high-end residential installation business, Casavant Tile, could benefit from the NTCA Five-Star Contractor Program, and took the time to complete his application. Casavant was quickly approved by the NTCA Five-Star review committee. Eric recognizes the unique benefits that are afforded to tile artisans who embrace technology and who get an early start at new market opportunities.
---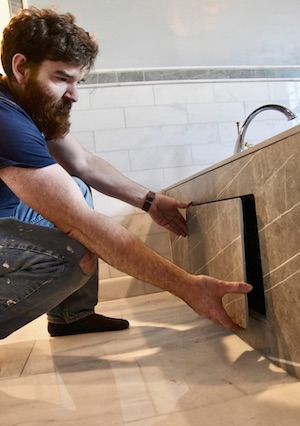 You maintain that certification and training are integral to your success. What led you down this path?
I got involved in the trade associations, including the NTCA, quickly. I also took advantage of manufacturer training programs offered by suppliers. This made me aware of certifications offered by CTEF and I quickly took advantage of those opportunities. I was the fifth tile installer to successfully pass the ACT tests when they were offered. I took the tests on the trade show floor in Las Vegas. I considered that to be an honor and a privilege.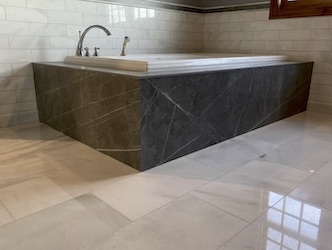 How has certification benefitted you and your company?
There were not a lot of certified installers in my area, so right away I saw a chance for me to separate my skills from others. Also, the test process provided me with opportunities to learn areas of my craftsmanship that I could work on and improve. I took the tests early in my career, so this was important to me. I do a lot of very high-end tile work, and the type of projects I do requires me to have the proper credentials. This is also why I applied for NTCA Five-Star status and was thrilled to be approved. To be successful in high-end tile installation, you must be willing to embrace challenges and be open to learning new techniques and to be receptive to innovative technology.
Large-format gauged porcelain tile panels in different thicknesses have been around for some time now. You embraced this technology when it first came out. What prompted you to do this, and how have you incorporated this into your business?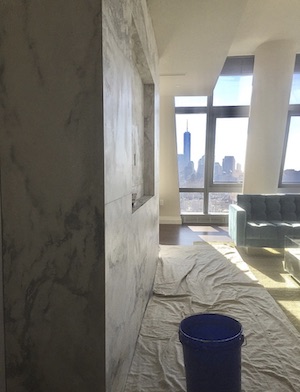 I have always felt that I needed to be looking at products or technology that would offer new opportunities for me. If porcelain slabs were going to be making their way into the industry in a big way, I needed to educate myself on them and seek the necessary training. If you want to be known as the leader in your market, you must absorb the information, invest in the training and the materials, and gain the credentials. You can't invest in the technology and commit to effectively training your crews in new products if you don't first learn it yourself. So, this is what I did as it relates to large-format gauged porcelain tile panels.
I took advantage of every opportunity I could with these products because they were new. I went to many different cities and met with the manufacturers and the suppliers and interacted with others who were getting trained. You must take the time to work with these products before you can recommend them to your clients and install them in their homes.
What tips can you share with our readers on your experiences working with this technology?
Like anything, there is a learning curve. With these products, the proper tools are important, and understanding logistics – like safely transporting the products to the jobsite – is as well. You must have communication with the design and specification teams to discuss these challenges and make good decisions on size and layout, for example.
The material itself presents its own challenges and you need to understand the proper tools to invest in to successfully install the tiles. Selecting the proper tools to cut and grind the material comes into play, as does selection or installation of profiles for finishing.
One of the biggest challenges I have found is that Product A might need different saw blades than Product B, and the blade recommended for product A or B might not give you the most desirable results. Sometimes the right tool doesn't exist, and you need to build or invent a tool to do the job. This was an experience I found in the field that was not necessarily covered in the training.
What advice would you give to someone starting out in this category related to investment in materials and tools?
That can vary. I didn't take the approach to spend thousands of dollars on a starter set before I secured the work. I went and got properly trained, and then I let the jobs come in and ordered tools based on my needs. One job might need a few thousand dollars in tools from column A, but the next one might require $10,000 of tools from column B. I invested as needed. You can soften the financial impact by factoring that into your pricing and labor.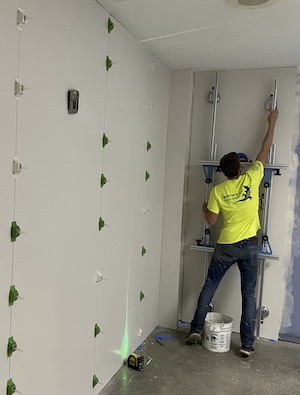 What have you learned about how to price your labor for these types of products?
Every job is different. Sometimes two slabs a day is reasonable, but sometimes you can do 20 a day. It depends on the logistics. You must be very careful with the material due to the costs and the sizes of the pieces. There's no standard waste factor either like many people use when calculating tile footage. You're working in up to 50 sq. ft. increments. You want to build some waste and possible breakage into the job to cover yourself if you need an additional slab or piece. Pricing varies on the type of job you are doing. You want to be fair in your pricing, but this type of material is challenging and expensive, unique and delicate. You don't want one broken slab to be the only thing between a profit and a loss. I have installed more than a thousand slabs, and I can say that the more experience you gain from working with the material the more knowledge you will have in understanding your costs and your profit. You are developing a long-term relationship with your clients so you want all parties to be satisfied!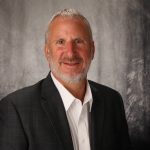 Bart Bettiga is the Executive Director of the National Tile Contractors Association and Publisher of TileLetter. Bettiga is a member of the Board of Governors of Coverings, one the largest tradeshows in North America. He has over 30 years of experience in the tile and stone industry and has served as the NTCA Executive Director since 2002. He is a well known speaker and author on ceramic tile and natural stone distribution and installation. He oversees the financial operations of the NTCA, TileLetter and the Ceramic Tile Education Foundation.