Chase Center, the home venue for the Golden State Warriors of the National Basketball Association (NBA), had its official grand opening on September 6, 2019, highlighted with a concert by Metallica and the San Francisco Symphony. The first preseason game at the Chase Center took place on October 5, 2019, as the Warriors lost to the Los Angeles Lakers, 123–101. The Warriors played their first regular season game there with a 141–122 loss against the Los Angeles Clippers on October 24, 2019.
Whereas these two matches resulted in losses, the construction process of the Chase Center turned out to be an absolute winner.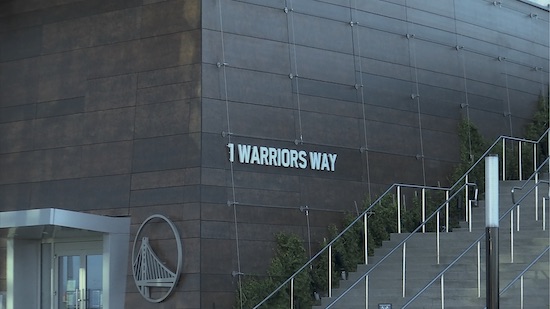 Bostik PanelTack™ system in demand for Neolith cladding material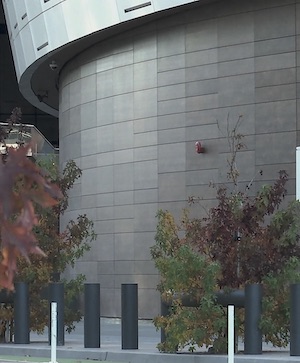 The arena is composed of multiple layers and floors, has a seating capacity of 18,064 and a multi-purpose area that includes a theater configuration with an entrance overlooking a newly built park. The venue also contains 580,000 sq. ft. of retail space. Bostik's revolutionary façade cladding system, PanelTack™, was specified. The story of how this took place is particularly interesting, as product specification was made well before PanelTack was formally introduced to the United States.
Evolv, a blue chip direct source distributor for engineered quartz, sintered stone and natural stone, received a specification contract from architectural giant Gensler. The firm was tasked to deliver Neolith® cladding material to be installed on the walls of Chase Center's retail space. According to Peter Wazna-Blank, Vice President of Evolv, "We distribute Neolith, a Spanish company that produces a lightweight, large-format sintered surface, to seven states in the Pacific Northwest. Our colleagues at Neolith were emphatic that for this project, we included an installation product by Bostik that had received rave reviews throughout Europe for years. We quickly found out that this product, a 'chemical method' for façade cladding, was called 'PanelTack,' and indeed had been successfully used in Europe for more than three decades. We contacted Bostik, and were directed to Daniel Sanchez, Bostik's Sales Director for Latin America, based in Monterrey, Mexico. We found out that although PanelTack was not at that time distributed in the States, already hundreds of restaurant and hospitality projects were insisting on this system for stateside projects. Daniel quickly gave us a highly professional presentation of the benefits offered by this system."
Benefits of PanelTack chemical method
According to Sanchez, "Whether it's for new building or retrofit projects, PanelTack offers an amazingly clean, modern look with a blind attachment method. Post-installation, one does not see any of the attachment pieces such as unsightly fasteners and support clips, which can lead to streaks of dust and dirt appearing on the façade. Additionally, with this system, no electrical plug-in source is required on the jobsite. The result is no harmful silica dust, and no harsh noise caused by drilling and screwing. Importantly, there is no weakening of the panel. For example, thinner wall panels, such as large-format gauged porcelain tiles, can easily be used in conjunction with PanelTack."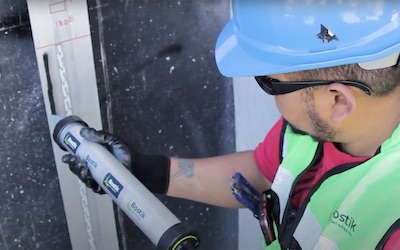 Sanchez added that PanelTack's chemical method is more resistant to vibrations and tremors than any mechanical method; there are no cold bridges and there is more favorable stress distribution with this system. PanelTack also improves both acoustic and thermal efficiency of the building, while increasing its lifespan. "People inside experience noise reduction, stable temperature change, cost reductions on HVAC, and more," stated Sanchez.
"So we did some testing," continued Wazna-Blank, "and discovered that PanelTack would cover 95% of the panels planned for the Chase Center retail area. Most importantly, we found out that once the material has cured, it's almost impossible to get it off the surface to which it is adhered! Moving forward, we went to Gensler, showed them all these benefits – and PanelTack™ quickly became part of our specification!
"It's much easier to apply than typical thinsets for large-format panels," Wazna-Blank added. "Frankly, it's a great solution for all large-format cladding projects. This system is fully available in the United States now, and many new projects have been specified."
The Chase Center project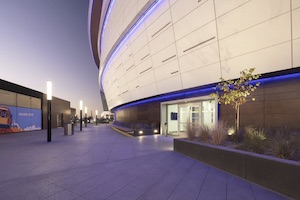 At the cost of roughly $500 million, the Chase Center broke ground on January 17th, 2017, and opened its doors 33 months later. Manica Architecture was the building's design architect, while Gensler primarily handled the interiors. The structural engineering firm was Magnusson Klemencic Associates and general contracting was handled by the joint venture of Clark Construction Group and Montenson Construction. More than 1,200 workers representing 96 different trade suppliers worked on site, collectively putting in place $2.3 million of work daily.
Despite the rapid pace of construction, the project maintained a stellar safety record with an incident rate four times lower than the national average.
"Simply stated, we're very proud to have contributed to this great project," declared Wazna-Blank.
Inside-to-outside opportunities for tile contractors and distributors
With eyes on the future, many of today's most progressive tile contractors and distributors have expanded their respective businesses by getting into more vertical applications, both indoors and outdoors. One reason for this was the introduction a few years ago of thin-gauged porcelain panels, which can be very large and very lightweight. "This process has only scratched the surface," stated Bart Bettiga, Executive Director of the National Tile Contractors Association. "Opportunities will continue to grow for products such as these."
"Bostik has helped companies such as Evolv get specified in both interior and exterior applications because of PanelTack and Bosti-Set™, not just large entertainment complexes and arenas like Chase Center, but for casinos, retail, office, schools and universities, and multi-family buildings," added Adam Abell, Bostik's Senior Market Manager for tile and stone installation systems. "This applies to applications,
as well.
"There's a significant opportunity for the tile business as a result of the success of gauged porcelain tile panels," concluded Abell. "Tile professionals should consider the fact that PanelTack allows for continuity of design in interior and exterior spaces. Many of these traditionally indoor materials can be used outdoors, and vice versa. PanelTack opens the door for tile installations in various non-traditional spaces in projects – further enhancing design – as well as sales and installation opportunities for the tiling community!"