– sponsored content –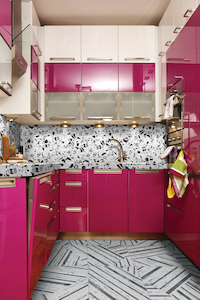 Style and design surround us no matter the time of day or where we are. The personality of a room or the energy of a space impacts how we feel. This is your guide to creating fresh, breathtaking spaces with hotly anticipated interior design trends. This is Daltile's 2022 Trend Report.
Restore your mind, body, and spirit with the calming and nurturing trend that is Restorative Nature. This response to humankind's separation from nature establishes a deeper connection with oneself and the natural world.
Self-Expressionism unleashes the true inner self, personal style, and individual identities through interior design. There's no right or wrong with this style. Personal preference and what sparks happiness within are enough to make this trend come to life in any space.
Dig deeper, look back, and reclaim history with Origins Exploration. This trend encourages humanity to reach back in time and bring back pieces from the past to find harmony in a time of uncertainty.
Feminine design is the future and is celebrated with Female Celebration. Soft, round shapes illustrate the gentle energy women hold. Another important aspect of this trend is how something gracious, delicate, and fine can also shine with the strength inherent in the female spirit.
Take a breath and slow down. Noble Simplicity invites designers to revisit the essentials and reconnect to purity, minimalism, and fine craftsmanship. Eliminating outside chaos brings serenity and calmness into a space.
Nostalgia Escape takes design back in time to a world of joy and safe spaces. This trend builds upon past positive emotions while embracing new hopes, leaving people feeling inspired and creative.
Humanity and technology embrace within Tech Retreat. Dreamy digital-inspired interiors meet the day-to-day lives of many as this trend explores the interaction of people, technology, and the world.
Though these trends differ from one another greatly, they bring people together with a focus on individuality. Each of these trends highlights unique personalities and energies while creating a safe space for people to feel themselves in. Imagine what's possible with Daltile's 2022 Trend Report!