Dalton, GA (September 13, 2022) —The Floor Covering Education Foundation (FCEF) recently welcomed Curt Hutchins, President of Residential Carpet at Mohawk Industries, to its board of directors. Hutchins has been leading powerhouse businesses for nearly 20 years. Prior to starting his role at Mohawk Industries, Hutchins led several large groups within Eaton – a multi-billion-dollar power management company doing business in more than 175 countries.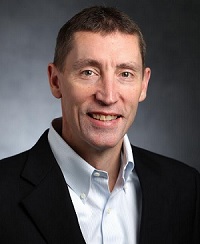 "Curt is fairly new to the flooring industry and brings an outside perspective that we are excited to tap into," said Jim Aaron, Executive Director of FCEF. "His business record and global knowledge will be an asset to this dedicated board of directors and the FCEF team."
Hutchins will take on this new role effective immediately and will begin advising the FCEF team. He will join the board in person this fall when they gather in Nashville, TN on November 17th.
"Over the past two and half years, I've learned the ins and outs of the flooring industry," shared Hutchins. "I'm now excited to use my experience and industry knowledge to help the entire industry thrive."
"We are privileged to have the dedication of so many great leaders in our industry," added Aaron "Curt will undoubtedly be an impactful addition to this group. We're looking forward to tapping into his operational expertise to help grow our programs and accelerate our success."
The FCEF Board of Directors consists of representatives from manufacturers, retailers, and industry organizations to provide a wide range of perspectives on solving an industry-wide issue – the shortage of qualified installation craftsmen. Hutchins will be filling the board of directors' seat previously held by fellow Mohawk Industries executive, Bill Gaddis.
To view the entire board, please visit fcef.org.
---
About the Floor Covering Education Foundation
The FCEF was established to support the floor covering industry in several ways depending on the current needs of the industry. The mission of the FCEF is to bring awareness to the opportunities in the flooring industry, recruit new talent, aid in the funding of the student's education, and facilitate job placement for these individuals into flooring industry careers.