Fischer Tile & Marble, based in Sacramento, Calif., (fischertile.com), was established in 1906 by Henry Prince Fischer Sr., 113 years ago.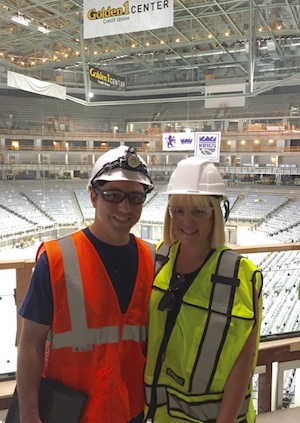 Henry was Taryn Fischer and brother Trent's great grandfather. This brother-sister team are now the fourth generation to lead the company. Trent runs the solid surface operation and Taryn is project managing the tile side. She got her start at the company, working during summers in high school and college, then went on to work for Daltile. 
"I worked for Daltile for 10 years after college, and have now been with Fischer Tile for one year," Taryn said. "Daltile gave me an excellent foundation for the tile business, and helped me show my dad Jay Fischer my economic value when I came to Fischer Tile." She now brings this corporate experience to the family business. 
A true family business, Fischer Tile extends that family ethic and respect to its employees as well. This contributes to longevity among its employees – Taryn said the average employment duration in the office is 18 years. 
"We have an excellent team and do excellent work," she said. "I will be the first woman owner (co-owner with my brother) and I am thrilled. I am empowered to be working in the construction industry and very proud of what we do."
Fischer Tile is a commercial tile and stone subcontractor with a residential, granite and Corian business as well. This union shop – a member of the Northern California Tile Setters and Finishers Union – specializes in ceramic tile, stone/solid surface fabrication and installation. The company works on a wide range of projects: education (schools/universities); hospitality (hotels, casinos, arenas); government (military bases, offices); corporate (utilities, offices); and healthcare (hospitals, assisted living communities). The company has won numerous awards for its stunning projects. 
Though a union shop, Fischer Tile has had a long association with the NTCA – even before it was officially "NTCA," Taryn said. 
"My dad was a member of the Southern Tile Terrazzo and Marble Contractors Association (STTMCA) in the late 1970s, which then became the American Tile Terrazzo & Marble Contractors Association (ATTMCA), which then became the NTCA," she said. "He also served as President."
"I was brought up to understand the importance of membership in trade organizations that create community and strengthen the industry with education/new technology training," she said. "For me, being active in trade organizations is a great way to enrich my professional experience. The tile business is changing, improving and growing. Standards and best practice methods need to be created and met. My dad and his dad proved they understood the flux of industry and have helped our business to thrive by being agile, ready to adapt and progressive. I see the tile business as a community. Staying involved in the community makes us all better."
This union shop has a certified apprentice program. "As an Architectural Sales Representative with Daltile, I would share the benefits of the programming and specifying qualified labor," she said. "The more training, the better for the industry."
Taryn gets a tremendous amount of joy and satisfaction from her work within the tile industry.  
"I think the tile business is the best business," she said. "I am so proud to be part of a business that builds beautiful things. Tile is a lasting finish; our 50-year life cycle is only the beginning. I love knowing I will leave a sustainable and beautiful impact on the world. I am also empowered to be a female in the tile business."
---
Fischer Tile Projects
Harrah's Northern California Casino
This project entailed setting large-format tile over a steel pedestal plate floor system on the casino floor. Fischer Tile and Marble created a system to make sure tile would be supported and effectively transition from the pedestals to concrete slab. With great communication with pedestal suppliers, underlayment representatives and the general contractor, the company was able to devise and execute the installation.