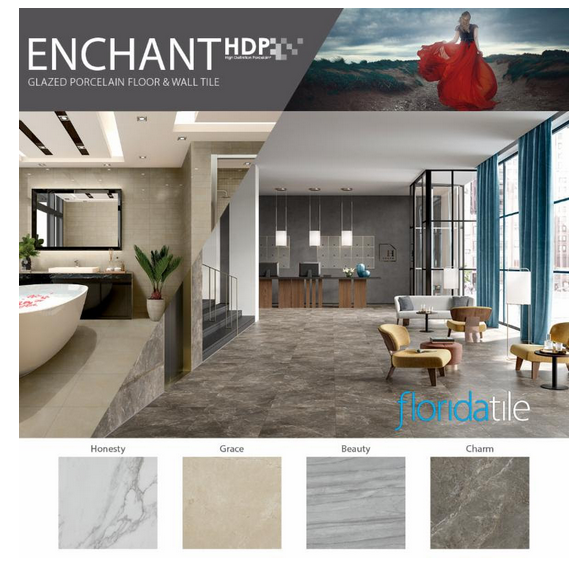 Venture into a world of artistry and elegance with EnchantHDP from Florida Tile. Step back in time – or blaze a path forward with this exquisite representation of regal marbles that blur the secrets of history with the essence of contemporary design. Give into your fantasies and surround yourself with luxury and aspiration that speak confidently of a refined world. Create a space that is at once romantic, serene, and exotic.
This exquisite line of glazed porcelain floor and wall tile brings four stunning marble looks, once only available to the elite few, to the modern market.
Beauty captures the delicate and varied silver tones of linear cut Palissandro marble, a highly sought after and unique material that is mined from centuries-old quarries in the Eastern Alps.
Charm conveys the splendor of Fior di Bosco marble. The varied warm taupe grays, touches of light beige, and striking cream-to-brown veining make this look a visual jewel.
Grace exudes the noble refinement of Crema Marfil marble with a pale beige background and subtle touches of gold, cinnamon, and creamy white.
Honesty is an enchanting dance of soft whites and nebulous grays in a beautiful interpretation of classic white Arabescato marble.
See the complete collection of Florida Tile's 
EnchantHDP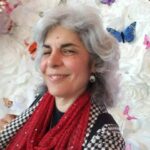 Editorial Director and Senior Writer for TileLetter and TileLetter ARTISAN
Lesley Goddin has been writing and journaling since her first diary at age 11. Her journey has taken her through a career in publishing and publicity, landing her the editor position of TileLetter and its special publications in 2006. Her goal is to educate, inspire, recognize and encourage those in the tile industry -- especially the tile and stone contractor. Other interests include the soft, purring marvels known as cats, labyrinth walking, drumming and percussion, and a range of spiritual, musical and artistic pursuits.