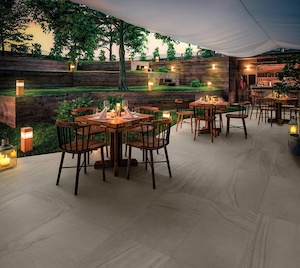 Passenger transports you to far-away landscapes featuring nomadic colorways, and veining that elegantly flows toward spontaneous destinations. This sandstone-inspired collection provides graceful visuals for adventurous yet pleasing designs.
Four color options include: Wander White – a warm vanilla with soft gray striations; Anywhere Beige – combinations of caramel and smoke; Everywhere Greige – mushroom tones with subtle bands of oyster, and Leisure Gray – an amalgam of light and dark pewter tones.
Rectified field tile formats include: 12×24 and 24×24. A random stack mosaic, traditional 25-piece mosaic, and 3×24 bullnose in all four colors beautifully complement the field tile. For outdoor spaces, a 2cm 24×36 is offered in all colors. Step treads are available by special order.
Visit FloridaTile.com for more information.