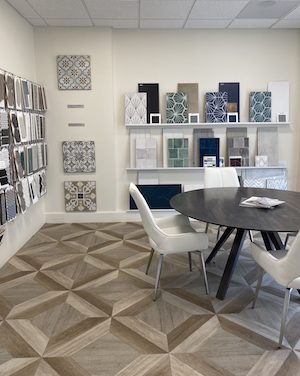 PHILADELPHIA, PA – AUGUST 2021 – Garden State Tile, the East Coast's premier tile and stone distributor, will officially be relocating its Philadelphia Showroom and Design Center to the beautiful neighborhood of Chestnut Hill (affectionately known as the Garden District) in late 2021.
The new luxury showroom, located at 7800 Germantown Avenue, will be just 10 miles from the existing Center City location. Sitting at the base of the hill on the cobblestone streets of "The Avenue," the standalone brick building spans an expansive 3,500 sq.ft. and offers 18 free parking spaces for clients.
"Garden State Tile is excited to join the abundance of design centers, boutique shops, art galleries, and eateries in Chestnut Hill's historic shopping district," says Valerie Hutchinson, Showroom Sales Director. "The move marks a historic milestone for Garden State Tile. We are looking forward to introducing our vast product offerings and concierge design services to the community."
Chestnut Hill is coveted for its relaxed pace of life, while still being close to the world-class theaters, museums, and restaurants in "The City of Brotherly Love." With an abundance of events, culture, and history, Garden State Tile is honored to join the Garden District.
The Chestnut Hill showroom is expected to be open to the public in late 2021. For updates, please visit www.gstile.com.