Earlier this year at Coverings, the Tile Council of North America (TCNA) announced a partnership with Ecomedes, creator of an online database of product information relating to environmental attributes and certifications. The objective of this partnership is to establish ways for designers, purchasers, and users of tile and related installation materials to more easily obtain product information needed to help fulfill their environmental goals.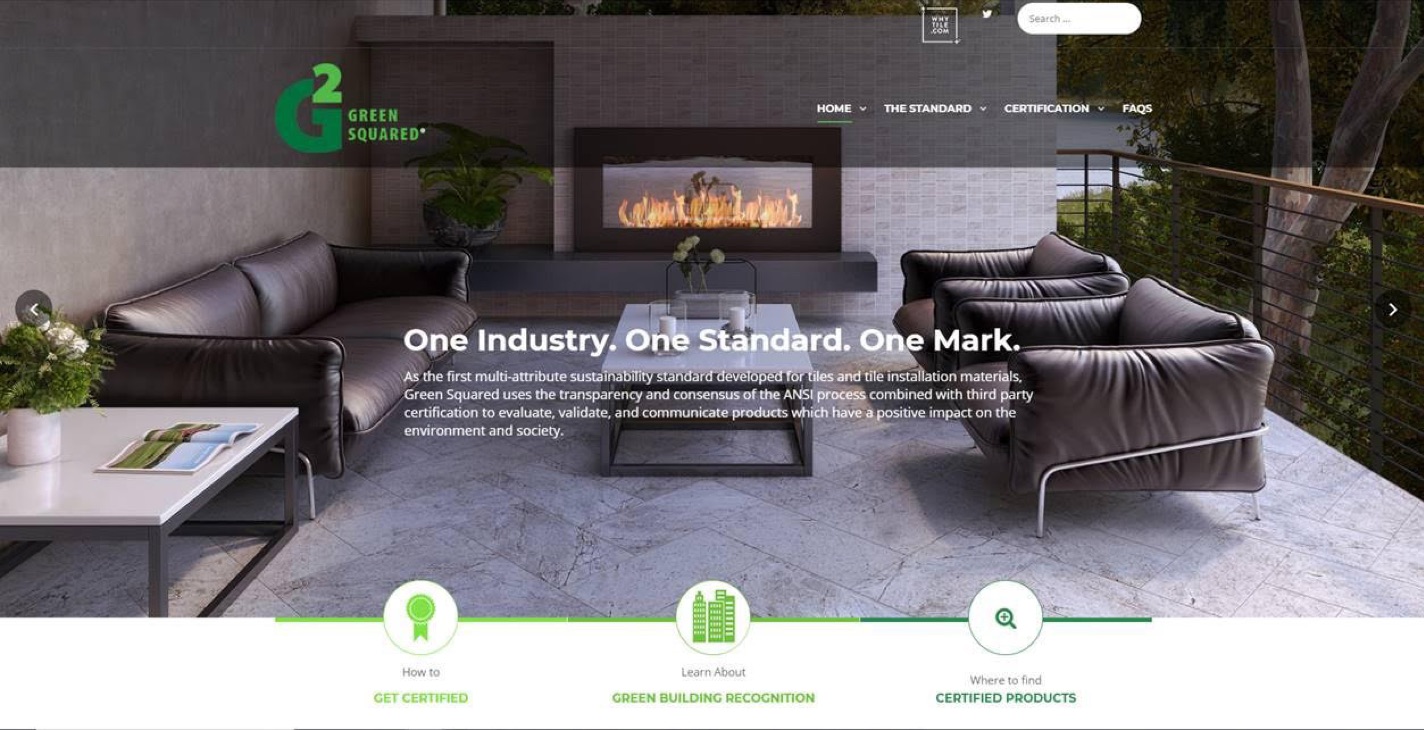 The immediate deliverable of the TCNA-Ecomedes partnership is a Green Squared Certified® product search page which has been incorporated into the Green Squared website. Previously, searching for Green Squared Certified products involved contacting approved Green Squared certification agencies or inquiring with manufacturers. Now, an up-to-date listing of certified products is housed in one place and managed by Ecomedes, who interfaces regularly with participating manufacturers and their Green Squared certification agencies. Plus, each entry within the Green Squared Certified database contains valuable product information that is especially relevant to green building project leaders, architects and designers. These include downloadable certificates, EPDs (environmental product declarations, if available), and additional educational resources from WhyTile.com. Users of the library have the option to filter Green Squared Certified products by manufacturer, certification agency, or Green Squared Certified products that additionally have EPDs.
For sure, establishing a flagship library of Green Squared Certified products is important, but the benefits don't end there. Green building specifiers and purchasers use a variety of broader construction product locator tools. If Green Squared Certified tiles or installation materials aren't 'on the menu' of any given tool, they will not be considered, regardless of their eligibility, the quality of information provided, or how well-known the products are. With Ecomedes hosting the Green Squared Certified product library, the tile industry is well-positioned with a partner that can facilitate an increased number of eligible products being 'on the menu' for consideration in North American green building projects.
All information within the Green Squared Certified product database is syndicated with Ecomedes's master database, Fulcrum (fulcrum.ecomedes.com), which is the green product library used by many of the largest architectural firms and purchasing organizations in the US. Furthermore, Ecomedes has partnered with some of the largest purchasing organizations in the country, including the GSA and California Energy Commission, to develop proprietary libraries that contain only products that satisfy a particular purchaser's needs. As an example, Ecomedes is the exclusive host of the online product library used by Federal purchasing officials to find certified green products: https://sftool.ecomedes.com/. With Green Squared Certified products entered into Ecomedes's database, there is inherent uptake into libraries created proprietarily by Ecomedes for purchasers. 
In today's day and age of database positioning, information partners are extremely important. According to Ecomedes, they "connect buyers and sellers with better data to make a purchasing decision and get the right information needed for projects." To that end, they are a leader in green building, and the tile industry is well-positioned having them as a partner in Green Squared.
Oh, and in case you haven't noticed, the Green Squared website recently received a facelift. For more information about the program and direct linkage to the Green Squared Certified product library, visit GreenSquaredCertified.com.

Griese is a LEED Accredited Professional (LEED AP) with a specialty in building design and construction. The chief visionary behind TCNA's environmental efforts, Mr. Griese manages TCNA's Green Initiative Committee. He is responsible for the development of Green Squared® – the first and only standard and certification program for sustainable tiles and tile installation materials – and industry-wide Environmental Product Declarations (EPDs) for North American-made ceramic tile, tile mortar, and tile grout.
He earned a Bachelor of Science degree in Ceramic and Materials Engineering from Clemson University in Clemson, SC.