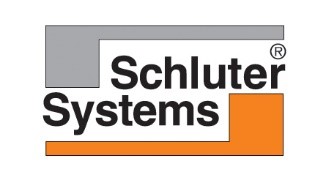 Relocating a drain for a shower can be extremely challenging and potentially expensive in many remodeling and renovation situations.  Residential environments that present these challenges include slab-on-grade construction, basements, high-rise condominiums, apartments and even many wood frame homes where multiple trades would be required to relocate an existing drain.  Commercially, any building with suspended concrete, post-tension concrete or old, vertical chases can present major challenges as re-coring concrete is a costly operation.  To overcome these challenges Schluter Systems has developed the Schluter®-KERDI-DRAIN-H with a 2" horizontal outlet.
The horizontal outlet allows the drain to be connected to an existing drain pipe and P-trap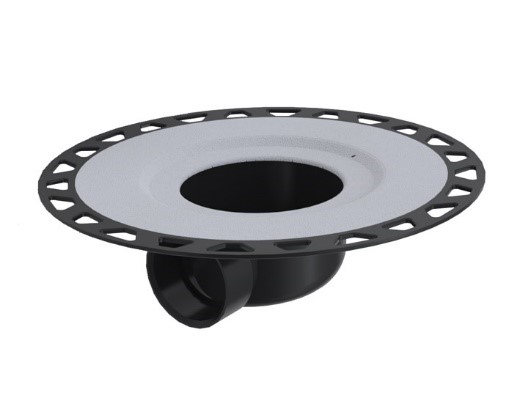 away from the new drain location.  Connecting to existing plumbing from a new drain location can significantly reduce demolition work, mess, and the cost of the project.  In situations where there is no access to the space below the floor, the horizontal drain outlet can bring an otherwise impossible project into the realm of possibility.
KERDI-DRAIN-H is identical in every way to existing Schluter 2" drains with the exception that the outlet is horizontal instead of vertical.  The drain includes the integrated bonding flange and is part of the complete Schluter shower system for constructing waterproof tiled showers.  It is available in both PVC and ABS.
To facilitate installation of the drain, Schluter has also developed the Schluter®-KERDI-SHOWER-CB compensation board.  Made of lightweight expanded polystyrene, the board is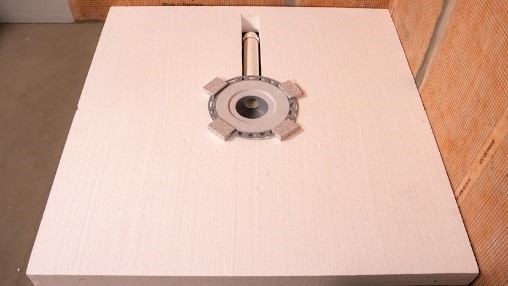 installed on the floor to accommodate the drain body and waste pipe height requirements.  Using the boards is a time and cost-effective alternative to pouring concrete.  The compensation board can be easily cut to size to fit the required space and to fit around the drain and waste pipe.  Multiple boards can be installed to custom fit the specific size and shape of the shower. A Schluter prefabricated shower tray can then be installed on top of the compensation board.
The new drain and compensation board will be available March 1 and are being shown in the Schluter booth at The International Surface Event (TISE) January 23-25 and the International Builders' Show (IBS) February 19-21.
About Schluter®-Systems
Schluter®-Systems products are specifically designed for the tile industry to ensure that installations maintain integrity and durability. The company's product line includes over 4,000 items, including tile trims, uncoupling membranes, waterproof building panels, shower systems, and thin-set mortar.  Schluter-Systems is renowned for its state-of-the-art technology with attention to detail for highly functional and visually appealing results.  For more information, visit www.schluter.com.