Gerald (Jerry) Zakim, age 91, of Wanaque, N.J., formerly of Paterson and Wayne, passed away peacefully on the night of January 4, 2020, at his home. He was the beloved husband of Phyllis H. (nee Hamburg) Zakim for 68 years, devoted father of Stuart Zakim of Montclair, N.J., Elayna Kirschtel and her husband David of New City, N.Y., and the late Leonard Zakim of Newton, Mass., cherished and proud grandfather of Andrew, Alex, Jonathan, Joshua (Grace), Shari (Philip), Deena (Jesse), Aaron (Michal), Jason and Naomi, dear great grandfather of Leo, Lev and Lyla, dear brother of the late Sam Zakim and the late Esther Zakim Fox. Prior to his retirement, "Jerry" was the owner of a construction and consulting firm in Northern New Jersey and had a patent for a waterproof coating system. He was a graduate of Clemson University, in South Carolina where he earned a Bachelor's Degree and was a Navy veteran of WWII.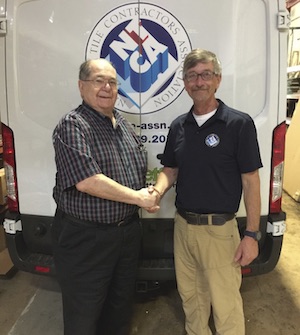 Jerry was a lifetime member of the National Tile Contractors Association and an NTCA Recognized Consultant.
Gerald was a longtime member of Temple Beth Tikvah, in Wayne since 1966, and was a member of the Veritans and the YM-YWHA of Northern New Jersey, in Wayne, where he was inducted in the Sports Hall of Fame for his time as a basketball referee in the 1940s.
"I didn't get my annual birthday call on January 10th this year from Jerry Zakim, and I didn't get to make my birthday call to him on January 11th," said Joe Tarver, Executive Director Emeritus of NTCA. "This was a ritual that started many years ago and was uninterrupted just by a few days. Jerry was a unique person in our industry with an insatiable quest for education and training and a willingness to share his knowledge with everyone. His history in the industry covered everything from inventor to consultant. He was a long-time member of the NTCA Technical Committee and participated in many NTCA Workshop programs. There was never a dull moment with Jerry around. RIP my friend."
Services were at the Louis Suburban Chapel 13-01 Broadway (Route 4 West) Fair Lawn, N.J., and burial followed at Independent United Jersey Verein Cemetery, McBride Avenue, Woodland Park, N.J.. Memorial donations in memory of Gerald Zakim may be made to the Lenny Zakim Fund, 33 Arch Street, 26th Floor, Boston, Mass., 02110.