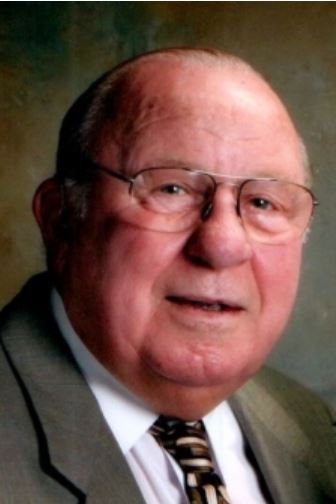 Theodore "Ted" E. Clear passed away peacefully on October 1, 2019.   He was born in Hamilton to Louise (Mick) Clear and Sherman T. Clear in 1926.  He married, his only love since junior high, Mary Louise (Saurber) Clear in 1946.
He had learned to fly at the age of 14.  Ted enlisted in the Army Air Corp in 1943.  He flew transports, cargo planes and B-17's.  He was honorably discharged in 1946.
He was with Sherman T. Clear Plastering for 28 years.  He invented and patented the process for concrete backer board in 1970 and commercially produced the original Wonderboard© for Modulars, Inc.  The company became Fin-Pan, Inc. in 1975. After working on other thin concrete applications, T.Clear Corporation was formed and produced building products that are energy efficient.  He was inducted into the Ceramic Tile Distribution Association Hall of Fame in 2000.
He and Mary Lou traveled the world for business and personal travel, gathering friends all over. In 2016, he lost his wife at age 90.   Ted enjoyed flying airplanes, hunting, fishing, and collecting Model "A" vehicles.  He helped to start Duck Unlimited and Pheasants Forever in Southern Ohio.  Ted was involved in many quiet philanthropic endeavors, always giving back to his church/faith, community, industry and his natural environment.
Ted was a loving husband, father, grandfather, great grandfather, uncle and friend.
He is survived by three children, Gail (Marvin) Duff, Steven (Violet) Clear and Lisa (Douglass) Schaffer; a special daughter-in-law, Rose Clear (Don Hott); nine grandchildren Heather (Kelly) Murphy, Jason (Dena) Clear, Eric Clear, Amy (Andrew) Gilmore, Todd Clear, Andy (Misty) Duff, Ryan (Courtney) Schaffer, Sarah Clear and Christopher Schaffer.  He also is survived by 10 great grandchildren, Camryn, Rachel, Emily, David, Logan Ashland, Eric Jr., Archer, Abel, Maxwell, Jade, Bryar and Tristan; and many nieces and nephews.    He was preceded in death by a son, Terrence (Terry) L. Clear; his wife, Mary Louise Clear; a brother, David Clear; and his parents, Louise and Sherman Clear.
Ted will be sorely missed by his entire family especially by his "best buddy" and great grandson, Logan.
Visitation will be on Friday evening from 5 to 8:00 pm at Brown-Dawson-Flick Funeral Home, 330 Pershing Avenue, Hamilton OH.  A funeral Mass will take place at St. Joseph Church, 171 Washington St, Hamilton, OH 45011 at 10am on Saturday October 5, 2019 followed by a graveside service at St. Stephen's Cemetery.
In lieu of flowers, donations may be made to the St. Joseph Church Building Fund or the St. Joseph School Fund.