Dekton University offers intensive training opportunities to qualified installers

It's no news that gauged porcelain tile is going gangbusters in the tile industry. This incredibly versatile product can be used for not only walls and floors, but sinks, countertops, or any kind of cladding you can imagine.
In 2013, around the time the term "gauged porcelain" was being coined, the manufacturer of Silestone quartz surfacing launched ultra-compact surface Dekton® by Cosentino, an extremely large-format, extremely and consistently flat material that combines raw materials in a high-heat, high-compaction sintering process that makes it super strong, resistant to staining, scratching, abrasion, high heat/fire resistant, freezing and UV rays. It also is GREENGUARD certified low in chemical emissions, to benefit the environment.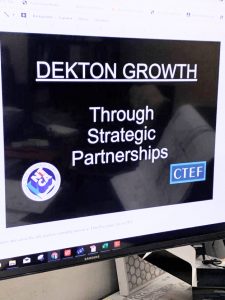 This highly-technical product originally was the purview of fabricators. But with the introduction of thinner panels – 4mm and 8 mm – Consentino is partnering with qualified labor to equip installers with the knowledge and experience to install these products with confidence and success.
Tomas Echeverria, Technical Coordinator for Cosentino, said the company is willing to invest to train installers to properly work with and install this unique product. "The company has invested a lot in manufacturing and R&D. It wouldn't mean anything if it's not installed properly to perform as it should," he said.
The benefit of this partnership was revealed at Cosentino's national sales summit in early February in Houston. Presenters from NTCA Five-Star Contractors J&R Tile in San Antonio, Texas, and Casavant Tile in Saugerties, N.Y., provided the closing two-hour session to explain the opportunities for Cosentino to partner with qualified tile installers to expand the market for Dekton product – specifically 8mm and 4mm panels.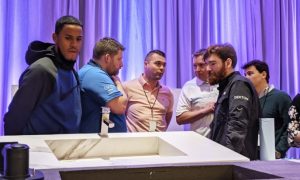 Cosentino has partnered with NTCA Five-Star Contractors for about five years, offering preferred pricing for these top-tier installers. But the sales summit presentation pointed out the benefits of working with a much larger universe of 1,600 Certified Tile Installers (CTIs) who are dedicated to not only upholding standards in their work, but seeking the training and experience that's needed to work bring a highly technical product like Dekton into their repertoire.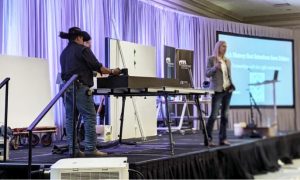 J&R Tile's Erin Albrecht walked the attendees through the program, while J& R Tile's Triniti Vigil and Casavant Tile's Eric Treteault demonstrated the ease of crafting sinks and countertops with Dekton and hand tools. The speed and quick turnaround of completing Dekton projects by tile installers using hand tools like grinders was eye-opening for the sales force.
Introducing Dekton University
The presentation introduced a brand new concept to the sales team: the development of Dekton University. Cosentino has committed to partnering with and supporting qualified labor locally to develop a network of highly-trained installers to install Dekton panels. Trained CTIs – many who are NTCA members – will be regional trainers in locations where Cosentino has facilities.
Dekton University is scheduled to kick off this spring, with dates for the year in development at this writing. The plan is for each trainer, who will be funded by Cosentino, to hold two trainings regionally a month, explained Tetrault. In addition LATICRETE and Bostik have signed on to provide complete antimicrobial systems of grouts, mortars and setting materials, punching up the pro-environment qualities Dekton offers.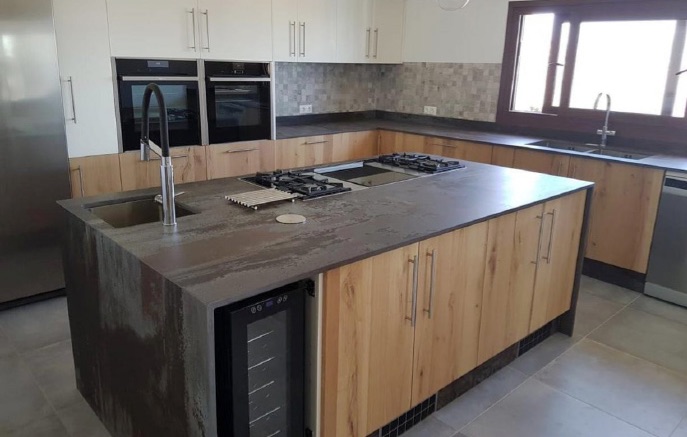 Training is an intense two-day, hands-on program, with resources like TCNA Handbooks, tools, equipment and resources supplied by Cosentino. Three attendees at each training will win a complete set of tools specially designed to work with Dekton, valued at between $8,000-$15,000. In addition, contractors who complete the program will have access to this tool set for 12 months on a break-even basis – if a designated amount of Dekton is sold, the contractor can keep the set for free, Tetrault explained. Equipment includes a table, cutter, and cart. They will also each take home two modules created during the trainings for marketing purposes.
That's not all. As mentioned, NTCA Five-Star Contractors have had preferential pricing from Cosentino and will continue to do so. But pricing advantages will be tiered for CTIs, ACT-credentialed contractors and those who take the training. There will be tangible rewards, benefits and advantages for those contractors who invest in training, education and excellence.
"Qualified labor and trade associations are at the forefront of everything: the center of the whole program," Tetrault said "Everything revolves around that. The entire program is geared to open up a new market for Dekton, and provide unprecedented support to the installers and contractors who make the commitment to be educated and trained."
Trainers
Dekton University will employ a team of knowledgeable trainers to administer the program at Dekton facilities. Jamen and Chanel Carizzosa, of Icon Tile, a husband-wife installation team out of Washington, are jazzed about this program. "When Erin and Eric approached and told us about this program, we were really excited," Jamen said. "In our area, most guys are not doing the large panels. If they get a job they try to talk the designer out of it. They are scared to touch it. Chanel and myself have wanted to push ourselves forward in getting to be better with these products."
Zack Bonfilio, owner of San Antonio's American Tile & Remodeling, said, "possibilities are endless" using Dekton. He said he created an integrated sink with linear drain on a foam base – including miters and cuts – in just four hours using Dekton and his grinder. There was no need for costly, time-consuming waterjet work.
Carl "The Flash" Leonard, CTI #1393, from New Jersey asked, "Why would you trust your install to anyone who isn't certified? Certification is key to our industry – keeping standards high."
These passionate and dedicated tile professionals are among those who will run the Dekton University intensives. CTIs will have first dibs on a slot in the classes, and then other promising installers will be contacted about taking the trainings.
"The big message is you don't need a fabricator," Albrecht said. "If you partner with skilled labor, you aren't waiting weeks. As the song goes, 'Anything you can do – I can do better.' With trained tile installers, you have a one-stop shop. You can have six or less employees working with thin material, and with the right tools, set up and system, you can do a lot of square footage."
As much as a learning curve as it is for installers, it's also a learning curve for Cosentino, who is open to learn what this new-to-them labor force needs to succeed, and provide strong support.
"It took a group of tile contractors to sit down and say 'Let's do something about this,'" Albrecht said. "And it took a large tile company to invest. Cosentino is a family-owned business. They care about the installers but have humility to know they are not installation experts. With Dekton University, they are looking to connect with tile contractors.
"They are listening and they care," Albrecht added. "They are willing to learn and become leaders – only partner with the best, on high-end installations and protect their brand. Their intentions are for everyone to support each other. They don't want to sell to everybody. They are trying to do it right."
Interested in Dekton University? Contact Tomas Echeverria at (786) 527-1501 or email [email protected].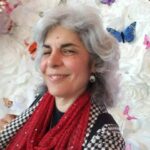 Editorial Director and Senior Writer for TileLetter and TileLetter ARTISAN
Lesley Goddin has been writing and journaling since her first diary at age 11. Her journey has taken her through a career in publishing and publicity, landing her the editor position of TileLetter and its special publications in 2006. Her goal is to educate, inspire, recognize and encourage those in the tile industry -- especially the tile and stone contractor. Other interests include the soft, purring marvels known as cats, labyrinth walking, drumming and percussion, and a range of spiritual, musical and artistic pursuits.