Aliquippa (PA), May 22, 2023 – This past month, ARDEX launched the ARDEX System Selector, an easy way to create a complete product system in no time! It's the newest addition to ARDEX' growing digital footprint and makes installation recommendations easier and faster than ever before!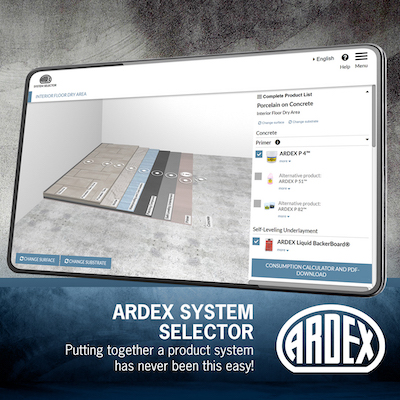 The System Selector allows users to customize their build on screen alongside the recommended ARDEX products for each step. In just a few clicks, the tool delivers a customized build-up recommendation. The users simply select their installation scenario, the existing substrate and the desired surface – the tool then provides a complete product system for the individual room layout. But that's not all: users can calculate product quantities based on the recommendation and download the entire system as a PDF.
A customer-centric approach
Daniel Grant, ARDEX Technical Field Representative, and project lead for the System Selector is proud of the customer-centric approach: "The System Selector is interactive and visual. Ease of use was particularly important to us during development, helping the user find the right solution for their project fast."
"Digitalization is becoming more and more important in the construction industry and is an integral part of the installer's day-to-day activities." says Annika Oeing, Marketing Communications Manager at ARDEX Americas. "We put an emphasis on being where our customers are and making their job as easy as possible. We believe that the new System Selector tool is an important step to fulfilling that promise."
A wide array of options for many installation scenarios
The System Selector offers more than 1,800 options for many residential and commercial projects and interior and exterior applications covering the full range of ARDEX products. And more products and systems will be added on a regular basis to continuously improve the System Selector.  
Create a complete product system, calculate product quantities, view product information, and download the full project by visiting www.ardexsystemselector.us. Or take a look at this video showcasing the new tool and its capabilities. 
Other digital services at ARDEX:
New Distributor Lookup: With an easy ZIP code search, the option to pick the desired radius and product categories, this new feature helps customers find ARDEX products easy and fast. Visit www.ardexamericas.com/distributor-lookup.
Find Your Rep: Find your ARDEX Sales Professional for local project support and reach out today. Visit www.ardexamericas.com/find-your-rep.
New DTA USA Website: The new, modern design, easy navigation and improved overview of the product line-up will help you find the right DTA tools for your next installation. Visit www.dtausagroup.com.