Program kicks off September 2018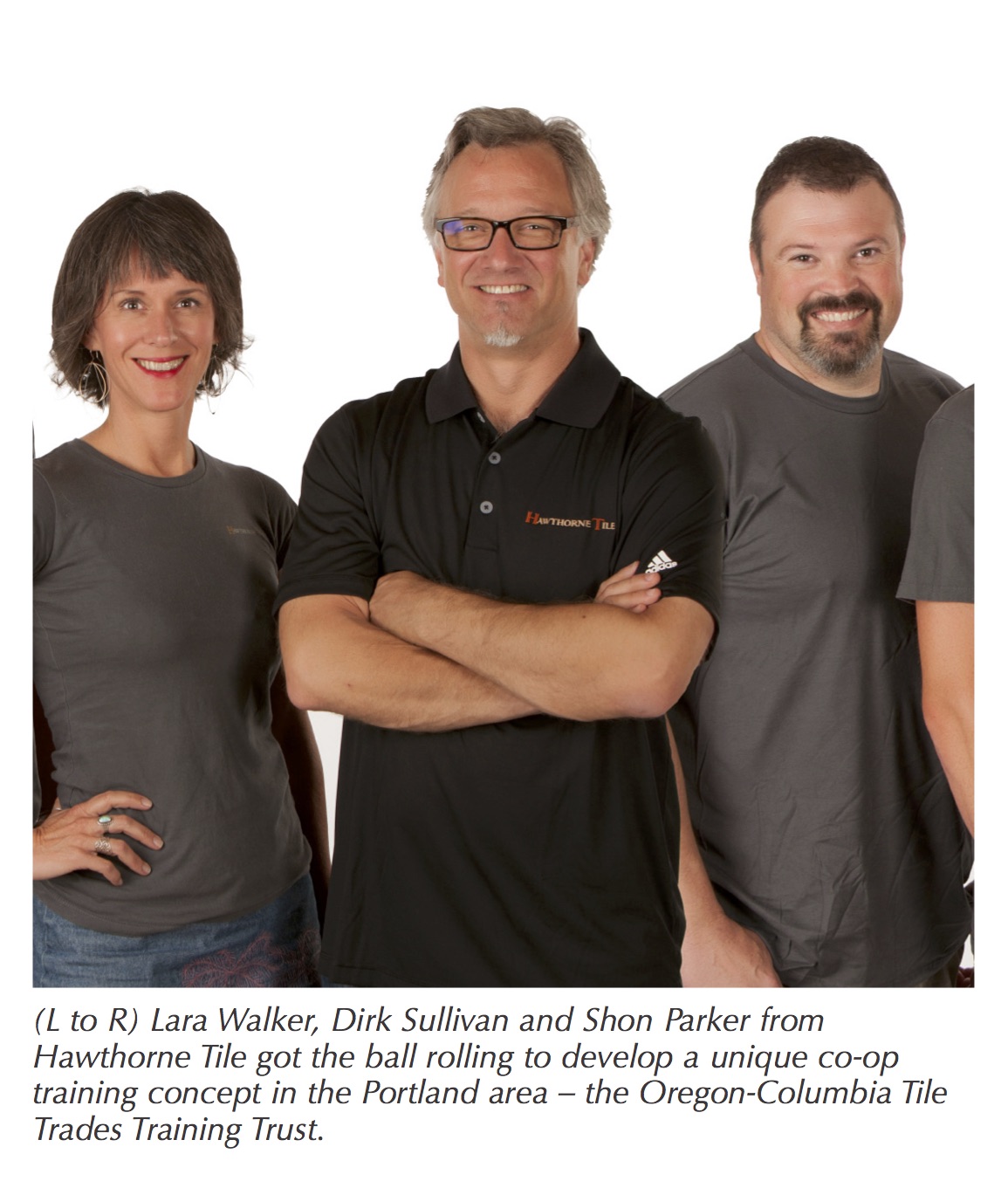 Creativity is afoot when it comes to training the next generation to enter the tile trade. Oregon tile contractors and NTCA members (and some soon-to-be-members) are partnering in a unique co-op concept that provides monthly training for apprentices and different levels of involvement for co-op members. Participants in the co-op – named the Oregon-Columbia Tile Trades Training Trust – are
Hawthorne Tile, Davis Solutions, Stoneman Construction LLC, Campbell's Custom Tile, Prestige Tile & Stone, Inc., Level Plane Tile & Stone, Columbia River Tile, Classique Floors & Tile, Sustainable Interiors, Designer Floors & Interiors, LLC and AHMS, Inc.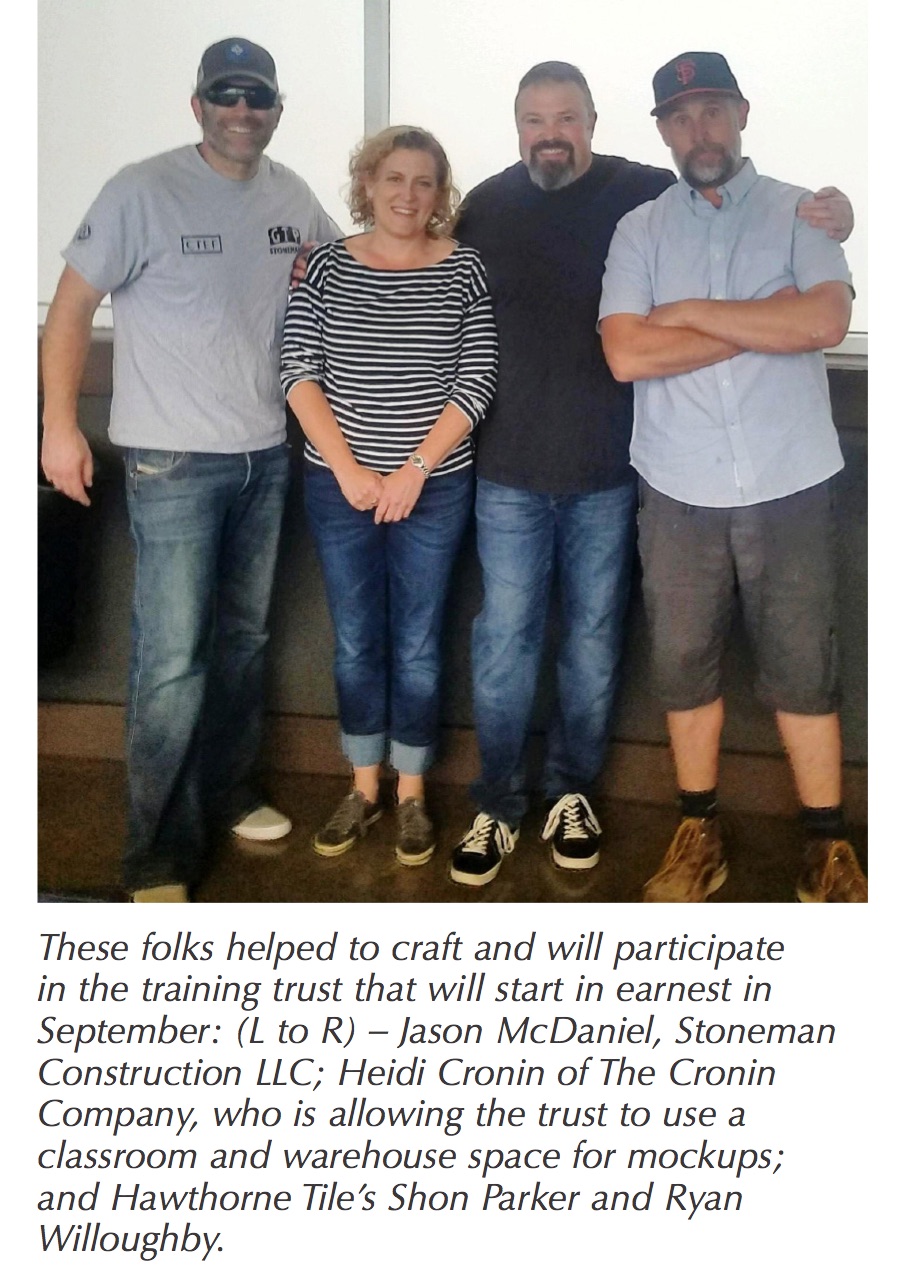 The concept developed when project manager Shon Parker and owner/project manager Dirk Sullivan from NTCA Five Star Contractor Hawthorne Tile in Portland, Ore., started brainstorming about how to get more qualified help in the field. Parker took the lead in conceptualizing an affordable apprenticeship program with industry buy-in and called fellow Joint Apprenticeship Training Committee (JATC) members to participate. An education co-op model was formed, with those members who are able to help or participate with training paying a lower fee to belong to the co-op and those who cannot paying a higher fee. 
Participation might mean helping to build training modules or doing set up with classes. "There are those who could pitch in – in some way – and those who are more commercially oriented, and whose office staff can't do that, but who are willing to pay at a higher rate to have their people trained," Parker said.
Classroom and hands-on
components
The co-op has a NTCA tie-in: each co-op member must be a NTCA member in order to gain access to the online apprenticeship courses through NTCA University, which will form the backbone of the classroom part of the program. And one Friday a month, student apprentices will receive live training from different manufacturer reps about TCNA methods, and specific product knowledge. "[Manufacturer reps] will teach a method and the products that fit inside those methods will get the manufacturer involved," Parker said. "It will also serve to introduce students to reps, build relationships, and help reinforce good methods and best practices." He explained that every manufacturer who wants to be involved will have a balanced presence within the program, without any one manufacturer dominating. So far, ARDEX, Daltile, LATICRETE, MAPEI, and Schluter are on board. 
The hands-on portion of the training will take place at The Cronin Company, headquartered in Portland. "Heidi Cronin is allowing us to use a classroom and space in the warehouse for hands-on mockups," Parker said. Plus, an arrangement between The Cronin Company and Daltile will allow students to buy hand tools at cost while in the program. Students will also be responsible for building the modules – "thin bed, mortar bed, epoxy installations, depending on what we are teaching," Parker explained.
The schedule
The program will start in 2018. "We currently have state approval for the program, and we will be updating the new classes to reflect current methods and products from some of the methods we'd used from the 2003 NTCA curriculum," Parker said. Examples of changes include dropping the hands-on demo for mastic over wood assembly to including updated methods, such as an uncoupling assembly, he added. "This will need to be addressed and approved at the state Apprenticeship Board," he said, suggesting folks call him with questions at 503-708-1737.
Students are recruited via outreach ongoing at job fairs, high schools and Women in Construction. To date 17 students – including a couple of women – have signed up for the program. 
Once a candidate has been found, co-op members aka "Training Agents" are asked if they are interested in bringing them into the program, with the intent of creating a labor pool. Each student apprentice must be employed by a Training Agent. The program is administered by the Pacific Northwest Chapter of the Associated Builders and Contractors (ABC). 
Parker explained how apprentice candidates are culled at Hawthorne Tile: "We may have a worker employed at entry level as a driver," he said. "If they show aptitude, we give them opportunity to join the apprenticeship program. It's a stepping stool on our team to get there."
The program is completely free to the student apprentice, funded by a monthly fee per student paid by the Training Agent co-op members. 
As previously noted, the program is based on the NTCA year one apprentice classes, and will utilize years 2 and 3 as they are completed. "By the end of year three , we should have all the bugs worked out."
Though Parker calls this venture "uncharted waters," he added that, "It makes sense up here – being part of a community. Dirk has done a great job as State Ambassador and Regional Director getting people excited about this, and Jason [McDaniel of Stoneman Construction LLC] and I are regional evaluators, so we can get people excited." Hawthorne Tile's office manager Lara Walker and project manager Ryan Willoughby have been "incredibly helpful" as well, Dirk Sullivan added. 
And Parker praised the industry for its support, saying, "Our industry is so willing to invest money in education." 
Becky Serbin, NTCA Training and Education Coordinator, added, "It's great to see tile contractors in a region coming together to develop a co-op training program to help grow the tile industry. I look forward to working with them through NTCA University. I hope that NTCA members are able to take this concept and repeat it in other areas of the country to help start training the next generation of tile setters."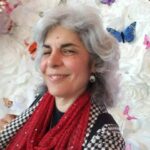 Editorial Director and Senior Writer for TileLetter and TileLetter ARTISAN
Lesley Goddin has been writing and journaling since her first diary at age 11. Her journey has taken her through a career in publishing and publicity, landing her the editor position of TileLetter and its special publications in 2006. Her goal is to educate, inspire, recognize and encourage those in the tile industry -- especially the tile and stone contractor. Other interests include the soft, purring marvels known as cats, labyrinth walking, drumming and percussion, and a range of spiritual, musical and artistic pursuits.