Every month, NTCA offers free online webinars on a range of topics. Industry experts share their wisdom during these one-hour events that can be watched on a computer, phone, tablet or in a conference room with staff and crew. If you miss a webinar, NTCA archives them for watching at your convenience. Visit www.tile-assn.com and click the Education & Certification tab for news on upcoming talks and archived presentations. 
This month, we revisit the March 20, 2018 webinar entitled "Ideal Underlayments and Tile Setting Strategies," presented by Tom Plaskota, technical support manager for TEC/H.B. Fuller Construction Products – and provide an overview. For the complete webinar, follow the directions above. 
Plaskota addressed several main topics in his talk. For this article, we will focus on the first two topics: 
What are self-leveling underlayments and how do they work?
Benefits of self leveling underlayments.
What are self-leveling underlayments and how do they work?
ASTM F2873 provides a definition of self-leveling underlayments (SLUs) that hinges on four key concepts:
They are poured and flowable mortars
They are composed primarily of hydraulic cements such as Portland cement materials and calcium aluminate. These compounds continue to harden under water.
They may require a primer to enhance bond strength and reduce development of pin holes.
They are designed and intended to provide a flat, smooth surface for the finished floor covering – ceramic tile or natural stone.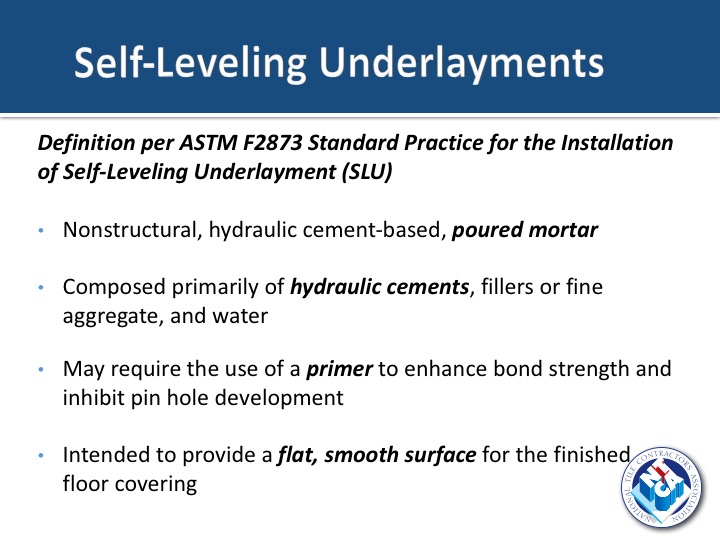 Self-leveling underlayments achieve their high-flow properties through the use of flow agents that produce a pancake-batter-like consistency. They are also formulated to be non-shrinking and non-cracking. Unlike a thin-set mortar, SLUs are commonly set in thicknesses of up to 1/2" to 2"and are formulated to not shrink or crack at that thickness. Components like calcium aluminate allow the SLU to cure quickly, so that in many cases, the underlayment will support foot traffic and allow for tile setting in a matter of hours. 
Benefits of self-leveling
underlayments
Plaskota approached the subject of SLU benefits by addressing common questions and objections about self-levelers – and the reality of the benefits they bring.
Self levelers aren't necessary for tile installations
Reality: You need self-levelers for successful tile installations to ensure that the substrate is flat. They help expedite tile installations and save installers from having to make subfloor adjustments, while improving subfloor quality that reduces lippage and cracked or damaged tile. In addition, SLUs help you more easily and quickly achieve the tighter flatness requirements for today's popular large-format tile, with in-demand tight grout joints: 1/4" in 10' and 1/16" in 12" for tiles with all edges shorter than 15" and 1/8" in 10' and 1/16" in 24' for tiles with at least one edge measuring 15". Gauged porcelain tile panels that measure as large as 3' x 10' or even 5' x 10' are not forgiving when it comes to subfloor flatness and so require the use of SLUs.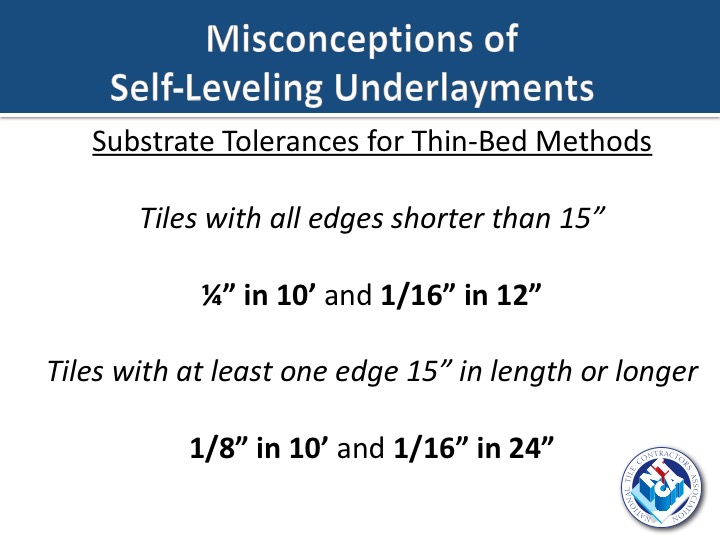 I only need SLU for resilient/sheet vinyl – imperfections in substrate aren't as 'visible' with tile.
Reality: The use of bonding mortar to level, flatten or fill substrates does not conform to tile industry standards. Some tile setters mistakenly believe they can "fill" substrates with thin-set or "medium-bed" (now known as large-and-heavy-tile-mortar) mortar. But these products were not made for leveling substrate. Instead, they are designed to accommodate the features of the tile, such as preventing a large, heavy tile from slumping into the mortar. They also address allowable warpage, which is greater in a larger tile, so there's a need for a bit thicker mortar under the tile to accommodate the irregularity in the tile. Even setting small tiles on an uneven substrate can result in hazardous and unsightly lippage and callbacks.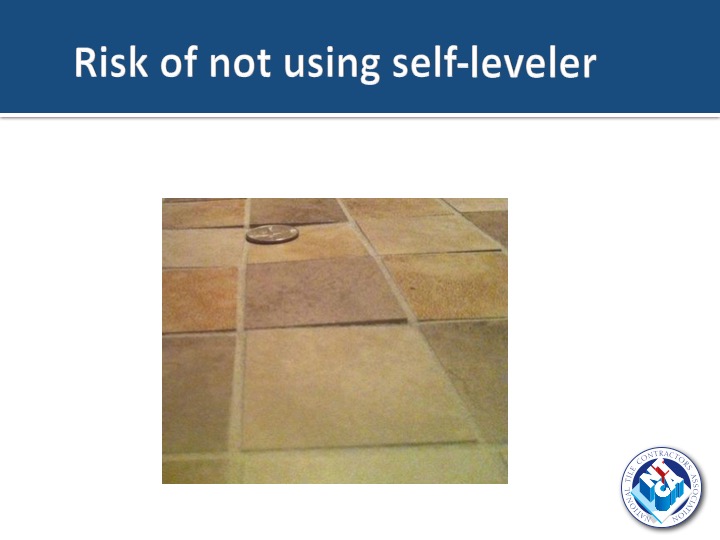 Self-leveling runs up extra charges. 
Reality: NOT installing a self leveling underlayment may result in costly call backs. You are going to have to smooth or level your floors. SLU is a great, efficient way of doing that to reduce callbacks. 
Self-levelers are time-consuming to apply; slows down the whole project schedule 
Reality: Efficiencies in installation methods and fast-setting underlayments allow for same-day tile installations. These are not your grandfather's SLUs – they've come a long way and feature enhancements, and advanced technology primers that may eliminate the need for shot blasting over clean concrete, regardless of porosity. They may even go over some types of coatings such as curing compounds, high-performance topical coating like epoxies or cutback residue. In this case, the primer/SLU combo is a great time and money saver. Be sure to consult the SLU manufacturer and confirm the application. In addition, tools and equipment such as rakes, buckets or bucket carts that can be managed by one person can help expedite SLU application. 
Again for details of this talk, click the webinar link under the Education & Certification tab on tile-assn.com. This link also announces upcoming webinars and houses the archives of talks from the last few years.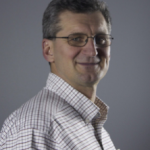 Tom Plaskota serves as Technical Support Manager for H.B. Fuller Construction Products, Inc. HBF-CP develops and markets technologically advanced solutions that add value to commercial, industrial and residential construction. Tom is responsible for managing the field support team that develops and communicates technical information and provides technical service.
Tom has been working with the TEC brand of surface preparation and installation systems for flooring, ceramic tile and natural stone since 1997. Other HBF-CP brands he also manages support for include Chapco/Aim flooring adhesives and Grout Boost stain resistant grout additives.