iQ Power Tools, manufacturer of premium power tools with integrated dust collection technology, has appointed Vince Hollis to the position of National Product Training Manager.​ ​In this position, Hollis is in charge of product information and training for both dealers and field representatives. Additional responsibilities include the role of product trainer at industry shows, ​as well as participating in iQ's regional training events​ ​partnering ​partnering with various associations such as the NTCA, MCAA, ICPI, IMI and others.
Hollis​ ​began with iQ in 2016 as the Southeast regional sales manager. In his new role, Hollis will work to improve individual and organizational performance related to the​ ​firm's ​line of products. He will be identifying training needs, developing individual training programs, creating instructional materials, offering structured learning experiences​ ​…​ ​and​, ​evaluating effectiveness of training programs.
"I am a 'utility player'," commented Hollis. "Wherever I am needed to help iQ grow and help our dealers prosper, I will be there to get the job done."
"Vince has a range of construction experience from both the installation side and manufacturing side that is a great benefit in his new role,​" said Jim Mackall, VP Sales, iQ Power Tools. "This new position is critical to our organization,​ as we continue to build our brand, train our dealers and ultimately educate our customers on the hazards of silica dust. We feel with his previous experience at iQ and his knowledge of our products, he​ ​​will be an even greater asset to both our company and our customers."
​Joel Guth, President of iQ Power Tools added, "Vince has a vision for the future​, which​ is in line with the company mission to always focus on the health and safety of construction workers in all trades. Educating the industry on the dangers of silica is an important part of ​our company's focus. iQ Power Tools' ​ultimate ​mission is to build tools that save lives."
About iQ Power Tools
iQ Power Tools manufactures a comprehensive range of premium power tools with integrated dust collection systems for the concrete, masonry, hardscape and tile sectors. The company was founded by third-generation masons Joel and Paul Guth, who have logged over 30 years each in the masonry industry. Decades of experience taught them about dust problems; their company started out creating tools to solve their own problems only to realize these same issues affected all contractors… mess, money and a threat to the health and safety of the industry. iQ Power Tools envisions a future where their innovation helps create a 100% dust-free environment: jobsites are safer, work practices are healthier… and, the construction industry becomes even more sustainable.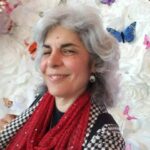 Editorial Director and Senior Writer for TileLetter and TileLetter ARTISAN
Lesley Goddin has been writing and journaling since her first diary at age 11. Her journey has taken her through a career in publishing and publicity, landing her the editor position of TileLetter and its special publications in 2006. Her goal is to educate, inspire, recognize and encourage those in the tile industry -- especially the tile and stone contractor. Other interests include the soft, purring marvels known as cats, labyrinth walking, drumming and percussion, and a range of spiritual, musical and artistic pursuits.