iQ Power Tools, manufacturer of premium power tools with
integrated dust collection systems, announces the launch of its newly redesigned website at
www.iQPowerTools.com
This new e-commerce website offers a clean, very modern design. And, a highly efficient product search, new functionality and fast e-commerce process. Bryant Figueroa, iQ's Marketing & Creative Director stated, "Our website is both easy to use and mobile-friendly, so our clients can access it at any time, from anywhere."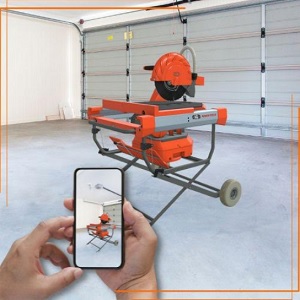 iQ's site is a comprehensive resource for contractors to discover/explore tools, parts and accessories in an easy-to-navigate format. This includes a vast knowledge-base allowing users to search for tips, troubleshooting 24/7… and even submit service tickets for more personal assistance.

"Our site allows us to provide customers not only with product offerings; we've also included user manuals, how-to videos, blogs and even podcasts," continued Figueroa.
The company's new online ordering tool makes it simple for contractors to shop for parts when needed. Wherever and whenever! iQ's recently introduced augmented reality tool is also available on the company's modernized website. With a just a few clicks, the tool allows users to instantaneously view any of iQ's products.

"This new website experience will solidify our promise of delivering more availability, service and value to our clentele," said Jim Mackall, iQ's President. "We built this site from the ground up, using customers' input to ensure it saves them time and ultimately, makes iQ Power Tools a very easy firm with which to do business. And, the site is trilingual; with English, French and Spanish all available."
Visitors are encouraged to visit iQPowerTools.com to experience firsthand this dynamic new website.
---
About iQ Power Tools
iQ Power Tools manufactures a comprehensive range of premium power tools with integrated dust collection systems for the concrete, masonry, hardscape and tile sectors. The company was founded by third-generation masons Joel and Paul Guth, who have logged over 30 years each in the masonry industry. Decades of experience taught them about dust problems; their company started out creating tools to solve their own problems only to realize these same issues affected all contractors… mess, money and a threat to the health and safety of the industry. iQ Power Tools envisions a future where their innovation helps create a 100% dust free environment: jobsites are safer, work practices are healthier… and, the construction industry becomes even more sustainable.