Superior quality and service earns the leader in fiber cement siding the industry Partner of Choice Award
---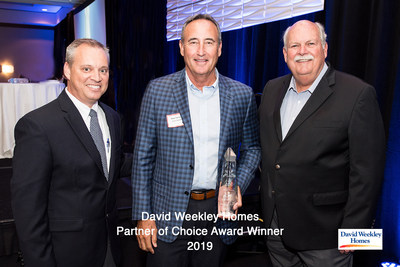 CHICAGO, July 25, 2019 /PRNewswire/ — Today the country's largest privately-held home builder, David Weekley Homes, announced that its partner James Hardie Building Products Inc. has again earned their nationally-recognized "A,A" Partners of Choice Award for outstanding quality and service.
James Hardie, the world leader in fiber cement siding, is one of only three other companies to have earned this award numerous times. Over the last 13 years, James Hardie has won the "A,A" award 12 times and the "A" award once, highlighting the company's continued success in delivering quality and service.
"At James Hardie, we strive to deliver durable, high quality products paired with best-in-class service for the David Weekley homebuyers and team members," said Johnny Cope, Executive Vice President of Sales for James Hardie Building Products. "We are grateful for our partnership and we will continue to strive to create value and efficiencies with David Weekley Homes. Being recognized as a "A,A" Partner of Choice motivates us to continue to improve."
Of the 160 companies evaluated, only the top ranked companies earn the coveted Partners of Choice Award. Categories include "A,A" demonstrating excellence in both quality and service, or "A" representing excellence in either quality or service.
To assess all partners and pinpoint top performers, more than 1,000 David Weekley Homes team members – from sales to senior leadership – participate in the homebuilder's unique "Supplier Evaluation Platform." At the heart of this process is the National Trading Partner Survey. The goal of the quarterly survey is to enhance communication and identify where improvements can be made to ultimately improve customer service, achieving the highest level of homeowner satisfaction.
"Our in-depth survey process helps us select the strongest companies to assist us in delivering an unequaled experience for our homebuyers, and James Hardie has met that challenge head on," said John Schiegg, director of supply chain services for David Weekley Homes.  "James Hardie has again surpassed the high expectations we set for our partners by continually demonstrating a dedication to delivering world-class quality and service to David Weekley Homes."
For more information about the award, visit davidweekleyhomes.com. To learn more about James Hardie, visit jameshardie.com.