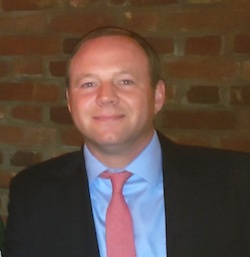 Mr. Jeff Johnson has been named National Sales Manager of Summitville Tiles, Inc., effective immediately. Beginning his career with the Company as an inside customer service and sales representative, Jeff was named to the post of Midwestern Sales Representative and then Northeast Sales Representative. During this period of time, Jeff has become increasingly more knowledgeable about our quarry tile, thin brick, floor brick and installation materials products.
Jeff's new responsibilities will involve, among other things, the development of national architectural specifications as well as the coordination of our sales and marketing efforts with Summitville's national network of independent tile and brick distributors, coast to coast.
In his new capacity as National Sales Manager, Jeff is also being named to Summitville's Senior Management Committee. As such, Jeff will participate in our weekly senior staff management meetings and will be an integral part of the day to day management decisions made here at Summitville Tiles.
The fourth generation of the Johnson family to serve in a leadership role at Summitville Tiles, Inc., Jeff is a graduate of Kent State University, where he earned a Bachelor's Degree, majoring in Business Management. He and his wife, Heather, have two children. Summitville Tiles, Inc. remains one of the last independent, family owned tile and brick manufacturers in America. It has mining operations in Summitville, Ohio, a tile and brick manufacturing facility in Pekin, Ohio and a tile installations products company, Summitville Laboratories, in Minerva, Ohio