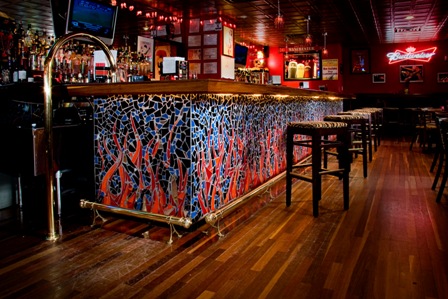 In 2008, Maude Lemaire launched her career as a mosaic artist in a Newark, N.J., bar. A friend was building out space to open an establishment named Hell's Kitchen Lounge Bar. He had envisioned a unique handmade "statement piece" to wrap around the bar. Volunteering to create a bold design featuring flames in red and blue, Lemaire initiated a process of experimentation and learning that has led her to become one of Newark's most prolific public artists.
"Translating the design concept into physical form was an experimental process and Ilearned a lot, very quickly," Lemaire remarked. "I love the color and vibrancy of glass. So I bought a glass cutting pen at Ace Hardware. Next, we started repurposing old mirrors and any spare glass we could find to experiment with. Eventually we discovered sellers of the wide range of glass materials that were ultimately incorporated into the work."
Awareness of Lemaire's talent grew rapidly as she received numerous private commissions for a wide variety of installations. Many of these are still on display in high-traffic locations such as clubs, spas, and restaurants.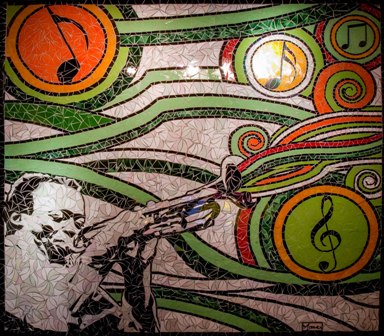 This exposure soon led to collaborations on public arts projects around Newark. "One of the first was a rendition of jazz musician Miles Davis in the lobby of an affordable housing residential tower," she said. "The well-lit lobby with its glass front allowed excellent visibility from the street and highlighted the work in a dramatic fashion."
Lemaire's upbringing in Montreal, Quebec had instilled in her an abiding appreciation of art within architecture, particularly for its potential to positively influence the wellbeing of members of the community. "Public art enhances a feeling of pride of place and history, and helps to uplift and bring color to the community landscape," said Lemaire.
Newark's political leadership has made a large and ongoing commitment to public art to inspire pride in the city's rich and diverse cultural history. "Art is important not just for its aesthetic value, but also for how it conveys ideas to spark people's imagination and creativity. It helps us to see things as better than they are, and it can be a driver of economic empowerment and growth," said Newark Mayor Ras Baraka in a recent interview.
Feeling the impact of an icon
The city and many in its corporate community have made serious commitments to integrating public art into new construction and redevelopment efforts. An example of this public/private cooperation is Newark's Grammy Museum Experience Prudential Center and the massively scaled 18' x 28' mural of legendary recording artist Whitney Houston on display upon the east exterior elevation at 45 Williams Street. This luxury residential apartment building, called The William House, is managed by Striker Apartment Leasing.
Musical innovation has been a driver of Newark's cultural scene from early on in the 20th century and the city is the hometown of many great artists from various genres. So, why Whitney Houston? Houston was born and raised in Newark, and began to share her vocal gifts as part of the choir of New Hope Baptist Church on Sussex Street. Her natural abilities and the opportunities she pursued led to an amazingly successful professional career.
In addition to selling over 200 million albums, Whitney Houston is the only recording artist to score seven consecutive #1 Billboard Hot 100 hit singles, one reason why the Guinness Book of World Records named her "the most awarded female act of all time."
Mayor Baraka put it this way: "Whitney Houston is an icon in this community and in this neighborhood. This mural provides the opportunity to feel her presence and impact here."
Being part of a large and complex development plan led by Prudential Center and supported by the City of Newark, the Grammy Museum Experience, Houston's estate and other stakeholders, the timeline for the planning, creation, and installation of the mural stretched out across several years.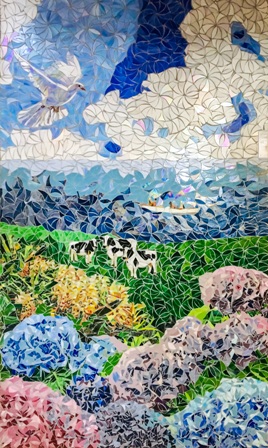 Developing the design; bringing it to life
For Lemaire, much time was spent in development and approval of the vibrant and colorful design. "Of course the estate of Ms. Houston had a lot of input," Lemaire said, "and for me, once the design was final, the real work of execution began."
As often happens on large commercial projects, there were delays that affected the schedule. Even more so in 2020. After having been shut down entirely during the pandemic, the push was on to restart and then finish construction before the end of the year. However by the time the building's exterior could receive the installation, it was late October and cold weather was beginning to set in. Lemaire's work had to be completed within the whirlwind of a project pushing hard to finish with winter fast approaching.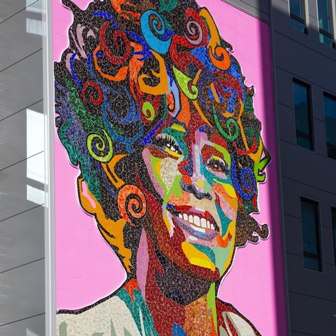 There were times when Lemaire had to put her foot down – an artist in the commercial construction environment – to wait until the conditions would allow a successful outcome.
"It was stressful, to say the least – and difficult to have to wear so many hats – but I had to use all of my skills to keep making progress," she explained. "With so many different players involved in my little project, I was not only the artist, but also the planner, scheduler, fabricator, installer, manager, negotiator, and motivator. It took a lot of energy! But in the end we made it work."
Lemaire's deliberate and patient approach prevailed: years of planning and design, five months to complete the puzzle pieces and over one month to install a nearly 600 sq.ft., hand-cut mural. The result? A wonderfully vivid and visually striking portrait of a local hero; an artistic gem that will bring visitors to the central Ward of Newark for years to come.
And what is Maude Lemaire's advice to those thinking of commissioning a work of mosaic art? "Be patient with the artist!"
Maude Lemaire's portfolio can be viewed at www.modsaica.com.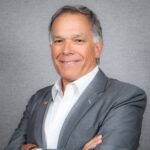 Ed Metcalf is co-founder of Metcalf Advisory Services LLC, a family business whose mission is to strengthen individuals, organizations, and communities across North America.