In the three centuries since its founding as the Spanish settlement of "Villa de Bejar," San Antonio, Texas has grown into a vibrant metropolis – the seventh largest city in the USA. San Antonio's population now includes a diverse blend of many cultures, all with unique traditions and some with local histories reaching back through millennia.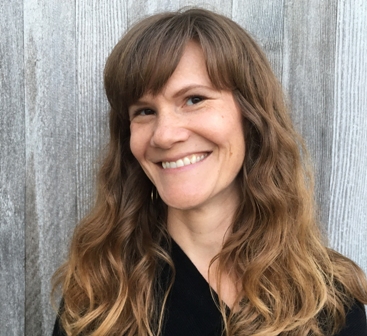 Defining and memorializing this cultural diversity became an important priority for the city, the seat of Bexar County, as it made plans to celebrate the 300th anniversary of the founding of San Antonio. The site chosen for this commemoration was a section of San Pedro Creek, "one of San Antonio's most historically-significant locations," according to Carrie Brown, Public Art Curator for the San Antonio River Authority (SARA).
Through the combined efforts of leadership of the city, the county, and SARA, a decision was made in 2012 to create a unique public space in the form of a creek side linear trail offering "design enhancements responsive to the physicality and history of the site," said Brown. "These enhancements include public art installations, performance spaces, interpretive signage, and a mobile app for self-guided tours." This site would be known as the San Pedro Creek Cultural Park (SPCCP).
The design of the park drew upon lessons learned from the nearby and economically-transformational San Antonio Riverwalk project. "Riverwalk fulfilled different purposes, and the goal was not to make SPCCP identical to it," Brown noted. "SPCCP is intended more for the community than for tourism and as such features elements more focused on art and local history."

The master plan for SPCCP calls for a total of four phases. The first segment of the first phase was completed in 2018, with the second and third first-phase segments currently under construction.
Public art plays a huge role in the vision for the project. For the first segment, several cultural themes were developed and assigned to local artisans each of whom used their own unique styles to create visual narratives on canvas. Each work, with dimensions ranging from 7' x 47' to 11' x 117', tells a different story. Given their fine detail and monumental scale, the durable physical incorporation of these artistic representations into the landscape required a great deal of effort in terms of design and execution.
Glazed porcelain tile:the canvas for public art
To assure durability and color stability over time, glazed porcelain tile was selected as the medium for the permanent display of the work. Upon completion of their paintings, the artists supplied high-resolution digital photos of their work to Tile Artisans Digital Imaging (TADI) of High Springs, Fla.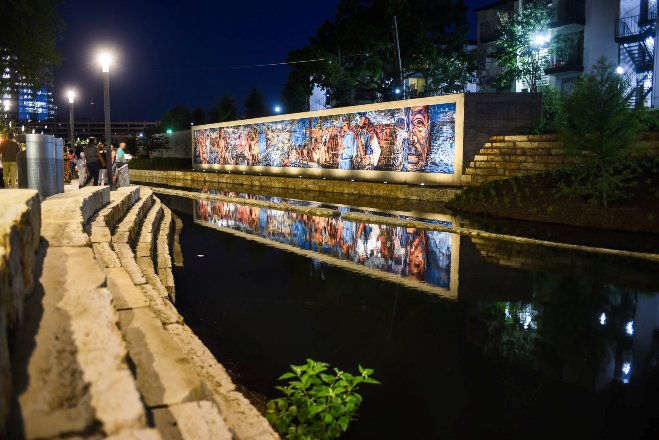 Dave Tytinski, owner of TADI, reported that his process is "basically large-scale laser printing, using powdered ceramic glazes instead of toner. When the kiln reaches the correct temperature of 1650°F, our printed glaze essentially penetrates and melds with the liquified base white glaze to become colorfast and durable for exterior use," Tytinski explained.
Providing the highest possible level of fidelity to the artists' intent required a great deal of communication and collaboration. Tytinski related that, "Due to the nature of the glazing process, which is affected by many factors, we always work with the artists to create physical proofs for approval prior to commencing production. This usually requires multiple revisions to the master digital file before we get the go-ahead for full production."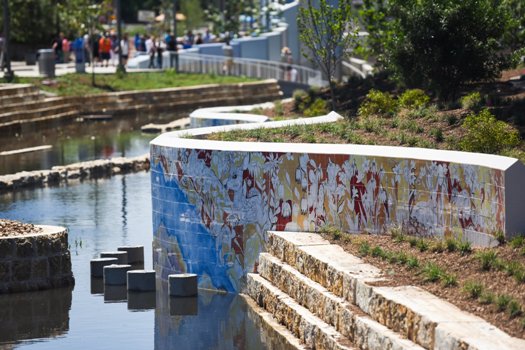 In the case of the 6,500 individually unique 8"x 8" tiles required for the multiple murals at SPCCP, the entire process of production was completed in less than four months from late 2017 into early 2018. "Very fast turnaround for a project of this scale," Tytinski added.
Qualified labor: J&R Tile gets the bid
Project specifications required both National Tile Contractor Association (NTCA) Five-Star status for the sub-contractor, as well as Ceramic Tile Education Foundation (CTEF) certification of all installers. J&R Tile of San Antonio was able to meet both requirements and was awarded the installation contract.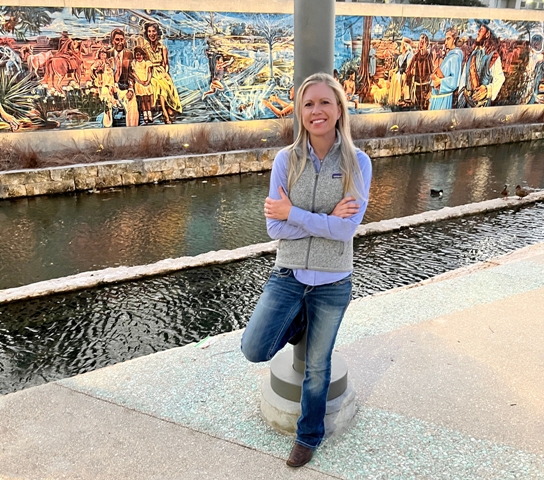 Started over 30 years ago by brothers John and Raymond Kotara, J&R Tile is now owned and operated by John's daughter Erin Albrecht. Albrecht "loves and enjoys the tile business" and like her father, is a native of the San Antonio area. She and her staff "were elated to represent our city, as well as excited to tackle the complexities of the project".
J&R Tile is well-known for its commitment to training and certification. "It is important to us for our office staff to be as well trained and certified as our field staff," Albrecht noted. Albrecht herself holds the designation of Certified Installation Manager (CIM) from the Floor Covering Installation Contractors Association (FCICA) and has authored for J&R Tile a curriculum for a US Department of Labor approved apprenticeship program through the Workforce Innovation Opportunity Act.
The technical challenges on the SPCCP project included installing directly over green concrete and smoothing vertical concrete substrates that featured extensive curves and radiused ends. In addition, custom profiles were made for the tile benches so public skateboarders would not damage the public tile art. Care had to be taken for verification of the super-format artwork to be displayed, and ensure movement joints were not saw cut through the artwork.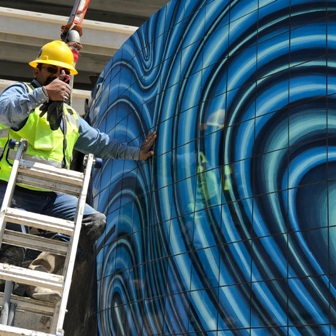 J&R Tile is an ARDEX Choice Contractor, so to help solve these challenges Albrecht turned to local ARDEX representative Frank Galvin. As they have done on many prior projects, she and Galvin, "coordinated with project architects to understand and address every condition, developed solutions and offered an extensive project warranty," Albrecht reported.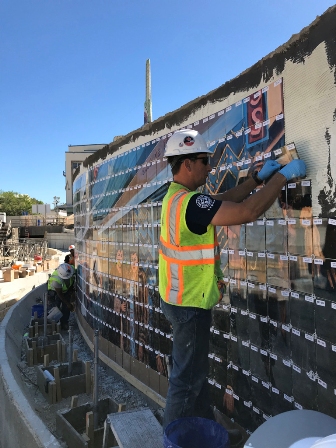 Products selected include: ARDEX AM100 Pre-Tile Ramping and Smoothing Mortar to flatten to Tile Council of North Amercia (TCNA) flatness standards of 1/4" in 10'; ARDEX 8+9 Rapid Waterproofing and Crack Isolation Compound; ARDEX SK175 Waterproofing Membrane; ARDEX X90 Outdoor adhesive; ARDEX FL Rapid Set Flexible Grout and ARDEX SX Silicone Sealant.
Built to last by qualified labor using high-quality materials, the CID Award-winning ceramic tile murals at the San Pedro Creek Culture Park will tell the story of the city's cultural history for generations to come. These remarkable installations are certainly worthy of a visit on your next trip to downtown San Antonio.
Project players
Primary funder: Bexar County
Project manager: San Antonio River Authority
General contractor: Sundt Davila Joint Venture
Tile Mural Artisans: Adrianna M. Garcia, Joe Lopez, Michael Menchaca, Katie Pell, Alex Rubio
Porcelain Tile Imaging: Tile Artisans Digital Imaging
Tile contractor: J&R Tile
Resources
https://spcculturepark.com
https://www.sariverauthority.org
http://www.jandrtile.com
https://tileartisans.com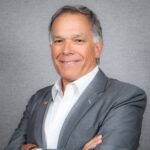 Ed Metcalf is co-founder of Metcalf Advisory Services LLC, a family business whose mission is to strengthen individuals, organizations, and communities across North America.