Roberts tells the tale of 40 years in the tile industry, and still going strong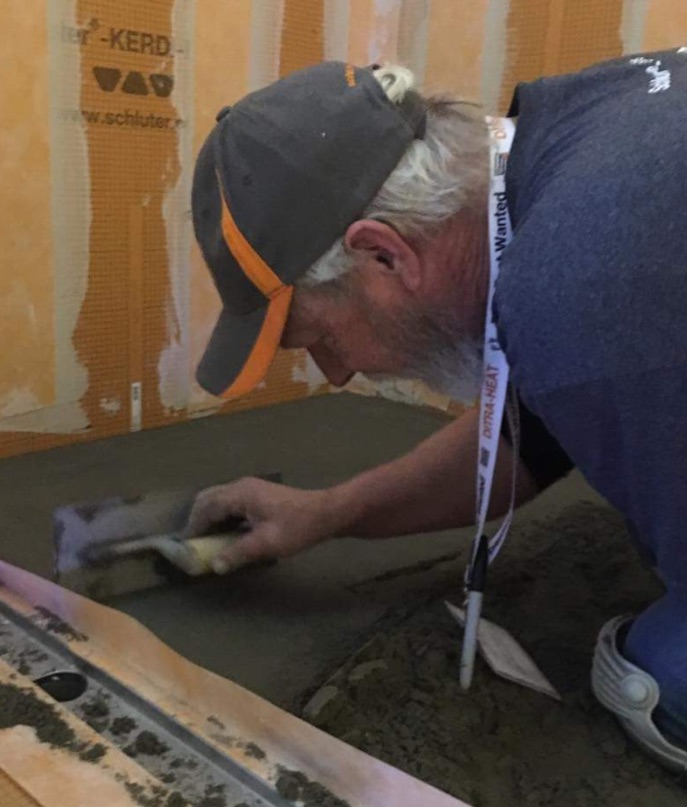 I started in the tile industry almost 40 years ago, working as an apprentice. My first day on the job was spent at a mud box with a mud hoe in my hands. When I started out, everything we did was mud. All walls and floors were hand mudded. It wasn't too long that my tile mechanic had a hawk and trowel in my hand and was teaching me how to mud walls and mud floors. We did mostly commercial work and I traveled all over the Southeastern U.S.
We did a lot of work at Walt Disney World, and one of the coolest projects at Disney was working on the world's largest sundial building, when it opened in 1991. It was designed by architect Arata Isozaki and holds the Guinness World Record of
being the world's largest sundial. We helped tile the outside facade with 3" round green circles, one at a time.
After traveling for 15 years doing tile work in the Southeast, I hung up my commercial work boots and married an interior designer and formed a design-build business based in Orlando, Fla. I continued to install tile, but in high-end residential projects. One memorable project was in Telluride, Colo., for a vice president of Marriott Corp., who hired our firm to completely remodel a ski house. After living in sunny Central Florida most of my life, I learned quickly about Carhartt jackets and bucket heaters for your wet saw in February.
In 2008, after the economy had crashed and the Central Florida market died, I decided to move to Atlanta, Ga. Fast forward 10 years – I am now outside Dalton, Ga., close to the mountains.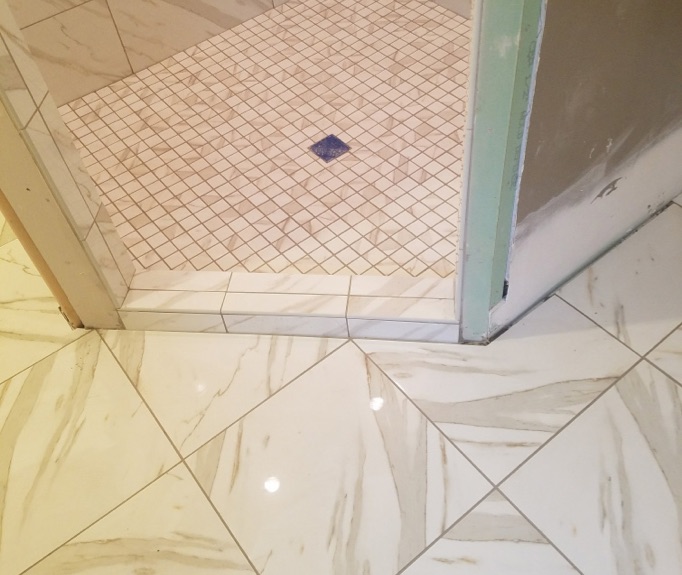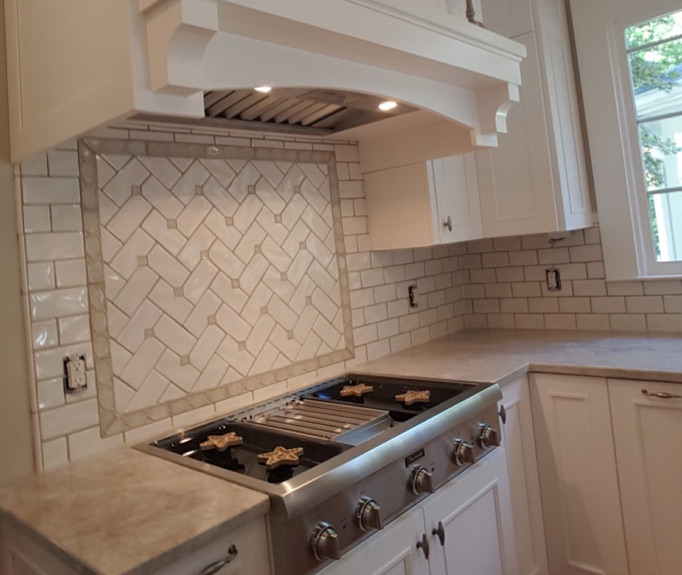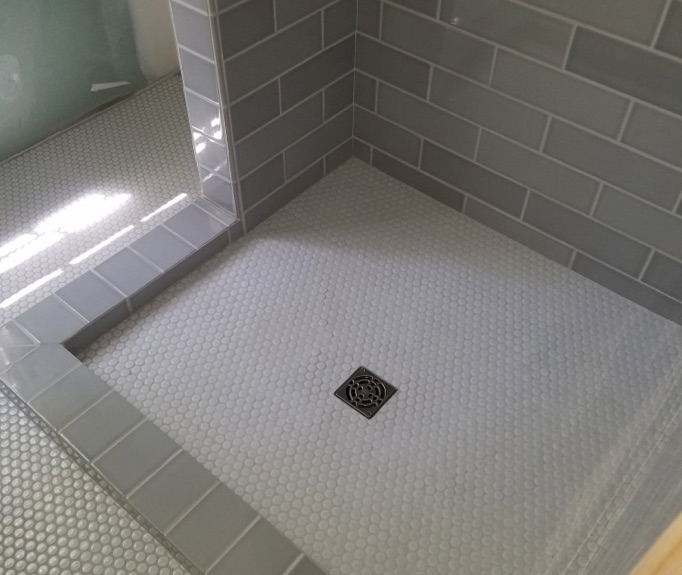 Joining NTCA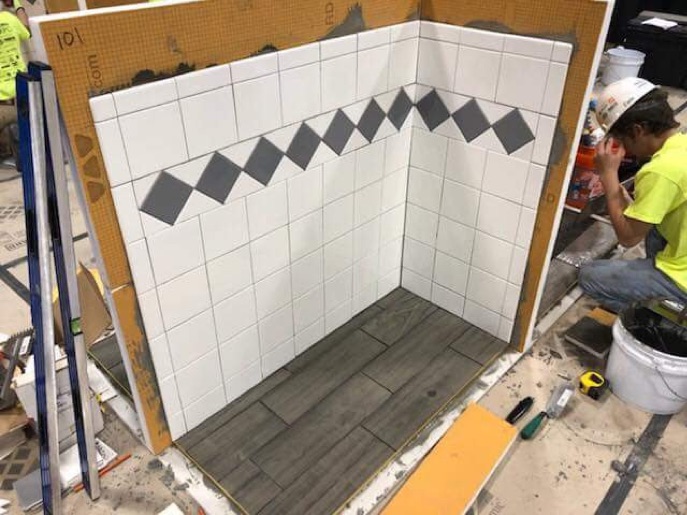 Through social media and tile groups I found out about and joined the NTCA in the fall of 2015 – one of the best decisions I have ever made. I have made many friends in the tile industry and am very proud to call a lot of them tile brothers and sisters. I attended my first NTCA workshop early in 2016 and met Scott Carothers, the director of the Ceramic Tile Education Foundation (CTEF), who encouraged me to take my Certified Tile Installer (CTI) test. In Dec. of 2016 I took my test in Pendleton, S.C. at CTEF along with a special Tile Love/ Schluter sponsored workshop. The best Christmas present ever was finding out I passed my test to become CTI #1278. I then volunteered to become an NTCA State Ambassador. In 2017 I became a Regional Evaluator for CTEF and hold CTI tests all over the Southeast. This has been truly meaningful to me, as I love teaching younger installers the trade and it has become a passion, to teach them industry standards.
In March of 2018, I helped NTCA Five-Star contractors Woody Sanders (DW Sanders Tile and Stone Contracting, Inc., Marietta, Ga.) and Rod Owen (CC Owen Tile Co., Inc., of Jonesboro, Ga.), and NTCA member Cain Curtis (A Tile Experience, Atlanta, Ga.) with the Georgia Skills/CEFGA high school tile competition. I helped to build the modules and judge the competition. This was a great experience for me, as I got to help instill a love for our industry to these young students.
The camaraderie of Coverings
In May of 2018, I was asked by my friend Woody Sanders to help install the tile in a tiny house at the Coverings Installation Design showcase in Atlanta. This brought me back to working my commercial days with big crews in tight spaces. It was a great experience for me, and I am grateful to be asked to participate. These tiny houses were later towed to my hometown of Orlando, Fla., where they were set up in a park and rented out as Air B&Bs. Maybe some lucky person will stay in one of them for the upcoming Coverings 2019, which will be held in Orlando.
I highly encourage everyone involved in the tile industry to attend this show. You will not be disappointed. I have attended many Coverings shows, and Orlando is one of the top venues. This year I met so many people that I knew from the tile groups. One that comes to mind is "the man, the myth, the legend" 2018 Coverings Rock Star Jason McDaniel. Jason runs a Facebook group called Global Tile Posse (GTP) and it was a pleasure getting to spend time with him at the Golden Trowel Challenge.
I will never forgot attending Coverings in Orlando, back in 2015. While I was online in the Tile Geeks social media group, a guy was disappointed that he couldn't attend, since his travel partner bailed at the last minute. I reached out to him, offering him lodging at my mom's house with me for the show. I picked him up in South Georgia, on my way to Orlando and we drove straight to the show. Donovan Lucero of Lucero Flooring Company, Jesup, Ga., and I have become lifelong friends and brothers in the tile industry.
We also met up with another great guy that I knew online through Tile Geeks, who has become one of my best friends: Ben Ernst. We walked in the Orange County Convention Center, and the first person we ran into was Brad Denny, NTCA Five-Star contractor (Nichols Tile & Terrazzo Co, Inc., Joelton, Tenn.) We knew him from Tile Geeks, but not in person. He grabbed us and brought us over to the NTCA lounge and made us feel at home. What a great guy; I am proud to call him a friend.
CTEF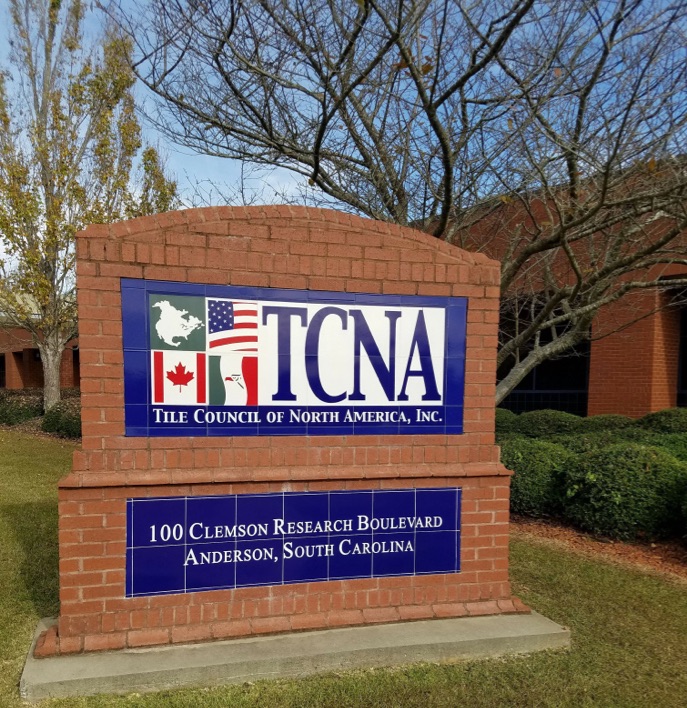 I just finished helping Scott Carothers teach a weeklong class in Pendleton, S.C. at the CTEF in early November. The class was an introduction to ceramic tile and mortar shower bases. It was attended by people from all over the U.S., including staff from the Tile Council of North America (TCNA) – headquartered close by in Anderson, S.C. – and NTCA's new Marketing and Communication Director Avia Haynes (see related story on page 54 of this issue). Some of us got a special behind-the-scenes private tour of the TCNA. This was a once-in-a-lifetime event, and am very proud to have been invited.
Who would have thought that 40 years ago, mixing mud in that mud box, I would be where I am today: a proud member of the NTCA, NTCA State Ambassador, CTI #1278, CTEF Regional Evaluator and a tilesetter who takes pride in doing things that will last the test of time.