A leading player in the international ceramics market, Kaleseramik presented its new products at Coverings 2019, one of the world's foremost ceramics trade fairs, held in Orlando, Fla., April 9-12. Günfer Haklı, EVP, International Markets Sales and Marketing, said, "As the first Turkish ceramics firm that made a brand investment in Italy, we took part in the fair with our Edilcuoghi Edilgres, Campani, Çanakkale Seramik and Kalebodur brands. We will continue to make a difference in the international market with our innovative brands that symbolize our high quality and unique design approach." These brands were all on display in the Kaleseramik booth there — showing novelties from Europe's 4th and the world's 15th biggest ceramic tile manufacturer.
The company aims to grow in the global market with its Italian brands
Emphasizing on the exclusive designs they developed for a variety of styles and functional solutions that made life easier to provide the users with the living spaces of their dreams, Günfer Haklı, EVP, International Markets Sales and Marketing, said: "Our brands were among the highlights of the fair with products that symbolize our high quality and unique design approach." Underlining Kaleseramik's goal of growing in the global market, Günfer Haklı added: "Kaleseramik, which carried out Turkey's first ceramic exports in 1962, acquired prestigious Italian brands Edilcuoghi Edilgres and Campani with Kale Italia in 2011. Having made the first Turkish acquisition in the Italian ceramic industry, which is deemed the center of the world in ceramics, Kale accelerated its branding efforts abroad with this investment. Today, consumers in more than 100 countries across all continents extending from Asia to Europe, America to Africa, have access to Kale branded products."
New collections on display for the first time at the Coverings Fair
At the Coverings Fair, Kale showcased its Oregon, Ashdown and Woodream collections for the first time. In addition to new collections, Kalebodur's innovative product Kalesinterflex was also on display with examples from various areas of use.
An innovative product that breaks the routine in the industry: 'Kalesinterflex'
Reflecting on its product line its long-established brand experience with state-of-the-art technology, Kalebodur introduced a new look into architectural designs and construction technologies with Kalesinterflex –Turkey's thinnest, biggest and most flexible ceramic tile with thickness varieties of 3mm and 5mm and dimensions of 120x360cm.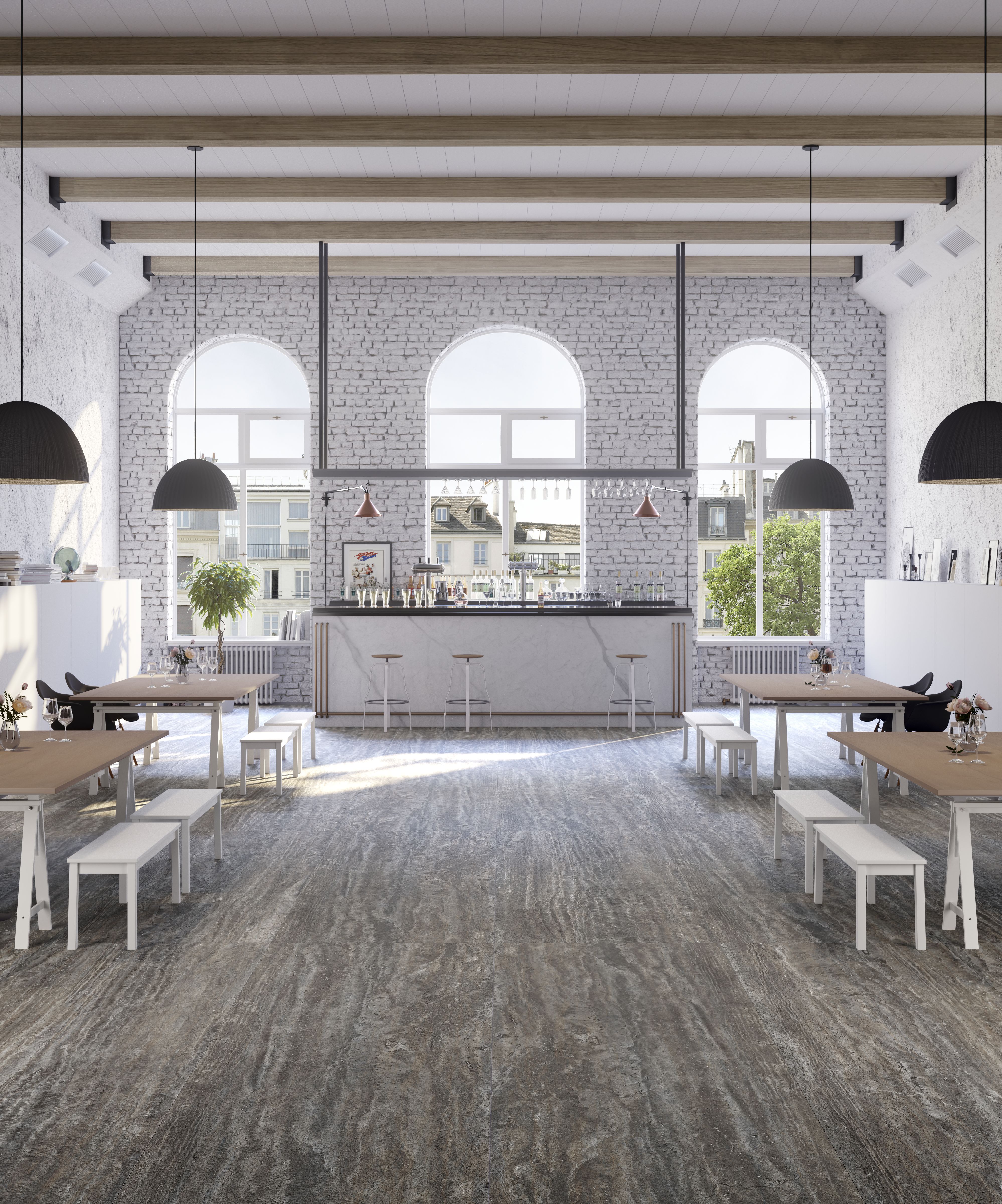 Much more practical, aesthetic and longer lasting than other coating materials, Kalesinterflex is also used on different areas such as tables, coffee tables, TV set units and bathroom furniture as well as kitchen counters and cupboard doors.
Kalesinterflex allows for both the implementation of new ideas on façades and interiors and the creation of modern living areas. Kalesinterflex is an environment-friendly product, as it requires less raw materials, less energy, and less water from the nature to manufacture.
Kalesinterflex also stands out with its resistance to fire and chemicals, easiness to clean and its antibacterial qualities. It is preferred by both consumers and professionals thanks to its anti-graffiti and photocatalytic properties, easiness to cut in varying dimensions, and environment-friendliness. Kalesinterflex comes in a vast range of colors and textures, providing considerable freedom of movement, application and creativity for buildings.