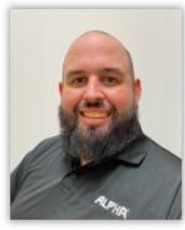 Franklin, NJ February 27, 2023, Alpha Professional Tools® is pleased to announce that we have hired Kevin Smith as an Inside Sales Associate effective February 27, 2023.

He will work together with our Customer Service Team and our Outside Sales Reps to provide maximum customer satisfaction. Kevin is bi-lingual, English/Spanish, and will be stationed in eastern Tennessee.
Kevin Smith has been working in the Stone Industry just over 2 years. He had previously worked at one of the largest stone tooling distributors in the USA. He has a passion for the industry and its fast moving advancements in technology.

Kevin currently resides in Knoxville, TN and loves getting out into the Smoky Mountains during his free time. He looks forward to being able to provide the highest level of service to our clients.

He can be reached at the following:
Cell: (804) 382-5357
Office: (800) 648-7229 ext. 207
E-mail: [email protected]
---
About Alpha Professional Tools®
Alpha Professional Tools® was founded in 1986 and has become a leading manufacturer of quality tools for professionals in the natural/engineered stone, porcelain, ceramic, glass, construction, and hardscape industries. Alpha® provides the best products for cutting, drilling, shaping and polishing all types of materials. In addition to providing the best products in the industry, Alpha Professional Tools® offers a variety of services to support their products.

More information is available at www.alpha-tools.com.