Displayed in Laminam's state-of-the-art booth designed by the renowned architecture firm Park Associati, the new colors infuse light into the surface for a unique effect
Milan, Italy – (April 18, 2023) – Laminam, a global leader in producing natural surfaces for interior and exterior design applications, is shining a spotlight on their new Diamond Collection during the 61st edition of Salone del Mobile held from April 18-23, 2023, in Milan, Italy. The result of creative talent, dedication, and artistic research helped to bring the new collection to life through extreme durability and long-lasting beautiful design. The new collection will be made available in the North American market in summer/fall of 2023.
This year Euroluce, the biennial international lighting design exhibition will join Salone del Mobile after a four-year hiatus. Aligned and well-timed with Euroluce, Laminam presents an entirely new collection of 'Diamond' – inspired surfaces, capable of permeating and becoming eternal in any project. The new elegant and sophisticated offerings infuse light into its natural surfaces.
Laminam's R&D department is also launching two new finishes during Salone del Mobile that are visual and tactile, enriching the range of design and artistic possibilities. The new Polished Starlit finish presents a stardust effect thanks to a special formula based on quartz powder.
The Caress finish brings softness to a solid surface and transmits with a simple touch, the feeling of a smooth embrace. With its slightly opaque nature, this finish is perfect for delicate and classic combinations.
The Colors in Detail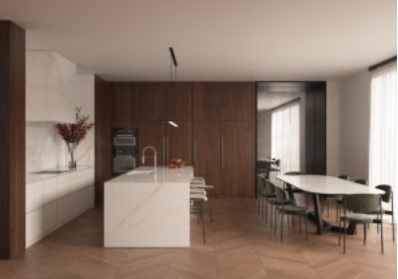 Cristallo Gold is a soft and delicate surface, timeless with beige, amber, and gold veining. Laminam captures the refined essence of natural crystal and enhances the patterns on a milky surface. In Cristallo Gold, graphic purity and functional grace come together, giving life to an extremely versatile and modern surface, perfect for any environment.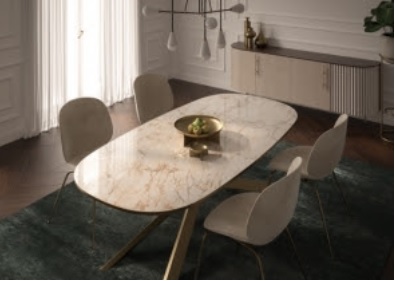 Two welcoming colors that were created to meet the modern trends of today, Onice Grigio and Cristallo Macchia Vecchia combine the "easy-chic" effect with timeless design. The sense of beauty takes shape with two elegant, yet contemporary and refined surfaces brought to maximum expressiveness, both of which feature a Polished Starlit finish. Cristallo Macchia Vecchia is a precious testimony of the past, while Onice Grigio is a beautiful emotive surface that reveals itself gradually, like the pages of a book.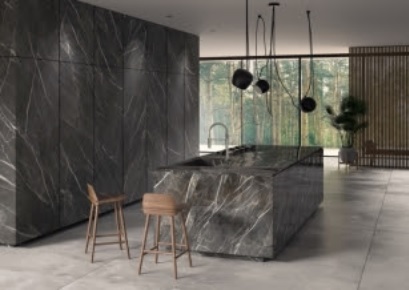 Calacatta Black captures the refinement of black marble with a warm twist, softening its features with hints of beige. A precious and intense surface, crossed by subtle white veins, it is characterized by a combination of strong graceful hues. This color enhances every project with extreme elegance, thanks to the Bocciardato and Polished Starlit surface finishes.
Warranting a wide range of diverse applications, Calacatta Black and Cristallo Gold are available in different formats and thicknesses. This opens new opportunities for the furniture market, specifically tabletops – an element that defines the style of any living space. With Cristallo Macchia Vecchia and Onice Grigio, available in a 1620x3240mm format, Laminam 5 thickness, and the new Polished Starlit finish, the company releases new innovative options, joining the spotlight at Salone del Mobile.
Laminam will be exhibiting at Salone del Mobile from April 18-23, 2023 in Pavilion 2, Booth G18. To schedule an onsite media appointment during the show, please contact Erin McKay at [email protected].
For more information about Laminam, please visit www.laminam.com.
---
About Laminam
Pioneers since the beginning. Laminam was born in the early 2000s, following the invention of production technologies to create ultra-thin ceramic surfaces of large dimensions. The company was the first to revolutionize the ceramics market, giving new impetus to a mature sector, betting on the intuition of creating large architectural surfaces and launching innovative sizes and thicknesses on the market. Over the years, Laminam has developed a completely new production process characterized by innovative methods and highly automated technologies typical of Industry 4.0, such as digital printing systems, dry cutting systems and internal logistics managed by automatic laser-guided vehicles. These are methods and technologies that increase energy efficiency while reducing environmental impact.
Today Laminam produces a range of eclectic and versatile large-format ceramic surfaces used in many applications, from traditional and advanced architecture to furniture and design, distributed in over 100 countries worldwide. Over the years, the collections have been enriched with new textures and finishes to enhance the creativity of designers, architects and anyone who wants to elevate their spaces.
Laminam is majority owned by Alpha, an independent pan-European private equity fund with €2 billion under management, specializing in mid-cap operations in continental Europe. The company has offices in Milan, Paris, Luxembourg, Frankfurt, and Amsterdam.