The International Jury Selected Four Winners and Six Honorable Mentions
Demonstrating Extraordinary Use of Italian Tile
(New York, NY -April 19, 2023) -Following another record year of exceptional projects showcasing inventive uses of Italian tile, Confindustria Ceramica (the Italian Association of Ceramics) is thrilled to announce the winners of the 2023 Ceramics of Italy Tile Competition, which is celebrating its 30th edition.
Each year, North American architects, designers and students are invited to submit projects that feature creative applications of porcelain and ceramic tile from Ceramics of Italy brands. With the competition's four categories -Single-Family Residential, Multi-Family Residential, Commercial, and Student -all proving to be highly competitive, the international jury ultimately chose four winners and six honorable mentions based on visual appeal, use of Italian tile, sustainable attributes, and overall design.
This year's standout projects include:
A 130-unit multi-family residential development by STUDIOSC featuring the expansive use of multi-format Italian tiles to create vibrant programmatic areas throughout the public spaces
Casa V, a modern, sustainable residence in San Jose, Costa Rica designed by Taller KEN, that uses refined Italian porcelain and teak material palettes to create seamless transitions within the home's picturesque landscape.
On the commercial side, Promenade Tower, a 775,000-square-foot office building in the epicenter of Midtown Atlanta designed by TVS, showcases a transformative design with its extensive use of wood-look and gauged porcelain tile panels, dramatically converting the ground floor into a luxurious, social gathering area.
New York School of Interior Design student Nivedhitha Ravi impressed the judges with renderings of an upscale boutique hotel in Montreal, showcasing a versatile selection of material effects from Italian tile manufacturers.
Across the board, this year's world-class projects highlight the latest trends and applications in ceramic tile -ranging from hyper-realistic cement-and wood-looks to sophisticated marble-effects with through-body veining technology and large-format, gauged porcelain panels for interior and exterior installations.
This year's 2023 Tile Competition winners was announced at Coverings -the largest tile and stone exhibition in North America -during the Ceramics of Italy Press Conference today at the Orange County Convention Center in Orlando, Fla. All category winners received an expense-paid trip to accept the award and present their projects in front of a large audience of design and trade media, manufacturers, and tile industry professionals at the show. In the built project categories, winners will also received a CEU-accredited, expense-paid trip to Cersaie -the world's premier exhibition of ceramic tile and bathroom furnishings -taking place in Bologna, Italy from September 25-29, 2023.
MULTI-FAMILY RESIDENTIAL WINNER
Project: 300 East Washington Street
Location: Syracuse, NY
Tile Manufacturer: Mirage
Distributor: High Style Stone & Tile
Installer: Carnegie Management
Photographer: Revette Studio, Inc.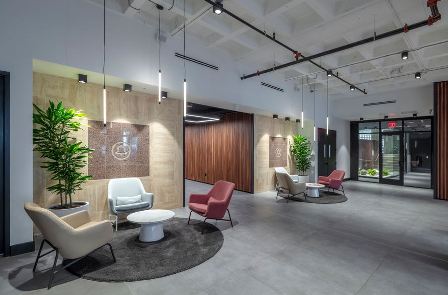 Located in the old NYNEX building in downtown Syracuse, 300 East Washington Street is a 130-unit multi-family residential development featuring lively interiors by STUDIOSC. Challenged with the constraints of working within an existing structure, the firm situated the apartments around the perimeter while placing the building's amenities near the core. With the innermost spaces devoid of natural light, the firm used artificial lighting, playful use of color, and tiles from Mirage's Glocal collection in a variety of formats and shades to help create vibrant programmatic areas throughout the public spaces.
MULTI-FAMILY RESIDENTIAL HONORABLE MENTION
Firm: Habitat To Art
Project: 805 Washington Avenue
Location: Brooklyn, NY
Tile Manufacturer: Florim
Distributor: FlorimSolution, Inc.
Installer: GGL Enterprises Inc.
Photographer: Alexander Severin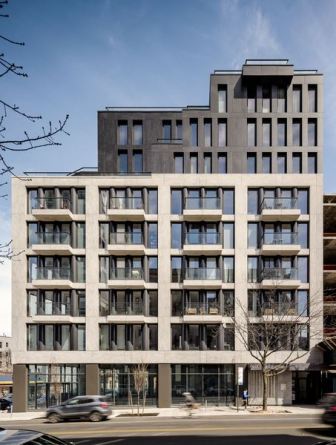 805 Washington Avenue is a nine-story luxury condominium building in the heart of Brooklyn's cultural enclave. Tasked with creating a new architectural landmark, Habitat to Art utilized Italian porcelain tile to design a striking exterior that also improves the building's energy performance. Knowing that envelopes can reduce a building's energy consumption by up to 40%, the firm created a ventilated facade using large porcelain slabs from Florim's Flowtech and Ardoise de Rexcollections. The tiles are mechanically fixed to a metal structure, offering protection from water and exterior weather conditions while providing a modern and elegant solution to improve the thermal performance of the building.
SINGLE-FAMILY RESIDENTIAL WINNER
Firm: Taller KEN
Project: Casa V
Location: San Jose, Costa Rica
Tile Manufacturer:Italgraniti
Distributor: Kamalio
Installer: GruppoAIE
Photographer: Andres Garcia Lachner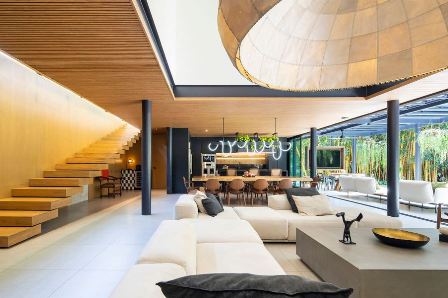 Casa V is a modern and sustainable residence in San Jose, Costa Rica designed by Taller KEN to give the owners ample space to relax and unwind. Set into a hillside that opens up to a tropical bamboo surround, the home's interiors are arranged to focus on the tranquil views toward the rear of the property. Furniture with neutral tones and a refined material palette of Italian porcelain and teak wood help tie the home to the plot of land and create the feeling of bringing the outdoors inside. The firm used light gray porcelain flooring from Italgraniti throughout the house for its large format and durability while tiles from the brand's Ceppo di Gre collection were chosen for the bathroom to achieve the look of polished terrazzo without the installation challenges.
SINGLE-FAMILY RESIDENTIAL HONORABLE MENTION
Firm: DKOR Interiors
Project: Coastal Florida Keys Home
Location: Big Pine Key, Fla.
Tile Manufacturers: Edimax Astor, Atlas Concorde
Distributors: Ceramic Matrix, Design Works
Installer: Pinewood Enterprises, Inc.
Photographer: Alexia Fodere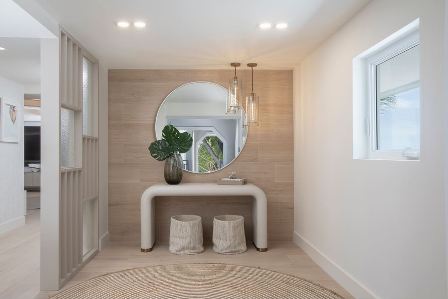 Set amidst the natural beauty of the Florida Keys, DKOR Interiors led a sophisticated makeover for a thriving young family in Big Pine Key. Blending with the beach, the color palette for Coastal Florida Keys Home features sandy neutrals, lush greens, and seafaring blues and aquas. Warm wood and sparkling stone accents can be found throughout the house as a nod to both the forest and the sea. Large rooms flow into one another, promoting a breezy and communal lifestyle, connected by porcelain flooring from Edimax Astor's Naturel collection. Meanwhile, tiles from Atlas Concorde's Mark collection provide a stylish and functional addition to the bathrooms.
SINGLE-FAMILY RESIDENTIAL HONORABLE MENTION
Firm: Kearns Mancini Architects Inc.
Project: Endymion Guesthouse
Location: Prince Edward County, ONTile
Manufacturer: Laminam
Distributor: Stone Tile
Installer: Fabritek
Photographer: Tom Ridout, Industryous Photography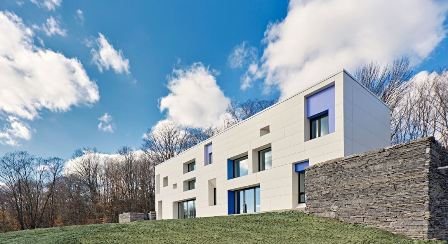 Set in the bucolic landscape of Prince Edward County in Ontario, the Endymion Guesthouse is a three-level, multi-generational house designed for the owners' visiting family, friends and guests. It luxuriates in the landscape, the environment, and the climate of the locale, offering a quiet bower for besotted guests. Designed by Kearns Mancini Architects Inc. using the latest Passive House practices, the guesthouse offers its residents a healthy, energy-efficient and cost-saving way of living. Porcelain tile from Laminam's Neve collection in a 3.5mm thickness offered the lightest, strongest and most beautiful cladding option, allowing the firm to create a ventilated rainscreen wall while avoiding any thermal bridging.
COMMERCIAL WINNER
Firm: TVS
Project: Promenade Tower
Location: Atlanta, Ga.
Tile Manufacturers: Imola, Provenza, Ceramiche Piemme
Distributor: Ceramic Technics
Installers: Gordy Tile, DCO Commercial Flooring
Photographer: Michael Stavaridis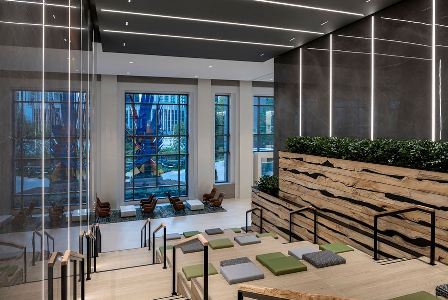 Located in the epicenter of Midtown Atlanta, Promenade Tower is a 775,000-square-foot office building uniquely positioned close to key attractions like the Woodruff Arts Center. Tasked with creating a transformative design to revitalize and attract tenants to the iconic tower, TVS utilized an extraordinary palette of gauged porcelain tile panels to dramatically convert the entire ground floor into a grand social gathering area. Equipped with stadium seating and pockets of elevated lounge areas, the firm selected wood-look tiles from Provenza's Rovere Puro collection, coupled with flooring from Imola's Limestone series, which spills seamlessly into the elevator banks. Throughout the building, upscale tenant restrooms feature showstopping selections from Ceramiche Piemme and Provenza, contributing to the space's overall refined, luxurious aesthetic.
COMMERCIAL HONORABLE MENTION
Firm: 505Design Inc.
Project: Southgate Centre Sears Redevelopment
Location: Edmonton, AL
Tile Manufacturer: Ceramiche Refin
Distributor: Ceramic Technics
Installers: Imperial Marble, Tile LTD
Photographers: Nicola Fort, 505Design Inc.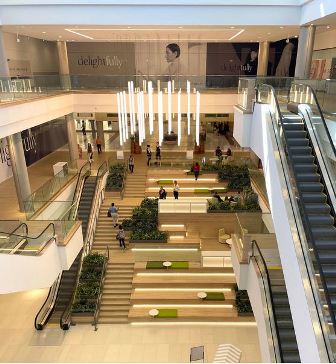 Regarded as the premier fashion hub of South Edmonton, Southgate Centre brings an unmatched level of sophistication to the area's upscale retail experience. To update the space, 505Design Inc. led the redevelopment of a former Sears department store, revitalizing this former big-box area into a vibrant, modern gathering hub for retailers and customers alike. Featuring three levels of retail space, the new North Wing is anchored by an open-concept 70' atrium with a stadium-style seating terrace. Here, the firm selected honey-toned, wood-look tiles by Ceramiche Refin, complemented by natural lighting and vibrant greenery, to create a warm, inviting space for guests to recharge, work, and socialize.
STUDENT WINNER
Name: Nivedhitha Ravi
University: New York School of Interior Design
Major: Interior Design
Project: Hotel Rivera
Tile Manufacturers: ABK, Alfa Lux, Caesar, Ceramiche Refin, Level, Provenza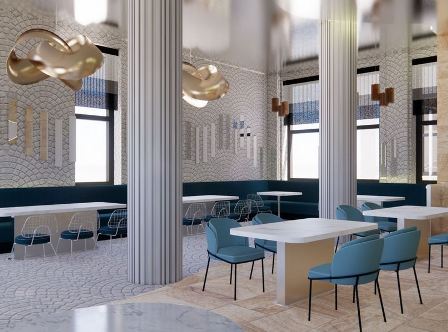 Situated close to the St. Lawrence River in Montreal, interior design student Nivedhitha Ravi designed Hotel Rivera as a boutique luxury setting intended to integrate the riverfront and rustic urbanity of Old Montreal into each space. Desiring a versatile palette of material effects, Nivedhitha selected a myriad of Italian tiles from Caesar, Ceramiche Refin, ABK, Alfa Lux, and Level, mixing glossy marble and travertine looks with rough stone texture effects to achieve the overall vision. Featuring a thoughtfully-curated lounge, spa, restaurant and reception area, each space creates a compelling contrast between water and urban, reflective and rustic, smooth and tactile, and organic and linear, while powerfully showcasing the versatile nature of Italian tile.
STUDENT HONORABLE MENTION
Name: Elzbieta Janowska
College: Scottsdale Community College
Major: Computer Assisted Design and Drafting
Project: Man CaveTile
Manufacturers: ABK, Emilceramica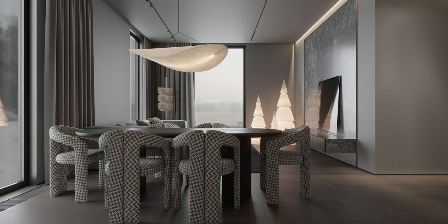 Man Cave by student Elzbieta Janowska captures the essence of simplicity, minimalism and functionality. Intended for a single man in Poland, the space effortlessly combines elements of sophisticated restraint with sleek modernity. Wooden-look tiles from ABK ground the space and evoke a sense of warmth, while incorporating elements of practicality for easy maintenance. In the kitchen, subtle hints of movement are brought in through the veining of Emilceramica's marble-effect porcelain tiles, creating an elevated, yet inviting area. Featuring a dynamic stone accent wall, each material in the apartment delicately complements each other, establishing a harmonious, stunningly subdued setting.
STUDENT HONORABLE MENTION
Name: Athena Coliviras
College: Georgian College
Major: Interior Design
Project: Tierra Casa
Tile Manufacturers: Eco Ceramica, Isla, La Fabbrica, Ricchetti, Tagina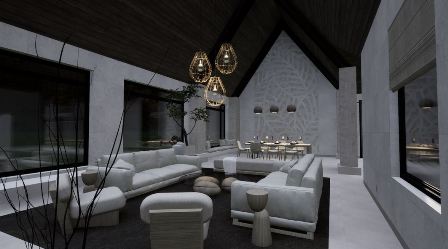 Meaning "home of the earth," Tierra Casa illustrates an exceptional, tile-infused living space from interior design student Athena Coliviras. Featuring a floor-to-ceiling leaf print mural from Isla Tiles, the space's use of neutral colors, organic shapes and an abundance of Italian tile releases a warm, comfortable essence. In pairing muted tones with soft shapes, selections from Ricchetti and Eco Ceramica wrap the walls while a large fireplace coated in porcelain tiles from Tagina mimics a cool, plaster effect. Cement-look flooring from La Fabbrica floods into the kitchen, extending the project's stunning aesthetic into the heart of the home.