TORONTO, ON. (June 13, 2023) – Laminam, a global leader in producing natural surfaces for interior and exterior design applications, has officially launched the highly anticipated new Diamond Series in the North American market. The state-of-the-art collection, unveiled during the prestigious 61st edition of Salone del Mobile in Milan, Italy this past April, highlights Laminam's commitment to innovation, extreme durability, and timeless design.
Through their dedication to surface innovation, Laminam's R&D department has crafted two new finishes as part of this color collection. The Polished Starlit finish is characterized by its stardust effect created from a special formula based on quartz powder, making it a perfect fit for contemporary projects. The Caress finish offers a delicate tactile experience with a soft to the touch finish.
Calacatta Black enhances any project, exuding elegance and prestige while addressing the evolving design preferences of the industry, where rich details and decorative flourishes are becoming increasingly sought after. Available in the new Polished Starlit finish and the popular Bocciardato finish, Calacatta Black emulates the refinement of black marble while infusing warmth with subtle hints of beige. Its versatility opens new avenues for creativity, with various formats and thicknesses suitable for an array of applications, including countertops, flooring, stairs, wall cladding, exterior facades, furniture, wet areas, fireplace cladding, and more.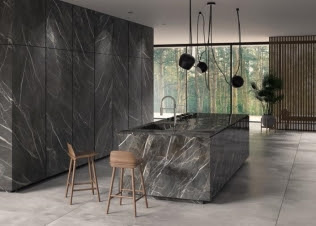 With its soft and delicate aesthetic adorned with beige, amber, and gold veining, Cristallo Gold captures the essence of natural crystal with enhanced patterns across a milky surface. The graphic purity and functional grace of this color come together to give life to an extremely versatile and modern surface that is ideal for any environment. Cristallo Gold is available in the Polished Starlit and Caress finishes.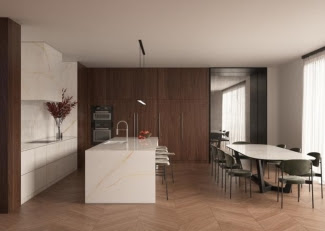 "Laminam's Diamond Series reinforces our commitment to R&D through the development of something different and artistically innovative within the surfaces category," said Philip Eeles, President of Laminam North America. "We continue to redefine the boundaries of interior and exterior surface applications, empowering design professionals through these new colors to create captivating and inspiring spaces. They aren't just beautiful. Laminam's high-performance surfaces offer maximum functionality, are non-absorbent, stain-resistant and sustainable, containing anywhere between 20 and 60 percent pre-consumer recycled material."
Ultra durable and easy to fabricate, Laminam natural surfaces have a high resistance to UV rays, thermal shock, stains, scratches and abrasion. Warranting a wide range of diverse applications, Calacatta Black and Cristallo Gold are available in several different formats and thicknesses, allowing for unlimited creative possibilities for architects and designers, for both residential and commercial projects.
The Diamond Series is now available across North America for interior and exteriors projects. For more information about Laminam, please visit www.laminam.com.
---
About Laminam
Pioneers since the beginning. Laminam was born in the early 2000s, following the invention of production technologies to create ultra-thin ceramic surfaces of large dimensions. The company was the first to revolutionize the ceramics market, giving new impetus to a mature sector, betting on the intuition of creating large architectural surfaces and launching innovative sizes and thicknesses on the market. Over the years, Laminam has developed a completely new production process characterized by innovative methods and highly automated technologies typical of Industry 4.0, such as digital printing systems, dry cutting systems and internal logistics managed by automatic laser-guided vehicles. These are methods and technologies that increase energy efficiency while reducing environmental impact.
Today Laminam produces a range of eclectic and versatile large-format ceramic surfaces used in many applications, from traditional and advanced architecture to furniture and design, distributed in over 100 countries worldwide. Over the years, the collections have been enriched with new textures and finishes to enhance the creativity of designers, architects and anyone who wants to elevate their spaces.
Laminam is majority owned by Alpha, an independent pan-European private equity fund with €2 billion under management, specializing in mid-cap operations in continental Europe. The company has offices in Milan, Paris, Luxembourg, Frankfurt, and Amsterdam.