Shannon Yodice, a.k.a, "That Tile Chick" of social media fame, has developed the Online Tile Academy (OTA) – an online, self-paced school for the tile industry that offers step-by-step video installation and guidance available 24/7 on any device. The OTA (onlinetileacademy.com) is installation-focused and offers lifetime access to updates in enrolled courses.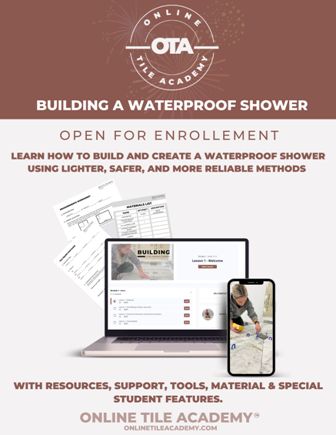 The OTA offers knowledge and information for seasoned installers as well as newbies, as well as retailers and installation houses who want to expand the knowledge of their sales force and installation crews on proper methods.
Currently offered is the "Building a Waterproof Shower" course designed to teach how to build and create a waterproof shower using lighter, safer and more reliable methods. Training includes: substrate prep; wall flattening and rain installation information; worksheets; data sheets; materials and tools list; access to current installation methods; and preferred pricing for all future courses. In addition, OTA students have access to a community support group.
This is the first course offered at the Academy, with other courses planned to address various aspects of installation
For more information, visit onlinetileacademy or email [email protected].