Lapitec sintered stone, used in architecture, interior and product design, is expanding in the North American market and is set to feature at the upcoming tile and stone conference and exhibition in Las Vegas.
With widespread coverage across the USA, a proprietary warehouse to efficiently serve the market, an office in Florida and a team of local professionals, Lapitec is set to announce the birth of Lapitec USA, marking the Italian company's determination to boost its presence in one of the most exciting markets in the world of surfaces.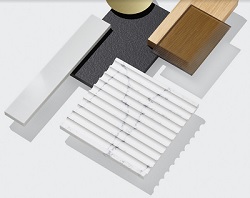 "There are various features of our material that have made it possible for us to engage with our American counterparts, first and foremost its great resistance combined with a completely natural composition that is free of inks, resins, glues or other toxic materials," explains Francesco Giannini, board member of Lapitec USA. "Lapitec is a catalyst for creativity and design. It can be processed along its entire thickness, comes in large sizes and is versatile, meaning that it can be used indiscriminately in kitchens and swimming pools, outdoor BBQs, facades and spas. Over the years, the North American market has grown and now accounts for about a quarter of our turnover. This has driven us, among the many other activities, to create specific aesthetics and extend our range with a colour that we will present at the forthcoming edition of Coverings."
At its stand, from 5 to 8 April 2022, Lapitec will unveil to the public the new Bianco Giulia colour from the Musa collection, characterised by a subtle irregular veining on a white background recalling the charm of natural stone. To showcase the material's potential for expression, the stand will feature a Danver outdoor kitchen in stainless steel with a worktop and details in Lapitec, as well as a large BBQ station inserted in a sintered stone design processed at several points.
"At Coverings we can announce another important development," concludes Giannini. "After years of research, from this year Lapitec has completely eliminated the use of crystalline silica, which is naturally present in all materials of mineral origin including ceramic and quartz. The new silica-free nature of the sintered stone makes it an even more sustainable, ethical and safer choice."
Lapitec at Coverings 2022
Las Vegas, Nevada
5-8 April
Stand C4520