January 16, 2018, Bethany, Conn. — LATICRETE, a leading manufacturer of globally proven construction solutions for the building industry, has awarded company scientist Lindsey Lempicki with the Dr. Henry M. Rothberg R&D Innovation Award. Named after company founder and former chemical engineer, this award recognizes an exceptional member of the research and development team who has significantly impacted business performance and sales through innovative new technologies.
"The long-term success of LATICRETE is determined by our ability to harness the power of innovation in every area of our business. Lindsey's remarkable results stem not only from her technical skill set, but also from her ability to understand and then translate customers' needs into product innovation. By continuing to add highly productive scientists like Lindsey to our team, we have greatly expanded our product portfolio while continuing to improve our core products," said Edward Metcalf, LATICRETE North America President and Chief Operating Officer.
Dr. Eerik Maandi, Vice President R&D with Scientist Lindsey Lempicki
Throughout the past year, Lindsey was the lead scientist in developing 4-XLT, TRI-LITE™, and 257 TITANIUM™.  She has been a valued member of the team since joining LATICRETE in 2007 after obtaining her bachelor's degree in Chemistry and Forensic Science from the University of New Haven.
With approximately 1,600 team members worldwide, LATICRETE operates in 100 countries and continuously sets benchmarks for quality and innovation by easing the work of the installer, improving the durability of buildings, creating lasting customer relationships and treating customers, employees and partners like family.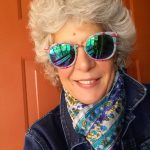 Editor for TileLetter, and TileLetter ARTISAN publications.
Lesley Goddin has been writing and journaling since her first diary at age 11, and drawing and sketching since she could hold a pencil. Her penchant for observation led to her becoming a paid professional as a trade journalist, publicist and is editor for TileLetter. She has also written for Guideposts, Walls, Windows and Floors, Floor Covering Weekly, and Low Carb Energy.