Six Dramatic Colors Join the Masterpiece and Musica Collections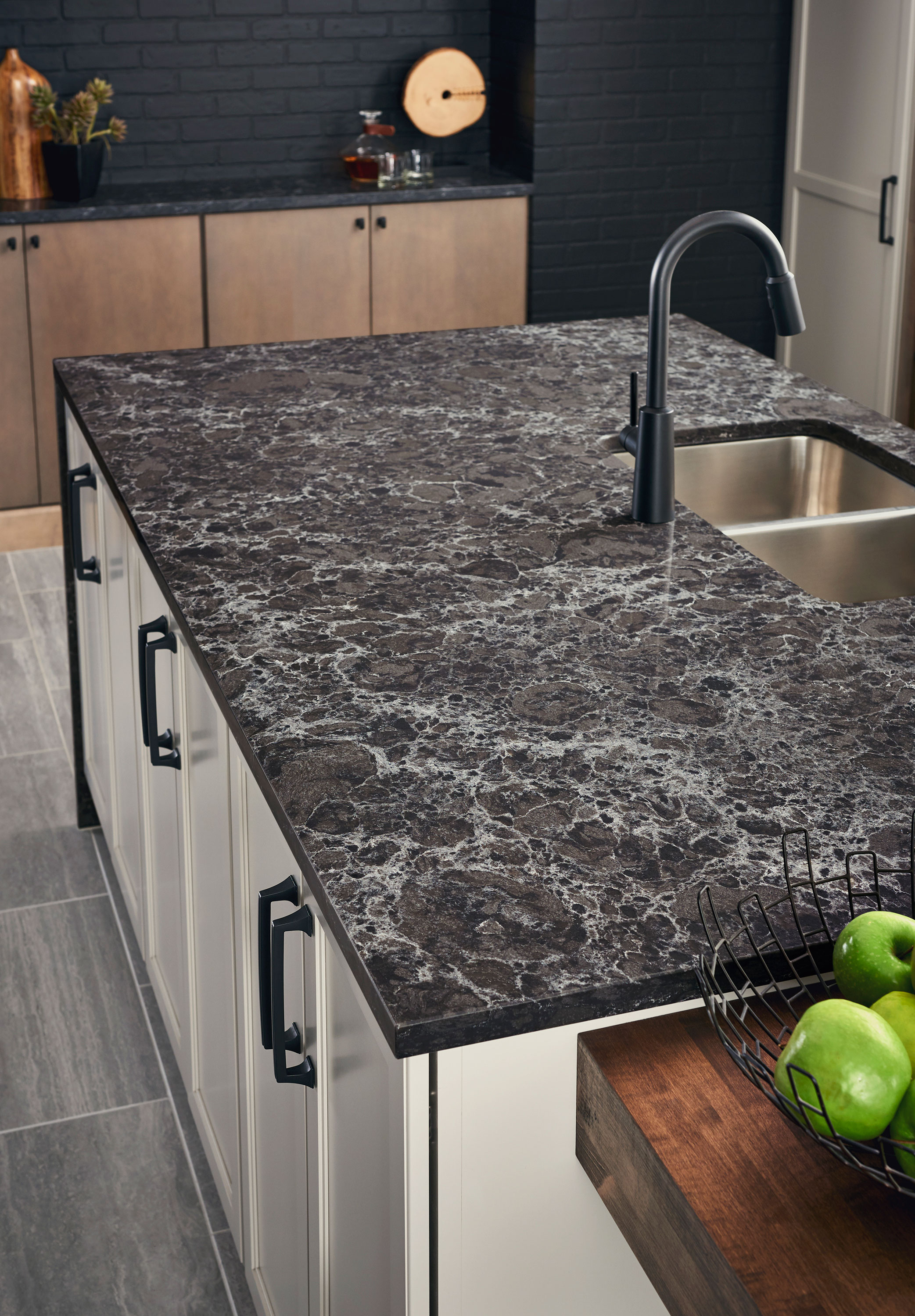 LG Hausys's Viatera quartz surface is introducing six new colors to its Masterpiece and Musica collections.  Ranging from light and airy to dark and dramatic, the colors offer a broader range of elegant and sophisticated options to spark inspiration for kitchen and bath design projects.  At the forefront of design, the new colors are ideal surfacing solutions for kitchen countertops and backsplashes, as well as bathroom vanities.  
Joining Viatera's Masterpiece Collection are Mica and Umbra. Mica evokes the organic radiance and complex layers of a rare geological gem. Its highly reflective, crystalline surface displays vivid white streaks bolting across an understated pale sea, accented with touches of light shadow.  Its dimensional finish creates a look of an alluring mineral.  Umbra's surface provides the illusion of natural movement inherent to the awe-inspiring phenomenon of an eclipse.  The sensation of light veiled in shadow is evoked by dark, linear veining, which lends to the visual interest of this surface as it blends with a muted gray background, bringing an air of tranquility to any space. 
Joining Viatera's Musica Collection are Dolce, Melody, Tenor and Basso.  Dolce's smooth surface provides the perfect foundation for creamy threads that gently play across a luminous backdrop and a pallet of dazzling hues.   Melody is a perfect combination of pitch and rhythm, as muted dark beige capillaries rise and fall across a refined cream-hued canvas, creating a sumptuous and soothing aesthetic.  Tenor features an agile surface and vibrant threads that ring out across a cool taupe surface, creating a melodious play of light and dark that come together in perfect unison.  Basso, rich and resonant, brings deep, velvety hues that lend an air of elegance and luxury to any room. Its warm, soothing surface evokes the sensation of sailing through a midnight, star-studded sky.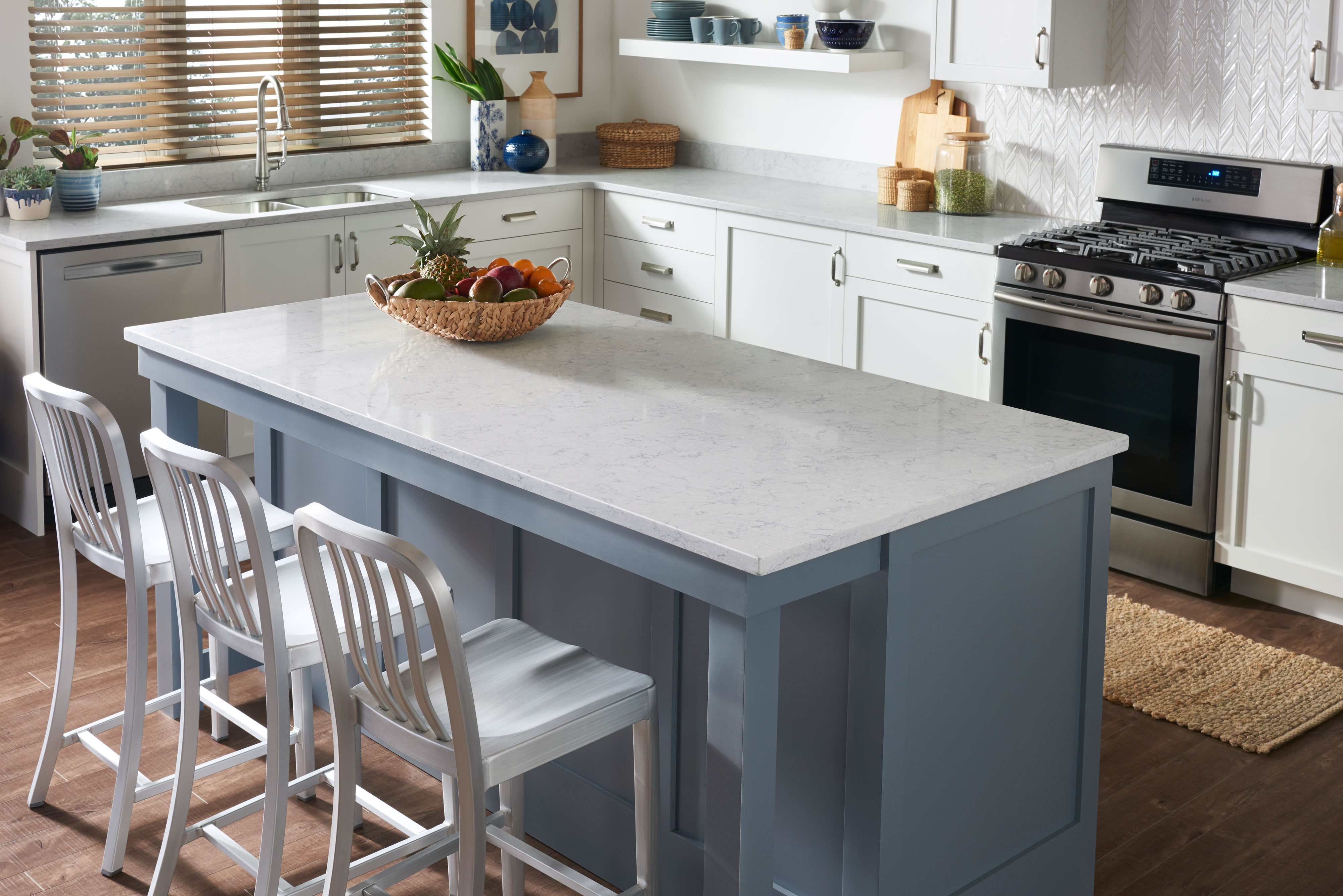 "These new Viatera colors are not only on the cutting edge of design, but are classic and will remain beautiful and in style for years to come," said LG Hausys America Marketing Manager Carol Lee.  "Homebuilding and design professionals will find myriad ways to use these colors to take their homeowners' visions to new heights.  It gives them the freedom to create a space that truly reflects the beauty and wonder of life."
Like all Viatera colors, each new color is comprised of 93 percent quartz, making it a superior surfacing option comparable to stone.  The colors come in a Jumbo II size slab of 63" x 130," which can accommodate larger layouts, including kitchen islands with fewer seams.  Each format is available in 2cm and 3cm thickness.  
Viatera, defined by its classic and timeless aesthetic, is comprised of four different collections, each inspired by and celebrating the earth's natural splendor.
Manufactured as a non-porous product, Viatera prevents harmful bacteria or mold from appearing. Unlike natural stone products, Viatera does not require regular application of sealants or waxes. Viatera is manufactured to prevent against everyday wear and tear and offers a higher resistance to stains, chemicals and heat, ensuring its long-lasting beauty and durability.  Using sustainable material and an eco-friendly manufacturing process, Viatera is NSF (National Sanitation Foundation) and Greenguard® certified. Viatera is backed by LG Hausys' 15-year transferable warranty. 
Interior decorators, kitchen and bath design professionals, homebuilders, remodelers and others wanting more information, or to request samples, can visit  http://www.lgviaterausa.com/index.jsp