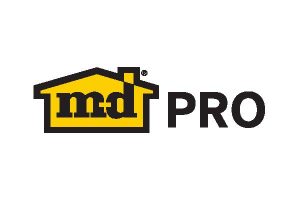 MISSISSAUGA, ON – January 15, 2020: M-D PRO (a division of Oklahoma City-based M-D Building Products) today announced it will be the sole exhibitor/manufacturer sponsor of the Distributor Lounge at The International Surface Event (TISE) 2020.
Together with media sponsor, Floor Covering Weekly (FCW), and association sponsor, North American Association of Floor Covering Distributors (NAFCD), M-D PRO will be providing a relaxing space for distributors who need a break from the hustle and bustle of the show floor. The lounge will provide visitors with comfortable seating, free Wi-Fi & refreshments and a complimentary gift from M-D PRO. TISE Distributor Lounge will be located on the show floor in booth #700 and will be open throughout the entire duration of the show.
"This year is the start of M-D Building Products' 100 Year Anniversary Celebration. In conjunction with this historic milestone, the M-D PRO division wants to start the party off right at one of our industry's largest showcase, by giving back to our supportive friends and colleagues at NAFCD," said Steven LaGrou, Vice President of Sales & Marketing, M-D PRO. "Our business philosophy has always been, and will continue to be supporting the North American Distributors with our PROVA ceramic waterproofing accessories as well as the most extensive sundry line in the industry for many years to come" LaGrou added.
Part of the overall goal for sponsoring the distributor lounge at TISE 2020 was to drive awareness for "the M-D PRO advantage" and how the company continues to successfully service and maintain long-standing partnerships within the professional distribution channel. "We are committed to supporting the flooring distribution network and believe that this sponsorship will serve as a meaningful way to connect with some of the industry's finest distributors who wish to provide more breadth in assortment while consolidating suppliers and their inventory," states Julia Vozza, Director of Marketing, M-D PRO.
Additionally, M-D PRO and M-D Building Products will be using TISE 2020 as a launchpad to commemorate M-D Building Products 100-year anniversary. Over the course of many years, M-D Building Products has become widely recognized as a leader in the floor covering installation accessories market, the weatherization market, caulks and sealants market as well as an OEM supplier of Aluminum and Vinyl extrusions.
"100 years ago, M-D Building Products started as a small, regional one-man/one-product operation working out of an Oklahoma City workshop selling an under-door weather-strip to keep dust off his kitchen floor during the dustbowl of the 1920's. Today we sell a diversified portfolio of products and employ over 1,100 dynamic and engaged team members," said Joe Comitale, President, M-D Canada and Senior Vice President, M-D Building Products. "We are extremely proud of what we've accomplished in our first 100 years of business and want to thank all the current and past employees and customers who contributed to our success in reaching this milestone. We look forward the next 100 years ahead!" Comitale added.
M-D PRO invites all those attending TISE to join in the celebration with them in booth #4707. Stop by to say hello, play a round of PROVA Corn Hole and get the inside scoop on the following new products: M-D PRO Luxury Vinyl Finishing Essentials, PROVA PAN-MULTI system, M-D SmartTool™ digital levels, and the M-D PRO Primed Solid Pine Profiles.