Deerfield Beach, Florida – MAPEI Corporation recently received six (6) CLEARselect awards from Clear Seas Research. The awards were originally scheduled to be given at The International Surface Event (TISE) 2022, which was held in Las Vegas, Nevada, on February 1-3; however, due to COVID-19, they were shipped to our offices instead.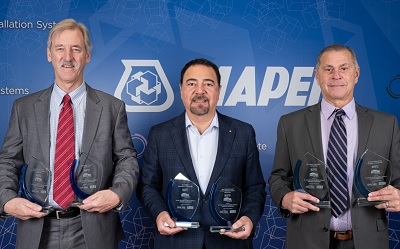 Clear Seas, a market-research company for the flooring industry, surveys the members of the National Tile Contractors Association (NTCA) every two years. The surveys ask the members for their Preferred Manufacturer in 16 different categories within the industry. The 2022 survey found that MAPEI is the members' Preferred Manufacturer in the following categories:
• Most preferred brand of organic adhesives (mastics)
• Most preferred brand of single-component grouts
• Most preferred brand of sealers
• Best overall value
• Best product performance
• Best product availability
"We are truly honored by this large number of awards from Clear Seas and the NTCA member contractors and installers," said Luigi Di Geso, MAPEI Corporation's President and CEO. "We are especially proud of the Best Product Value, Performance and Availability awards because they truly represent the tightly coordinated teamwork of our Research & Development, Operations and Sales teams during these unprecedented times of shortages and delays."
MAPEI was founded in Milan, Italy, in 1937 with a philosophy of continual product innovation and attention to excellence. Di Geso continued, "This commitment to constant innovation and service is not new to MAPEI and we remain proud of the fact that, worldwide, we are known for our superior products regardless of market conditions. This strong performance reflects the strength of our products and the commitment of our employees, and I am very honored to accept these awards on behalf of MAPEI Corporation's employees who have worked to ensure that our
commitment never falters."
---

About MAPEI
Founded in 1937 in Milan, MAPEI is now one of the world's leading manufacturers of chemical products for the building industry and has contributed to the construction of some of the most important architectural and infrastructure works worldwide. With 91 subsidiaries operating in 57 countries and 84 manufacturing plants in 35 nations, MAPEI Group employs about 11,000 staff worldwide. The foundation for the success of the company is specialization, internationalization, research & development, and sustainability.

Headquartered in Deerfield Beach (Florida), MAPEI North America consists of the subsidiaries MAPEI Corporation (for the USA), MAPEI Inc. (for Canada) and MAPEI Caribe (for Puerto Rico and other Caribbean islands), whose 18 facilities collectively have a workforce of more than 1,600 employees. MAPEI facilities have been certified to ISO 9001 and ISO 14001 quality standards. An environmentally conscious manufacturer that reinvests 5% of its revenue into R&D, MAPEI offers training for architects, contractors, installers and distributors through the MAPEI Technical Institute. For more about MAPEI, visit www.mapei.com or call 1-800-42-MAPEI
(1-800-426-2734).