Mark your calendars for the next NTCA Roundtable Live!,Artisan Edition on Tuesday, March 8, 6:00 p.m. Central Time. This is a must-see event.
Back in October 2021 at the meeting of the NTCA Technical Committee, tile artisans Lee Callewaert of Dragonfly Tile and Stone Works, Joshua Nordstrom of Tierra Tile and Angie Ré of Unique Mosaics, LLC presented a proposal to adopt a document about pre-mounting techniques for hand-shaped mosaics into the NTCA Reference Manual. This document would be part of a brand new chapter in the NTCA Reference Manual dedicated to artisan tile installation.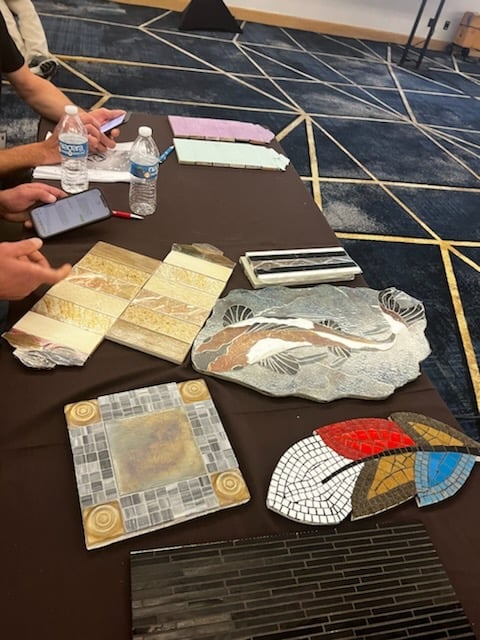 At an NTCA Technical Committee meeting prior to the The International Surfaces Event in Las Vegas, Nevada this month, that chapter was approved and will appear in the 2022 edition of the NTCA Reference Manual, publishing later this year.
At the NTCA Artisan Roundtable Live! being held on Tuesday, March 8 at 6:00 p.m. Central Time, the artisan team will explore and explain the importance of this document and how these techniques — fabric sheet membrane, liquid membrane with alkaline-resistant mesh, and foam/cementitious backer board — can benefit all tile artisans and installers. Mark Heinlein, NTCA Training Director and Lesley Goddin NTCA TileLetter Editorial Director and Senior Writer will host this event.
Register here for this event. And stay tuned for a recap of the document in the Spring TileLetter ARTISAN issue.