MAPEI will be out in force at TISE at Las Vegas this week, showing a range of tile and stone setting solutions in booth #4837 at Mandalay Bay. Here's what's on tap: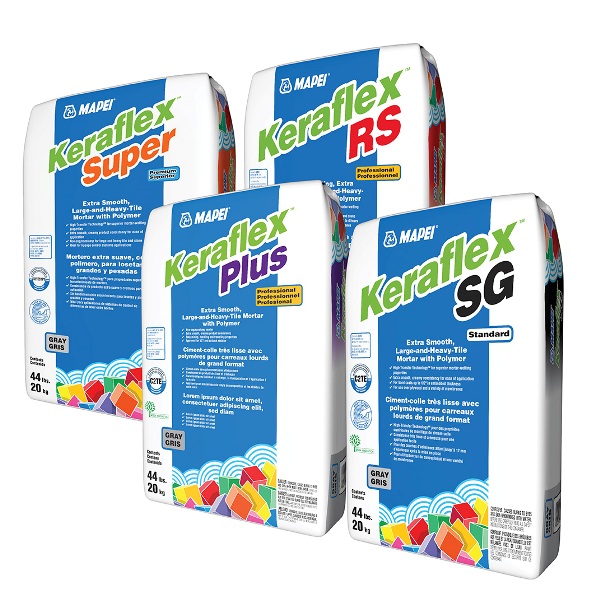 Keraflex Family
MAPEI's Tile & Stone Installation Systems now includes the Keraflex™ family, a new line of highly versatile mortars for installing large and heavy tile on floors, walls and countertops. These mortars utilize High Transfer Technology™ which provides a high transfer of material to the backs of tiles while retaining impressive non-sag/non-slump properties. The Keraflex family members are:
Keraflex Super: Premium-grade, extra smooth, large-and-heavy-tile mortar with polymer
Keraflex Plus: Professional-grade, extra smooth, large-and-heavy-tile mortar with polymer
Keraflex RS: Professional-grade, rapid-setting, extra smooth, large-and-heavy-tile mortar with polymer
Keraflex SG: Standard-grade, extra smooth, large-and-heavy-tile mortar with polymer
Keraflex mortars are easy to mix and easy to trowel, requiring less effort and cutting application times. They can be applied over uncoupling, crack-isolation, sound-reduction and waterproofing membranes. Watch a video about the Keraflex family of mortars here and download the brochure here.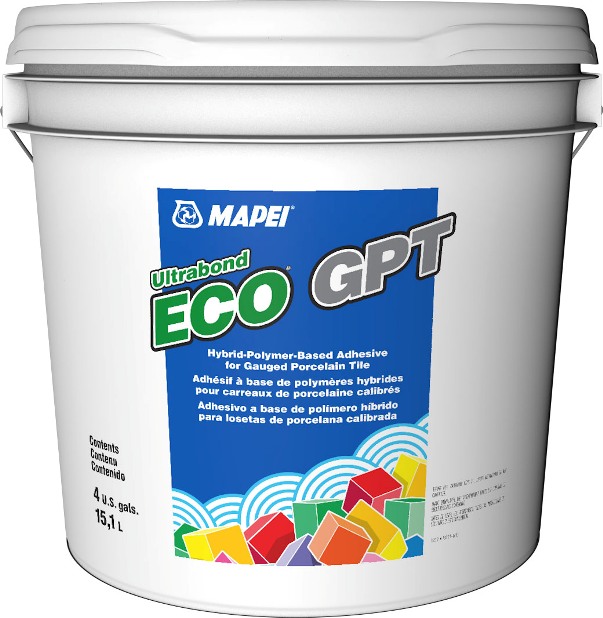 Ultrabond ECO® GPT
As MAPEI's new ready-to-use, hybrid-polymer-based adhesive, Ultrabond ECO GPT utilizes cutting-edge chemistry to create a time- and labor-saving necessity for GPT installation. It's ready to use, so no mixing is necessary. Because adhesive need only be applied to tile backs, there's no waste. The non-sag formulation still allows an adjustability window of 30 minutes. Ultrabond ECO GPT offers a strong bond with flexibility and deformability, as well as an extended open time of 30 to 45 minutes. It's easy to clean off in its wet and dried states, and its easy trowelabilty reduces installer fatigue. Low in VOCs, Ultrabond ECO GPT can be applied in confined spaces and carries several industry sustainability certifications. Watch a video about Ultrabond ECO GPT here and download a brochure here.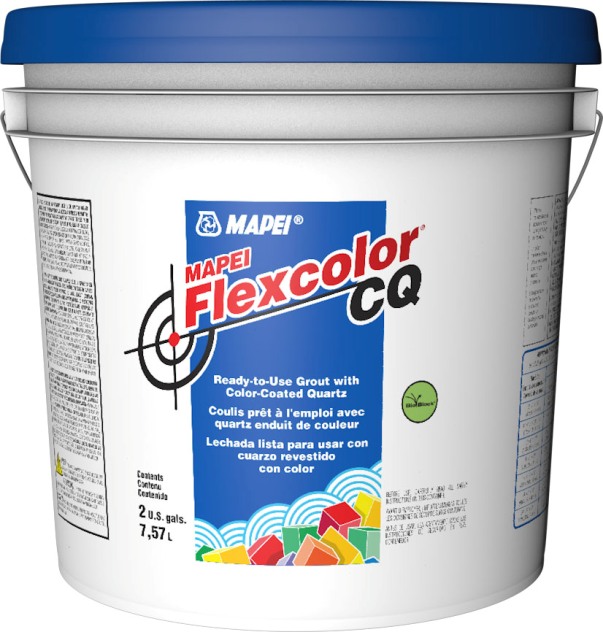 Flexcolor CQ
Installers have used enough MAPEI's Flexcolor CQ to grout the world — 4 times over. That is a lot of grout and a lot of trust. MAPEI's Flexcolor CQ  is an innovative, ready-to-use grout with color-coated quartz aggregate that targets your grout problems. It is an easily installed, color-consistent grout designed for commercial and residential installations featuring:
No mixing
No cracking
No sealing
No staining
No efflorescence
No callbacks
Watch a video about Flexcolor CQ here and download a brochure here.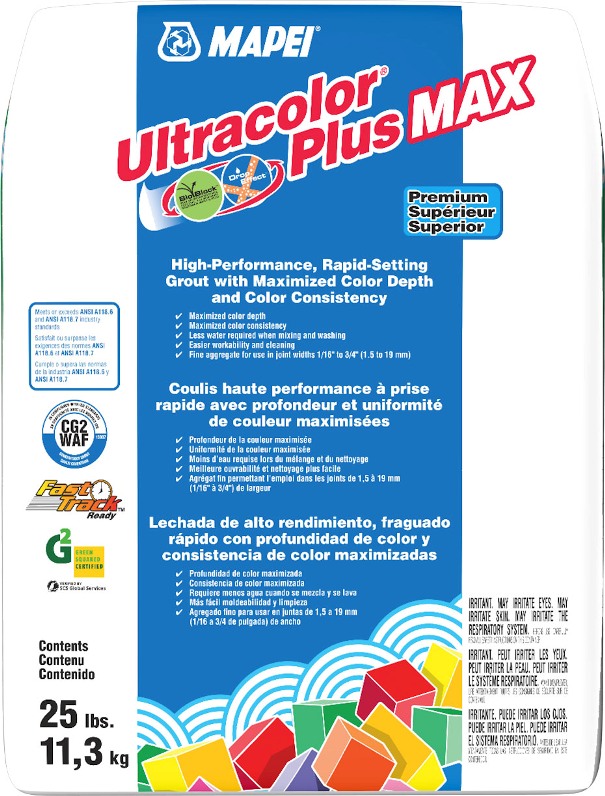 Ultracolor Plus Max
Exclusively available in Jet Black and Pure White, Ultracolor Plus Max features maximized color depth and maximized color consistency to create maximum impact. These new grouts have been formulated using the same fine sand used in Ultracolor Plus FA grouts for use in joint widths measuring 1/16 to 3/4 of an inch, or 1.5 to 19 millimeters. However, the technology in this grout means less water is needed when mixing and washing. And Ultracolor Plus Max black and white grouts also feature easier workability and cleaning. Ultracolor Plus Max black and white grouts are rapid-setting, allowing light foot traffic in 3 to 4 hours. Talk about dramatic! Learn more about Ultracolor Plus Max here or download a brochure here.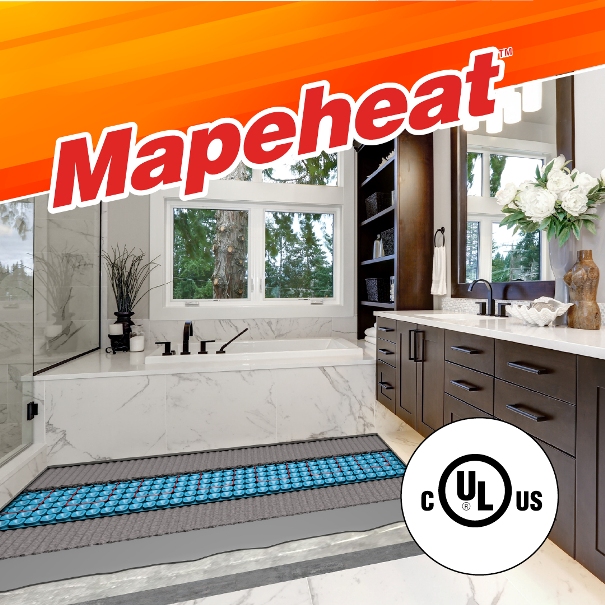 Mapeheat Family
MAPEI's Mapeheat family of products, features technology from nVent NUHEAT. Utilizing premium, electric floor-heating technologies, MAPEI now offers the most comprehensive array of radiant floor-heating solutions on the market. This easy-to-install, versatile, advanced technology is suitable for use with tile and stone, laminate, engineered wood and luxury vinyl tile/plank floors. The Mapeheat family of products includes:
Mapeheat Mat: Pre-wired floor-heating fabric designed for easy installation that guarantees even heat distribution; it is available in standard or customized sizing
Mapeheat Membrane: Lightweight uncoupling, crack-isolation and waterproofing membrane
Mapeheat Cable: Available in 120 V and 240 V
Mapeheat thermostats: Available in three formats — Mapeheat Thermo Connect programmable, WiFi-enabled, floor-heating thermostat that works with popular home assistants including Amazon Alexa, Google Assistant, and IFTTT; Mapeheat Thermo Touch 7-day programmable, floor-heating thermostat; and Mapeheat Thermo Basic non-programmable floor-heating thermostat
The Mapeheat Membrane can be installed with the heating cable if floor heat is desired or without the cable if uncoupling and/or waterproofing is the desired feature. And, when used with self-levelers, there is no minimum required tile size that can be used with Mapeheat Membrane, which means that mosaic tiles can be used with the Mapeheat system. The Mapeheat Membrane helps prevent the transmission of in-plane substrate cracks up to 1/8″ (3 mm). It is also suitable for areas with 100% humidity and up to 25 lbs. (11.3 kg) MVER, and will not support the growth of mold, which makes it perfect for use in showers, baths and saunas – areas that are wet as well as cold. With a thin profile, Mapeheat Mat (1/8″ [3 mm] thick) and Mapeheat Membrane (1/4″ [6 mm] thick) can be installed directly over preexisting floors – making these products an excellent solution for remodeling projects. The Mapeheat Membrane can be cut to size on the jobsite and is available in rolls or pre-cut sheets. The Mapeheat Mat is available in 70 standard rectangle and square sizes, or can be customized for odd-shaped rooms. The Mapeheat system is recommended for use with polymer-modified mortars, such as MAPEI's Keraflex™ Super. Mapeheat products are backed by extensive technical and customer support from nVent NUHEAT and MAPEI, as well as by MAPEI's industry-leading warranties. Learn more about Mapeheat here or download a brochure here.