Partnership Win-Win-Win for Manufacturer, Alliance, Customers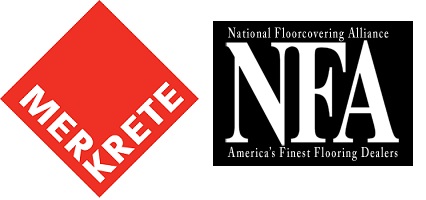 CHINO, Calif. — March 16, 2022 – Merkrete, tile-setting materials leader and Parex USA brand, announced its recent appointment as a specialty vendor for the National Flooring Alliance (NFA).  Merkrete's new relationship with the premier flooring materials buying group strengthens both parties, filling a setting-materials void within NFA and introducing the manufacturer to the retail leaders that compose the alliance.
"We're very pleased and excited to be part of the NFA group," said Merkrete National Sales Manager Todd Boos. "It's a fantastic group of members that have a very keen understanding of the environment in which their businesses operate and possess great knowledge of the entire floor covering industry. Our partnership with NFA is an excellent blend of retail leadership and manufacturing innovation."
As a specialty vendor, Merkrete supports NFA members through supplying top-quality products, high level of service and competitive pricing. These then benefit customers and end users, who will have access to expanded product offerings. The partnership also acquaints the Merkrete brand with alliance members in need of an established tile setting products vendor.
"Merkrete fills a category that we don't have a lot of suppliers in," stated NFA Executive Director Lisa Browning. "And this gives Merkrete the opportunity to meet 43 of the largest retailers with over 270 storefronts. They get to know who the buyer for tile setting materials is for each company, and it gives them contact with the rest of the membership that they aren't currently doing business with."
Speaking of the alliance, NFA President Jason McSwain noted, "It really is a group that has a lot of detailed knowledge on large commercial applications and large ceramic installations through builders, so that's the value of having Merkrete as a specialty vendor."
He continued, "Crack isolation and waterproofing have had some good traction within our membership by the number that do ceramic tile for multifamily apartments."
Ryan Walker chairs the Cushion and Underlayment Committee for NFA and was instrumental in bringing Merkrete on as a specialty vendor. He mentioned that in addition to the quality and variety of products Merkrete brings to the alliance, "distribution is something that is key for us as well. We have members all across the country."
Boos intends to make the most of this new opportunity.  "Next steps are to ensure that our Merkrete technical sales reps are engaging with the each of the NFA members to provide a comprehensive understanding of what the brand has to offer, and to begin working collaboratively to identify opportunities in their individual marketplaces."
---
About Merkrete
For over 50 years, Merkrete has provided architects, contractors and building owners with the most uniquely diversified and innovative product line in the industry. Merkrete has successfully supplied the building industry with over one billion square feet of tile and stone installation systems backed by extended warranty programs. From surface preparation and waterproofing, to a complete line of tile installation systems, Merkrete makes it all possible.  Merkrete is a member of the Parex USA suite of brands.  For more information, please visit www.merkrete.com. 
Parex USA Inc., a California Corporation, is one of the nation's leading manufacturers of specialty chemicals and ready-to-use mortars for the construction industry. To learn more about Parex USA Inc. please visit www.parexusa.com.