Riggs Washington DC, a brand-new independent hotel from Lore Group in the capital's thriving Penn Quarter neighborhood, opened on February 6, 2020 with fanfare, only to have to temporarily dim its lights six weeks later, during the COVID-19 pandemic.
Riggs, the first U.S. property from the international hospitality company behind renowned hotels Sea Containers London and Pulitzer Amsterdam, is located on the downtown corner of 9th and F Street in a historic building once home to Riggs National Bank, known as the "Bank of Presidents."
In conceptualizing and designing the property, Lore Group invoked the spirit of the former bank while preserving and restoring much of the property's original design features to reimagine the storied building for the modern traveler. The 181-room property features nostalgic gestures to the building's rich past, drawing on the parallels between the activities that take place in banks and at hotels to offer something personal and unexpected around every corner.
Style and functionality come together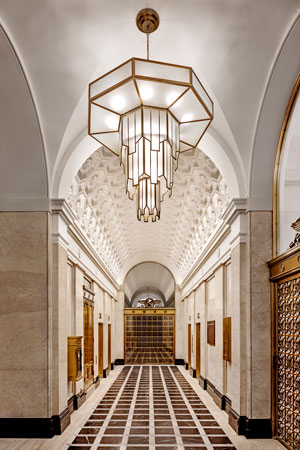 Upon entering Riggs, guests are welcomed into the building's original barrel-vaulted lobby where the hotel's expansive ceilings are adorned with impressive and elaborate coffers. A medallion of Juno Moneta, the Goddess of Money, presides over the room, while original features have been given a new lease of life and the grandeur of the building embraced to create a welcoming and inspired hotel that is deeply rooted in D.C. and its impressive history.
In the rooms and suites, guests will find the minibar and safe hidden within a design aesthetic that mirrors a traditional steel safe, with a brass plaque of Juno Moneta on the front. Terracotta orange painted walls complement a striking headboard and wall covering pattern and the bathrooms feature a classic navy palette, Italian Carrara marble, chrome hardware and amenities.
As Washington, D.C., becomes even more revered for its flourishing food and drink scene, Riggs brings something unexpected to the current offering. The hotel's restaurant Café Riggs is an all-occasion affair inspired by the grand brasseries of Europe, with a modern and reimagined approach that focuses on sustainable products. The bright and airy space features a variety of custom furniture pieces, artworks, and mirrors nestled amongst the building's original architectural features, including historic Corinthian columns, expansive ceilings, and classically inspired stonework.
Riggs offers a multitude of meetings and event spaces suitable for everything from intimate private dining to grand weddings and parties on the rooftop. The crown of the building is Rooftop at Riggs, a 2,500-sq.-ft. space with panoramic views over the city and an impressive roof enclosure complete with a 1,500-sq.-ft. terrace. The largest of the meetings and event spaces, Rooftop at Riggs can accommodate 200 seated and up to 250 for a reception.
Working with waterproofing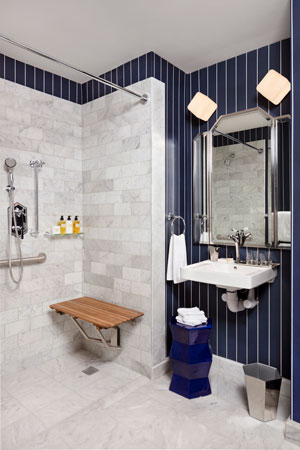 When ProFast Commercial Flooring, LLC was approached by Whiting-Turner General Contractors to supply the cost-efficient, high-end materials they wanted from around the world, ProFast President Kevin Killian knew they'd need a trusted and top-quality waterproofing system to ensure a job well done. Upon reviewing the scope of the project, all answers pointed definitively to Merkrete, the leader in waterproofing, crack-isolation and underlayment technology. The expertly-chosen stone tiles grace the hotel's grand lobby floors, every guest bathroom on the shower walls, shower floors, shower curbs, stone base, stone flooring and stone backsplash, along with throughout the restaurant and bar floors, interior and exterior fireplaces and public bathrooms. To prevent any leaking in such highly-utilized areas, Merkrete's trusted system won them the contract.
ProFast Commercial Flooring, LLC is an elite NTCA Five-Star Contractor and has been in business since 1998. It has a dedicated, knowledgeable and professional staff both in the office and field to provide the best-installed product in the commercial flooring business. ProFast covers a wide range of flooring from ceramic tile, porcelain tile, marble, granite and limestone to any special-order material throughout the world.
A versatile solution seals the deal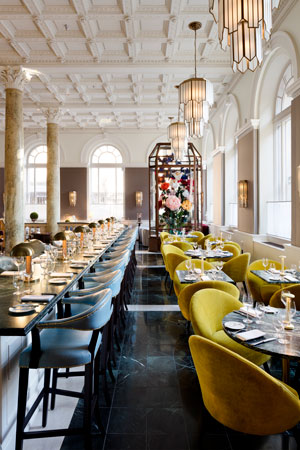 When it comes to the critical waterproofing under tile in the stone-clad bathrooms, guest and public, Merkrete's HydroGuard SP1 waterproofing membrane was the perfect match and only solution. Durable and long lasting, this membrane system is fast drying, promising zero leaks or cracks, even with high amounts of traffic.
Because of the size of the showers in the guest bathrooms, Killian needed a versatile product that could address several specific needs at the same time: a pre-mixed product that could be used to form the shower pans while also repairing imperfections in the floors. Merkrete's Sales Representative on the job, John McIntyre, said he immediately knew that Merkrete's "Underlay-C was the perfect product for these requirements. Its versatility allows you to build up to 3/4" thickness and practically spread out to a feather edge. You don't usually get that in a single product."
Merkrete proved the perfect match for a specific challenge again considering the strength of the mortar it called for. "We used very large stone panels, which require a mortar with a super-high bondability that can handle the sheer weight of the panels," said Killian. Merkrete 820 Merlite is a one-step polymer-modified lightweight setting adhesive for installing extra-large porcelain, ceramic tile and natural stone for both floors and walls, and can be used as thin or medium bed setting adhesive for stone. Merkrete proved it could hold its weight.
In addition to the waterproofing membrane system the hotel required, Merkrete was the trusted source in providing high-performance, sustainable grout in the lobby and bar floors. "Our Pro Epoxy grout is a 100% solids epoxy compound developed for sanitary applications," said Merkrete Sales Rep, Greg Meiklejohn. "It can be used for setting and grouting porcelain, ceramic and quarry tile, pavers, mosaics on horizontal and vertical surfaces. It produces a high-strength mortar that is stain resistant, impermeable, and shock resistant."
As with most projects, one of the challenges in this project involved the fast-track timeline, so it was critical that Killian chose a company who would be able to get the products delivered and the job completed on time. "Fortunately for this project's requirements, we have plants and distribution centers all over the country, so our turnaround time and ability to get our products there quickly were no problem," said Meiklejohn.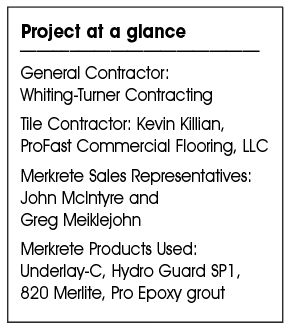 With the Riggs Hotel having just recently celebrated its grand opening, guests flooded in to experience the fine culinary offerings and embrace the historical setting and incredible architecture Riggs has to offer. Located in the heart of downtown D.C., Riggs is ideally situated opposite the National Portrait Gallery and within walking distance of many of the capital's must-see attractions including The White House, Capitol Hill, the National Mall and Memorial Park. Having been rejuvenated over the last two decades, Penn Quarter is having a moment, offering a host of innovative restaurants and bars. In the years to come, more renovations may take place, but thanks to ProFast Commercial Flooring, LLC and Merkrete, you can be sure the stone tiles will be standing strong.