Collection's Four Antique Wood Colors Makes the Collection a Standout in Scandinavian Style
NEW YORK, NEW YORK — August 2021 — Nemo Tile + Stone, a New York City-based provider of top-performing surface materials, is excited to unveil its newest porcelain tile collection, Wyatt. Resembling antiqued wood, each of the collection's offerings showcases the eclecticism and intricacies attributed to worn, natural wood, while delivering a more durable, cleanable surface perfect for enhancing spaces at every scale. Scandinavian in aesthetic, Wyatt plays upon the ever-popular monochrome palette with four available wood colors: Beige, Hazel, White, and Brown.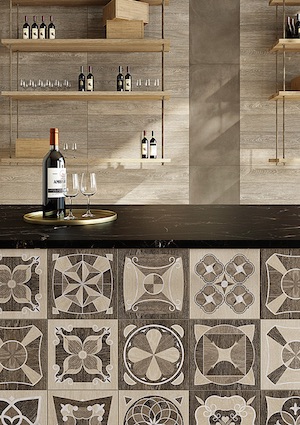 Nuance and visual intrigue are further created through the collection's selection of patterns available across its 7 ⅞ x 7 ⅞ Tarsia tiles. Aptly named by its inspiration source, the eight Tarsia tiles give a nod to the traditional jigsaw puzzles constructed by matching triangles together to form larger shapes and thus patterns. The collection's square tiles are offered in a decorative tile and a paver. The decorative tile features a rich cross-hatch design and is sized at 32" x 32". The paver provides a plank look and is available in 32" x 32" and 12" x 48". Additionally, 12" x 48" Stave tiles and 8" x 48" Chevron tiles are also available in the worn plank look across all four available colors.
"A testament to the advancements in 3D printing, Wyatt offers an unparalleled replica of wood with better durability," said Katie Michael-Battaglia, design director, Nemo Tile + Stone. "This hyperrealistic wood-like effect on a porcelain tile is only possible with the technology of today, making Wyatt the perfect collection to launch in celebration of Nemo Tile + Stone's 100th anniversary. In addition to the realism, the Wyatt collection is composed of beautiful patterns and ample arrangement options, offering the capability to be creative when implementing the tiles into any space."
The new collection is part of the evolution of Nemo Tile + Stone's ever-growing product offerings. Setting the bar for innovation, Wyatt further elevates the brand's rich product portfolio, and acts as a celebration of Nemo Tile + Stone's growth over the past 100 years. Layered with earthy tones, Wyatt has a universal appeal, making the collection equipped to amplify interiors ranging from contemporary to traditional.
To shop the new collection, please visit www.nemotile.com or find a showroom location near you, here.
---
About Nemo Tile + Stone
Nemo Tile + Stone, led by Matt Karlin, third-generation CEO and president, is a 100-year old family-owned business based in New York City that offers extensive surfacing collections for a wide variety of spaces including homes, hotels, restaurants, and retail stores. From its modest beginnings in Queens, New York, Nemo Tile + Stone has expanded to include several showrooms in New York, one in Boston, one in the heart of Philadelphia, and now one in Southampton, New York. Matt continues to build on the company's rich heritage as a leading resource for architects, designers, contractors, homeowners and DIY enthusiasts. From classic stone, ceramic and porcelain to glass and metal, Nemo Tile + Stone offers the most comprehensive, high-quality surfacing options on the market today. Known for its customer service, the Nemo Tile + Stone team can assist with all aspects of the tile selection process, from tile to grout, ordering samples and arranging deliveries.