With Over 12 Years of Experience in the Tile Industry, Coburger Will Lead the Purchasing Department
NEW YORK, NY — January 2022 — Nemo Tile + Stone, a New York City-based provider of top-performing surface materials, is pleased to announce the promotion of Matthew Coburger to Director of Purchasing.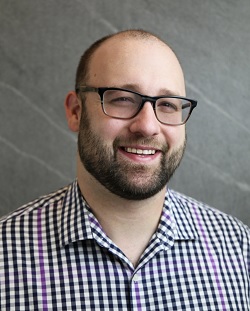 Coburger has 12 years of hands-on experience in the tile industry, during which he has demonstrated a forward-thinking approach to modernizing brand messaging and marketing strategy for the industry's largest players. After over four years as the Director of Product Merchandising at Nemo Tile + Stone, Coburger has proven his strong leadership, in-depth knowledge of the company's inner workings, and ability to meet the brand's growth objectives through initiatives such as the launch of Nemo's e-commerce platform.
"I am thrilled to be given the opportunity to continue to grow and support the Nemo Tile + Stone brand in a new role," comments Coburger. "My experience working across the majority of departments here at Nemo as well as my proven ability to gather and process data drawn throughout the company will aid Nemo Tile + Stone in our efforts to buy more efficiently than ever before."
In his new role as Director of Purchasing, Coburger will further his impact on the company by overseeing Nemo Tile + Stone's purchasing department. Responsibilities of the new role include developing the company's team of purchasing agents, managing current inventory using acquired data and analytics, leveraging vendor relationships to help provide solutions, presenting superior B2B and B2C services, producing new options for value engineering, and utilizing his expertise to further educate Nemo Tile + Stone's sales and support departments.
To learn more about Nemo Tile + Stone, interested parties can visit www.nemotile.com. Keep up with the company's latest collections and news by following them on Instagram @nemotile, Twitter @Nemo_Tile, and Facebook @NemoTileCompany.
---
About Nemo Tile + Stone
Nemo Tile + Stone, led by Matt Karlin, third-generation CEO and president, is a 101-year old company based in New York City that offers extensive surfacing collections for a wide variety of spaces including homes, hotels, restaurants, and retail stores. From its modest beginnings in Queens, New York, Nemo Tile + Stone has expanded to include several showrooms throughout New York, including the recently opened Southampton location, as well as locations in Red Bank, NJ, Boston, MA, and Philadelphia, PA. Karlin continues to build on the company's rich heritage as a leading resource for architects, designers, contractors, homeowners, and DIY enthusiasts. From classic stone, ceramic, and porcelain to glass and metal, Nemo Tile + Stone offers the most comprehensive, high-quality surfacing options on the market today. Known for its customer service, the Nemo Tile + Stone team can assist with all aspects of the tile selection process, from tile to grout, ordering samples, and arranging deliveries.