Bostik, Inc., a world leader in specialty adhesives and installation systems for building construction, has introduced Roll-Cote™, a high-performance moisture vapor barrier coating and primer, to the marketplace. Roll-Cote™ has been scientifically formulated to minimize moisture emissions coming from substrates, and also to function as a primer, to be applied prior to the application of self-leveling underlayments.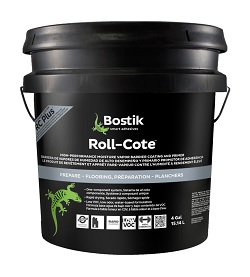 According to Adam Abell, Bostik's Senior Market Manager, Surface Preparation and Tiling Systems, "Our new Roll-Cote™ provides unlimited moisture protection on glue-down hardwood flooring installations, with no slab-moisture testing required. Roll-CoteTM offers a robust warranty with solutions from each of our flooring product families: Hardwood, Resilient, Surface Preparation and Tiling products. Additionally, it blocks alkalinity and can be used on both concrete and wood substrates. Roll-Cote™ is extremely durable, is CDPH compliant for low VOC and has been formulated to be Red-List Free and its black color provides a strong visual indicating area coverage and contamination!"
New and easily identified, ultra-black packaging for both products makes Roll-Cote™ easily spotted both on inventory shelves and at the jobsite. For more information visit: https://bostikus.cc/RollCote.
---
About Bostik, an Arkema company
Bostik, a subsidiary of the Arkema Group and a global player in specialty adhesives for the construction, consumer and industrial markets, develops innovative and multifunctional sealing and bonding solutions that have been shaping our daily lives for over 130 years. With annual sales of 2.1 billion euros in 2019 and a presence in more than 40 countries 6,000 employees, the company is committed to meeting the major ecological, energy and technological challenges through its innovations. It is focused on continuous improvement and operational excellence to meet the expectations of its customers and partners.