Doors open to stunning workshop-style surfacing showroom inclusive of large-format porcelain and stone slabs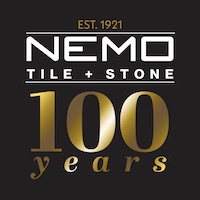 NEW YORK, NY — September 2021 — Nemo Tile + Stone, a New York City-based provider of top-performing surface materials, is excited to announce the grand opening of its new showroom located in Southampton, with doors open in early September. A momentous event for the now 100-year old company, the location's opening symbolizes the growth ahead and emphasizes Nemo Tile + Stone's leading position in the surfacing solutions and design industry.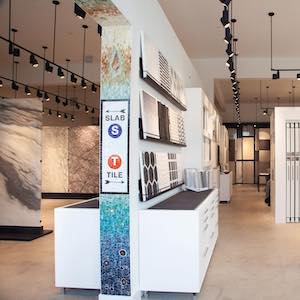 The showroom, designed by the company's Design Director, Katie Michael-Battaglia, offers a departure from other retail concepts and formats employed by Nemo Tile + Stone. Following a workshop-style layout, the expansive 5,700 square foot space offers numerous touchpoints for designers, sales representatives, and consumers to collaborate on product selection. Equipped with worktables, pull-outs, and access to technology-driven tools like Nemo Tile + Stone's visualizer, the showroom is built to support the East End's flourishing and inspired interior design community at every turn.
"In designing the showroom, we wanted the space to be incredibly user-friendly in both form and function, and the expansive footprint of this location really allowed for this approach to come to life," comments Nemo Tile + Stone Design Director, Katie Michael-Battaglia. "That means that the showroom provides much more than products on display, but a proper setting that offers a deeper interaction and understanding of the materials."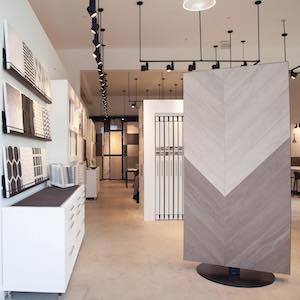 The showroom's layout takes advantage of its high ceilings and sizable windows, offering natural light and an airy ambiance. In a conscious effort to leave the windows unblocked, custom case goods were designed to fit seamlessly below each window bank, providing clever storage and access to the outdoors. Built with the end-user and Hamptons resident in mind, the showroom's flow and design details were conceived to connect each of Nemo Tile + Stone's full portfolio of products with the spaces they will be specified for. A similar tact was taken with regard to the product types on display, including an entire portion of the showroom dedicated to large format porcelain and stone slabs, which continue to rise in popularity within the region. Generating a boutique feel, the adjacent portion of the showroom displays smaller format tiles and mosaics that also play to the tastes and demands of local clientele.
The showroom will be open to the public from 9:00 AM to 5:00 PM, Monday-Friday and 10:00 AM to 3:00 PM on Saturday and is located at 56 Flying Point Road, Southampton, NY 11968.
To learn more about Nemo Tile + Stone, interested parties can visit www.nemotile.com. Keep up with the company's latest collections and news by following them on Instagram @nemotile, Twitter @Nemo_Tile, and Facebook @NemoTileCompany.
---
About Nemo Tile + Stone
Nemo Tile + Stone, led by Matt Karlin, third-generation CEO and president, is a 100-year old company based in New York City that offers extensive surfacing collections for a wide variety of spaces including homes, hotels, restaurants, and retail stores. From its modest beginnings in Queens, New York, Nemo Tile + Stone has expanded to include several showrooms in New York, one in Boston, one in the heart of Philadelphia, and now one in Southampton, New York. Matt continues to build on the company's rich heritage as a leading resource for architects, designers, contractors, homeowners and DIY enthusiasts. From classic stone, ceramic and porcelain to glass and metal, Nemo Tile + Stone offers the most comprehensive, high-quality surfacing options on the market today. Known for its customer service, the Nemo Tile + Stone team can assist with all aspects of the tile selection process, from tile to grout, ordering samples and arranging deliveries.