Ceiling trends continuously change, from dramatic vaulting to ornate crown molding, however one aspect remains the same: the demand for something that is both beautiful and will stand the test of time.
Neolith®, a market-leading brand of Sintered Stone, is bringing this demand to life with its application to ceilings, offering architects greater scope for material consistency in their designs.
Developed in response to the current trend for the 'back to nature' look, where a holistic application of natural and organic materials is preferred, this innovation gives architects and specifiers a plethora of design options that are guaranteed to stimulate the senses.
Bringing the outside in
Imagine you are taking a stroll outdoors and are surrounded by trees, their leaves rustling in the breeze, a few of which have fallen onto the ground and crunch beneath your feet. You admire your surroundings and notice the abundance of natural shapes and patterns on display, from the granite domes that cradle a babbling brook to your left, to the cascading limestone outcrop to your right.
Now imagine the outdoor scene you are in is actually your kitchen, and you haven't left the house. This is what homeowners and industry professionals alike can expect to see this year, as the architecture and design world brings the great outdoors into a variety of spaces.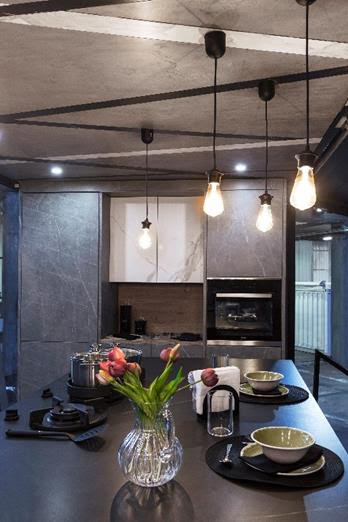 The application of Neolith to ceilings essentially evokes the sky and opens up any space. Whether pristine Arctic White or daring Mar Del Plata, there is a choice for anyone who seeks inspiration and relaxation.
For those who want to feel as though they are dining al fresco, or hotels that seek to immerse their guests in nature without them having to even step outside their rooms, Neolith offers a wide range of colors and finishes that mimic natural elements, such as wood, iron, marble, granite and quartz.
The only way is up!
Neolith ceiling applications have already been successfully completed in a number of projects, including the AC Hotel Dallas by the Galleria (AC Marriott Hotels) in Dallas, Texas; further afield in a Neolith Show Home in Amsterdam, Netherlands; the Unisensor building in Liège, Belgium; and the Clinique Saint Jean hospital in Brussels. Neolith material was also applied to the ceiling of Clinique Saint Jean's Botanique parking garage.
For the AC Hotel Dallas, the architect carefully considered both the aesthetic and practical requirements, as he sought to establish a harmonious relationship between indoors and outdoors. Calacatta Silk, which faithfully recreates the look of Italian marble, was selected for its natural, yet chic, appearance and because its light hue keeps exterior facades cool in hot weather.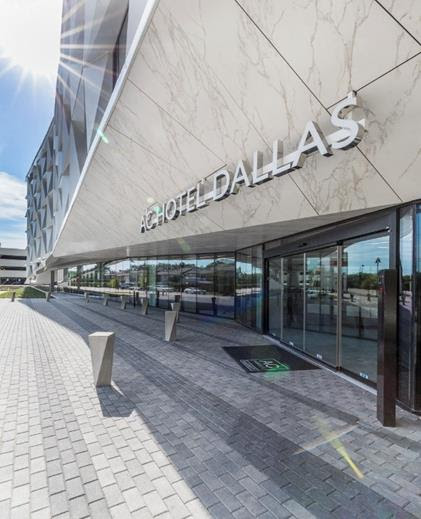 In addition to being visually appealing, the new application provides a reliable solution to an array of ceiling-related structural issues, such as water damage, drooping drywall, cracking paint and bulging.
In kitchens, Neolith ceilings are immune to smoke and grease stains, and in bathrooms they are resistant to steam. They can also give an open-air feel to bedrooms, helping you to drift off to sleep. Wherever the Sintered Stone material is applied, you will not only feel at one with nature, but rest assured that your ceiling will last for years to come, requiring minimal upkeep and maintenance.
Neolith is available for all interior ceiling and exterior overhang applications in 1/8" and 1/4" thicknesses for a seamless look in any residential or commercial property.
Sheets in 1/8" thickness are available in 142" x 47", and sheets in 1/4" thickness are available in 102" x 47", 142" x 47 and 126" x 59". All sheets can be cut to size to meet project specifications.
For more information about Neolith and its uses, please visit: https://www.neolith.com/.  
-Ends-
To receive further information or images, please contact Lauren Samhoun, [email protected].
Notes to Editor
Founded in 2009, Neolith, the market-leading brand of Sintered Stone, is a revolutionary product category which has become a material of choice for architects, designers, specifiers and fabricators.
This pioneering material can be specified for the most demanding interior and exterior building projects. Combining high-definition detailed decoration with high-performance qualities, Neolith offers the triple reassurance of strength, beauty and longevity.
What is Sintered Stone?
Sintered Stone is a 100% natural material based on granite minerals, glass minerals and natural oxides:
Granite Materials: Quartz and feldspar, giving hardness and strength to the surface

Glass minerals and silica, which ensures chemical stability

Natural oxides, which deliver chromatic properties
How is Sintered Stone produced?
Neolith is produced using the very latest in sintering technology, replicating the thousands of years' process by which natural stone is formed in a matter of hours.
The raw materials which form the slab are first subjected to extremely high pressure, going through a pressing machine where a weight of 400 bars is applied. In the second phase of the process, the slab goes through a kiln where temperatures reach more than 1200° C (2200° F).
This process of ultra-compaction creates full-body surfaces with unique technical features.
Decoration
Neolith has always been at the forefront of sustainable approaches within all of its manufacturing processes. A 100% natural composition requires an equally ecological production method.
Building on the brand's pioneering Neolith Digital Design (NDD), it has aimed to incorporate organic practice into the way they print their slabs.
Hydro-NDD 2.0 takes the technology to the next level. Using a water-based ink, as opposed to the industry standard solvent base, Neolith has succeeded in offering a sustainable surface which never compromises on the quality expected from its Sintered Stone. All its slabs maintain the same definition and detail of pattern and design.
Performance
Tried, tested and trusted, Neolith's combination of realism, high performance and versatile formats make it a go-to material for architects, designers, specifiers and fabricators.
Applications
Neolith is the optimum surfacing material for both indoor and outdoor applications. From a skyscraper façade to a kitchen worktop, Neolith's physical and mechanical characteristics deliver ultimate performance, unmatched beauty and long-term value.
Website: https://www.neolith.com/
Email: [email protected]
Phone: +34 964 652 233
Address: Polígono Industrial Camí Fondo, Supoi 8., C/Ibers 31. 12550 Almazora, (Castellón).