QUALIFIED LABOR
Kris Kemp, CTI #1703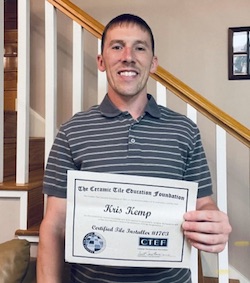 NTCA member Kris Kemp, of Kemp Tile, LLC in West Monroe, La., has wanted to take the CTI exam for a couple of years and was just waiting until there was an exam in his area. As it turned out, he wound up driving 10 hours to Louisville, Ky., for the hands-on exam to obtain the credentials that would demonstrate to his customers he is qualified labor who understands and follows industry standards. Also, he said that "passing the CTI will definitely boost my confidence and help me to sell jobs. I'm not a very good salesman so I need all the help I can get."
For Kemp, whose business is primarily residential remodeling with an emphasis on tile showers, the written test was a breeze, but as an overthinker, he said the hardest part was "inside my head" during the hands-on portion. The best aspect of the exam was "definitely getting that phone call where Mr. Roberts told me my score and let me know I passed! Missing a week of work to drive over 20 hours to pay full price of exam and all expenses, only to fail a test would have been a tough pill to swallow for me," he said.
Kemp said he felt supported from CTEF staff and evaluators, John Roberts, Scott Carothers and Cathey McAlister, as well as the students. Now that he has the CTI under his belt, he is "looking at the ACT certifications to take things to the next level."
He has recommendations to those considering the CTI exam: "I'd find all the answers in the book for all the questions on the written part," he said. "Also reach out to the others who have tested before you, whether they passed or not."
He concludes, "The CTI exam was a personal goal I had set for myself as a good way to test my abilities."
Jimmy Orozco, CTI #1705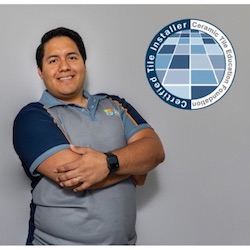 For Jimmy Orozco, of J&S Remodeling LLC in Wendell, N.C., pursuing a CTI credential is a differentiator between "me and the 100 or 1,000 companies in my area," he said. "Plus it is a confirmation of my knowledge and skills. I know there are great tile installers that are non-CTIs, and you see them on social media; but that's a small drop of water in an ocean of everyone out there offering tile services. I believe my CTI will give customers an extra peace of mind about the knowledge and skills I put into each project. Our company J&S Remodeling, has a slogan: 'Tile Experts.' I want to carry that slogan with pride."
Orozco signed up to take this test in 2020, but COVID suspended testing for a year, so he just completed his hands-on test at Maven Tile in Augusta, Ga., in May.
But this wasn't his first time around. His first test failed due to some technical details around perimeter joints and proper time management. But he was determined to take it and pass, which he did this year, enjoying meeting some other skillful tilesetters in his class on the way. He observed fellow students helping each other out and giving support. "If someone is done, or closer to being done and someone is needing grout and they have some left over, they will share. They will help. They aren't arrogant."
Orozco learned to keep things simple on the skills test. "The first time, I messed up my floor layout, because I was thinking about what would look better if I was doing the border on one of my projects," he said. "I overcomplicated it and lost some time." So he advocated that those planning on taking the exam keep everything simple and straightforward. "It's not necessary to get fancy," he said.
Orozco loves to learn, to gain more knowledge and education about his trade and his industry. So he plans to pursue the Advanced Certifications for Tile Installers (ACT) credential as well, likely toward the end of the year, once that testing program gets up and running again. His first choice is the gauged porcelain tile panel certification. "That's getting very trendy right now," he said. "I haven't had projects come in yet, but I want to be ready." He's also interested in waterproofing systems/membranes for showers.
Orozco, who recently joined NTCA, advised other tile setters to take the CTI. "Tile installers get cocky because we think we know it all," he said. "The test is pretty hard…it really gives you a challenge, and you can learn a lot from it. It gives tile installers a lot of flexibility as you are being evaluated on traditional shower installation, and nowadays everyone is doing sealed systems."
Orozco's enthusiasm for the CTI exam is only matched by his enthusiasm for the Ceramic Tile Education Foundation (CTEF) itself. Of the 30,000 companies that are categorized as tile/masonry through the IRS, there are only 1,700 CTIs, he said. "That's a very small percentage," he explained. "There are a lot of people doing tile without knowing how to properly do it. I encourage knowledge and education for everyone – the more you educate yourself, the more you perform on your job. This is a great industry to be part of and support; and CTEF is helping installers to gather the knowledge that is required to do it, also CTEF is unbiased; doesn't support one manufacturer over another, meaning the installer will be educated on their preferred method without being pushed to a specific manufacturer or procedures."
Orozco is developing some videos about the importance of the CTI credential for social media. "I posted that I am a CTI, and other installers 'like' the post, but not everyone truly understands the value of certification or why it matters to have a CTI doing your work, so I will try to spread the information and importance of this."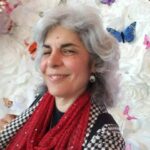 Editorial Director and Senior Writer for TileLetter and TileLetter ARTISAN
Lesley Goddin has been writing and journaling since her first diary at age 11. Her journey has taken her through a career in publishing and publicity, landing her the editor position of TileLetter and its special publications in 2006. Her goal is to educate, inspire, recognize and encourage those in the tile industry -- especially the tile and stone contractor. Other interests include the soft, purring marvels known as cats, labyrinth walking, drumming and percussion, and a range of spiritual, musical and artistic pursuits.