"Tile Technology: Adhesives" topic joins roster of workshop themes
NTCA is constantly re-evaluating its training programs to be sure they check all the boxes and bring the most engaging and useful programs possible to tile installers and contractors. In fact, NTCA Training Director Mark Heinlein noted that "We are creating a new generation of workshops to include more hands-on activity by all participants, and less classroom-type training in a welcoming, comfortable environment."
This approach – one that relies on more active hands-on engagement for participants – hearkens back to the original national NTCA Workshops that then-Executive Director Joe Tarver conducted in the early days. It focuses more on trainers providing verbal instruction to attendees, and guests getting their hands on the materials, modules, and tools to experience what the trainer has discussed in the classroom and guides them to do in the hands-on portion.
Right now, three standards-based topics are offered in the NTCA Workshops: "Failures, Could it be Me?" "Tile Matters: Best Practices for the Pros," and "The Ins and Outs of Layout for Contractors." These will all be upgraded to this new format.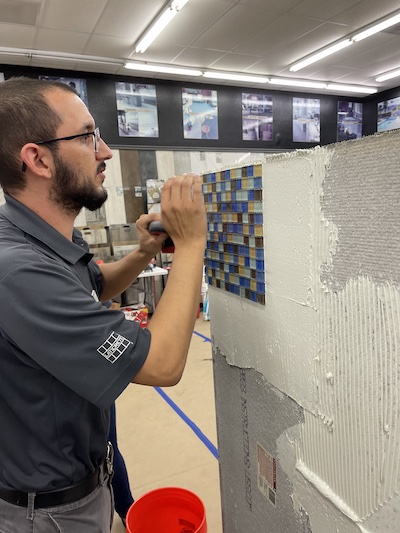 Tile Technology: Adhesives
In addition, a new program – "Tile Technology: Adhesives" – has had a few test runs and will launch fully in 2023. This program uses ANSI A118 to connect installers, contractors and other professionals – and the products they use – to the standards and manufacturers who make those products. ANSI A118 is the standard that describes the manufacturer specifications for adhesives that will be addressed: dry set portland cement-based mortars, unmodified, improved and for exterior glue plywood. Within those categories, there are four properties of these adhesives: Fast-setting; Heavy Tile; Extended Open Time; and Thixotropic or Non-sag. These are abbreviated as FHET. The program will also address epoxy adhesive/grout as well as the use of organic adhesives or "mastic" that is covered in ANSI A136.1.
Concerning mastics, Heinlein said, "It exists, and a lot of people still use it. This course will dispel the notion that it's 'garbage.' We will describe what it is and where it can be used and advantages that can be gained with ready-to-use mastic and where it shouldn't be used: applications where it can be re-emulsified, large-size tile and other considerations."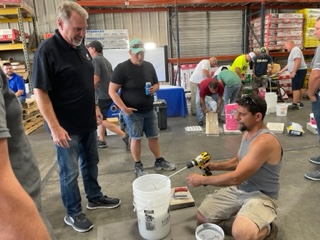 The concise classroom lesson will explain what the standards are and differences between wet-set and dry-set methods or what is colloquially called "thin-set mortar." There will be a discussion about the chemical process that takes place in curing and how it differs from the drying process needed by organic adhesives. "We will connect attendees to the chemistry of these products and the selection of the right material for the job," Heinlein said.
Then the program will move into the hands-on portion, with a high degree of engagement for attendees. This new format takes a new level of commitment from all parties – host locations and sponsors need to provide more floor space, materials, modules, and tools to allow as many guests as possible a chance to get hands-on experience and the trainer needs to oversee many more people working with the materials than before.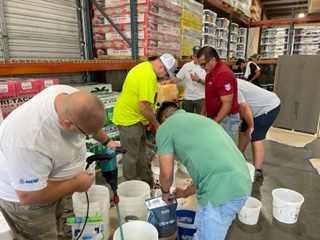 Heinlein mentioned that when he began training with NTCA, one of the first and most valuable critiques he received was, "Stop doing the work! You know what you are doing. Let the attendees do the work." He took that to heart and has designed a more highly-interactive session where trainers are acting more in the role of instructors – using verbal instruction to guide the attendees in getting acquainted with the materials, methods and principles in the specific program.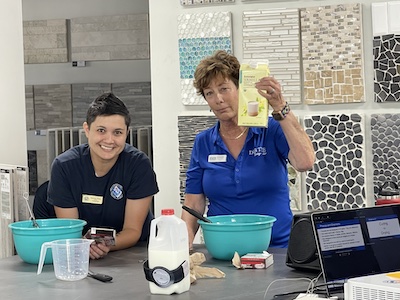 He revealed that the goal for 2023 is to develop and offer hosts additional topics and programs in this new format.
Veteran NTCA Trainer Robb Roderick remarked, "Just one workshop might be the difference in changing your professional life and save you from losing thousands of dollars on one job. Being an NTCA member and taking our training could be difference between losing money and making more money and being better connected with the industry. Can you afford to not attend?"
Visit the Community Calendar at the NTCA Website for schedules of NTCA Workshops and other training events around the country: https://bit.ly/3ppGwqA.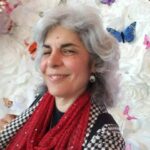 Editorial Director and Senior Writer for TileLetter and TileLetter ARTISAN
Lesley Goddin has been writing and journaling since her first diary at age 11. Her journey has taken her through a career in publishing and publicity, landing her the editor position of TileLetter and its special publications in 2006. Her goal is to educate, inspire, recognize and encourage those in the tile industry -- especially the tile and stone contractor. Other interests include the soft, purring marvels known as cats, labyrinth walking, drumming and percussion, and a range of spiritual, musical and artistic pursuits.