July 12, 2022  (Exmore, Virginia) …..New Ravenna, America's premier designer and manufacturer of mosaics for residential and commercial installations, is pleased to present five additions to the Studio Line collection bringing the total number of designs to 82 selections. The new mosaics created in subtle earth tones are Gridded Check, Arbus, Jute, Orion, and Twill. These mosaics are ready-to-ship within two days from Exmore, Virginia. Entirely hand crafted at the New Ravenna studio, the designs are created with Glazed Basalto™ and natural stone that has been honed, polished, and tumbled, with brass accents. The new palette is subdued, in soft neutral shades, with an emphasis on texture. Jute is a textile pattern in tumbled stone, which replicates a woven splint back chair.  Glazed Basalto™ in Eucalyptus was chosen for Twill because of its ability to shift color in different light settings, emulating a dried eucalyptus leaf, bringing nature indoors. Arbus and Gridded Check are geometric patterns in the warm tones that can be found at sandy beaches and rock formations. Orion is the reverse of the original graphic black and white version. In honed Thassos, the elegant new Orion is accented with gleaming brass stars.    Cean Irminger, New Ravenna creative director, says of the mosaics, "Though the styles of patterns range from graphic to subtle, they are all connected by palette. We wanted to explore much warmer tones, from the soft creams and tans of Arbus, to the rich ochre of Jute in Lagos. Even Eucalyptus is a beautiful warm green tone. Color inquiries at New Ravenna are gravitating towards warmth and adding to our Studio Line is the perfect way for us to quickly respond to trends in color, pattern, and scale." Remarking on the availability of the collection, New Ravenna CEO Richard Walters explains, "Supply chain issues continue to plague our industry. Having such a large catalogue of ready-to-ship handcrafted mosaics is a significant benefit to anyone trying to complete a project in a timely matter and may simply not have the luxury to wait several months for a custom artisan surface material." 
The five new mosaics in the Studio Line collection can be installed on walls and floors, indoors & outside, with the exception of Orion, which is suitable for indoors only. New Ravenna mosaics are available at showrooms throughout the United States, Canada, and Europe. www.newravenna.com #757.442.3379.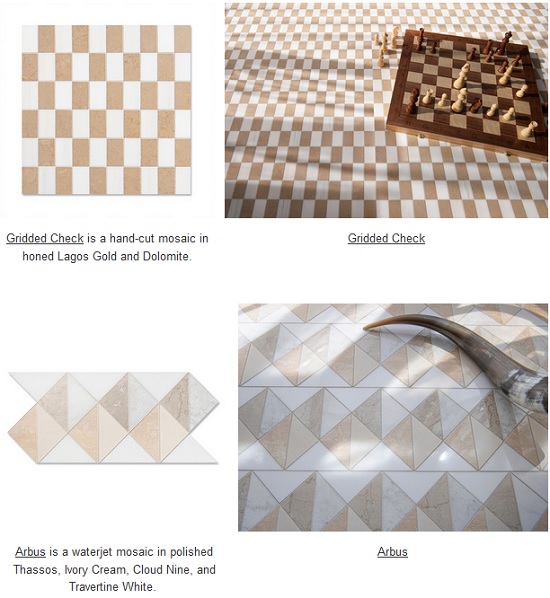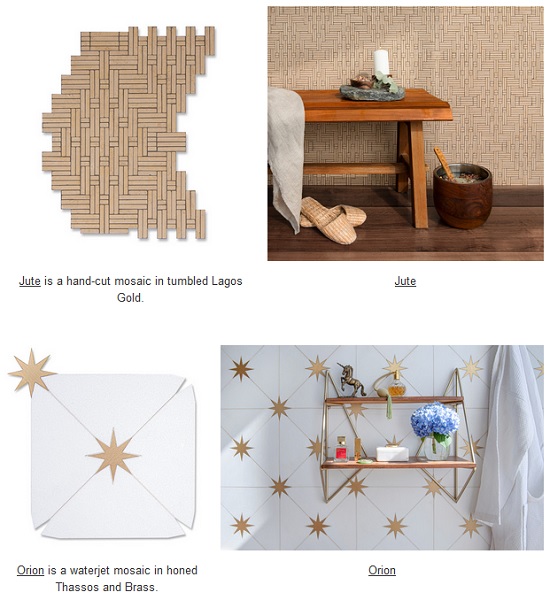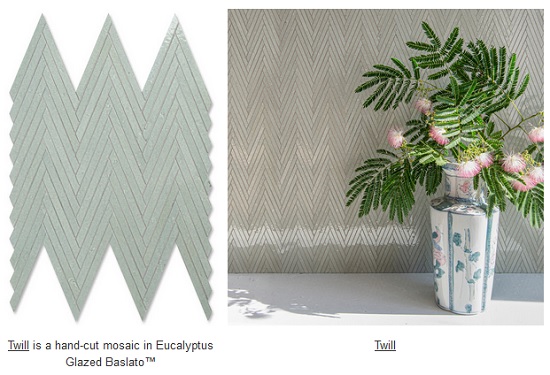 New Ravenna is America's premier designer and manufacturer of custom stone and glass mosaics for both residential and commercial installations. The handcrafted mosaics are fashioned into decorative borders, murals, fields, and medallions. Mosaic materials are polished, tumbled, honed and cut to create distinctive styles and subtle shade variations and textures. The installations are custom works of art in mosaic tile, which often incorporate the designs of architects, interior designers and their clients.
New Ravenna mosaics are found in homes, restaurants, hotels, casinos, and businesses around the world, and are available for purchase through designer showrooms across the country and internationally.
top photo: Twill in Eucalyptus Glazed Basalto™