Circle game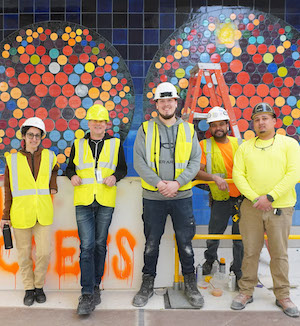 One of the six brand-new works of art recently installed at LaGuardia Airport Delta Terminal C was created by none other than Andru Eron, owner of New York Tilemakers (nytilemakers.com), based in Long Island City, N.Y. 
The work was New York-born Afghani American artist Mariam Ghani's first foray into mosaics. "The Worlds We Speak" represents more than 700 dialects and languages spoken in the five New York boroughs and the tri-state area of New York, New Jersey and Connecticut. It was a challenging project to develop and to represent in clay, but New York Tilemakers was up to the task.
From Parsons to pandemic
What brought New York Tilemakers to this project? After graduating from Parsons School of Design in Manhattan, Andru Eron made a living as a contractor and in computer-based graphics for almost a decade, working on his art in the evenings. When a friend who was teaching at the Craft Students League convinced Eron to take a class in clay, pottery and tile making, it ignited his artistic passion and melded it with work in a medium that he could build a business on.
He started out crafting Modernist and Mid-Century tiles that he would box up and deliver to his clients. Manufacturing art tiles required matching field tiles, though, which were hard to produce economically in New York. But a growing demand for tile murals appealed to Eron because he didn't have to offer matching field tiles and "it kept us busy and we could do everything ourselves," he said.
The tile mural business was fueled by New York City's Percent for the Arts, started in 1982, which earmarks one percent of the budget for eligible city-funded public construction projects by artists whose works reflect the diversity of New York. Eron's Mudra Studios – rebranded as New York Tilemakers, and located in Williamsburg, Brooklyn – did a lot of work with the New York City School Construction Authority for many school projects. In fact, New York Tilemakers received Coverings Installation & Design (CID) Special Recognition awards for "City Tree" mural, designed by artist Adam Cvijanovic for a public school in Brownsville, Brooklyn, and "World's Fair" by artist Cheryl Molnar for the lobby of PS19Q in Corona, Queens, N.Y. In addition to making the tiles in a eco-friendly process, Eron said that his studio also usually installs the school murals.
In January 2019, New York Tilemakers had a setback when the studio collapsed after unauthorized renovations by the landlord. "Everything was trapped in the building due to the New York Fire Department rules of imminent risk," Eron said. He wound up making sample board in his kitchen for a project he was pitching – and won it! He rented kiln time to fire the tiles. But within four months to the day, New York Tilemakers was open for business in its new 600 sq. ft. location in Long Island City, N.Y. Many of his connections from his contracting days came through to transform the studio; Sheffield Pottery worked with Eron on a package price for a pug mill, two kilns, and slab roller for his new space. Then came COVID semi lock-down, and some PPP money helped keep the studio afloat. It persevered, and flourished.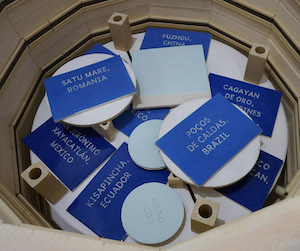 Delta Terminal C
The LaGuardia airport project commenced in the midst of the pandemic. The 400 sq.ft. mural was challenging to stage in Eron's 600 sq.ft. studio. Fortunately, the Queens Council on the Arts donated some space nearby for Eron to lay out the template on the floor to dry fit the tiles.
But we are getting ahead of ourselves. New York Tilemakers worked closely with artist Mariam Ghani to create the embossed circles that convey the languages and dialects prevalent in the five boroughs and the tri-state area. "We are nimble as a smallish outfit," Eron said – indeed, his crew is a half-dozen or so strong.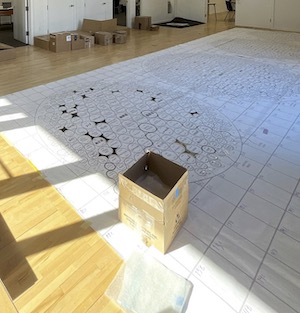 Originally the studio experimented with decals on the circles, but decided to go with embossed endonyms (the names that people of a specified place and language call themselves). Arriving at these words was a momentous project in itself, with the artist's team culling data from the last census and the Endangered Language Alliance. Learn more about it here: https://bit.ly/3RJLzxZ. 
New York Tilemakers started by creating a template for the mural at 107% to allow for shrinkage of the fired tiles, made of Sheffield clay with layered coats of Mayco and Duncan glazes, low fire, to remain earth-friendly. Over 1,200 circles were made, with the size of the spheres indicating how prevalent the language was, and colors that determine the region where the language originates. Several hundred 8″ x 8″ tiles were needed to fill the spaces around the circles, and 3D files also had to be delivered to a Brooklyn metal shop to create the metal "flight paths" in the mural, connecting the circular language tiles with the field tile that indicated its origination.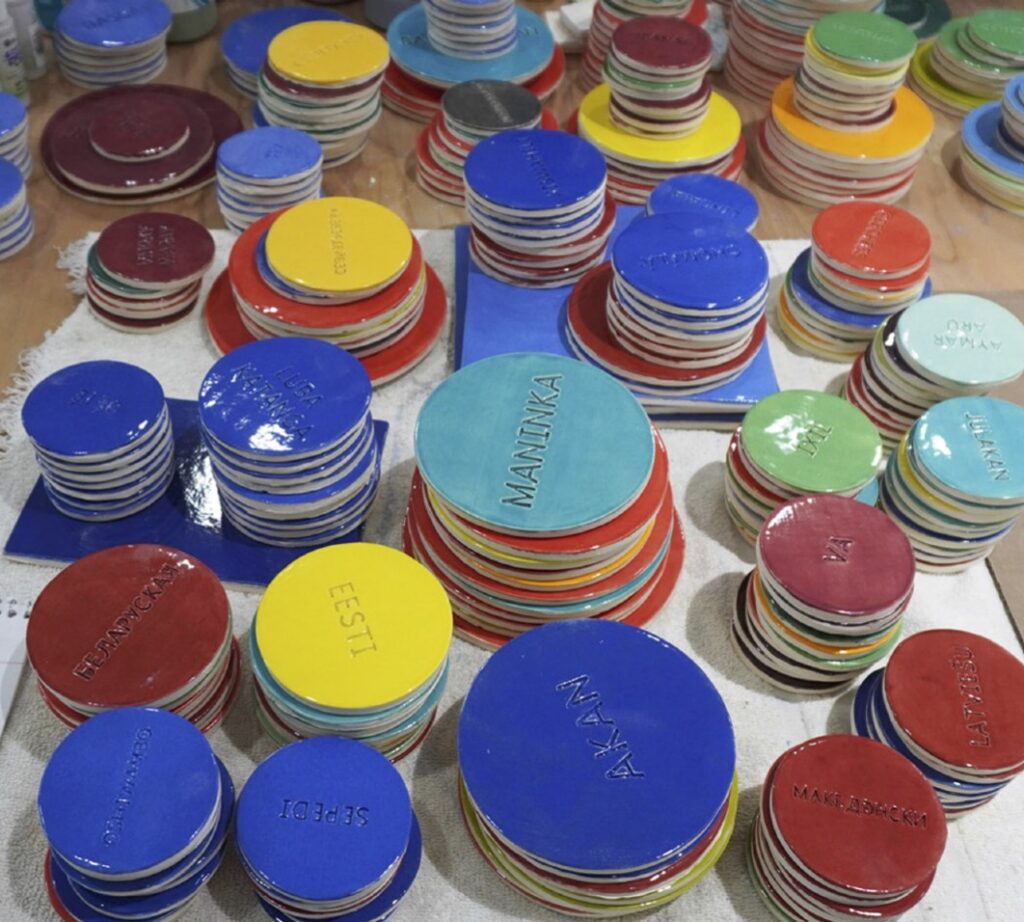 There were some hiccups in the process – one of Eron's very experienced helpers quit because of delays and lack of work at the time. When everything was completed, there were 150 embossed, fired and glazed circles that the artist's team decided they didn't need. Also, much of this took place during the pandemic, so to social distance, it took about five or six people about six months to fabricate the mural. Clear mosaic tape was applied over the face, so the design could be seen, and 2′ x 2′ modules were cut out for transport, and color coded to a gridded map for installation.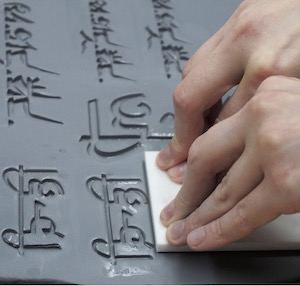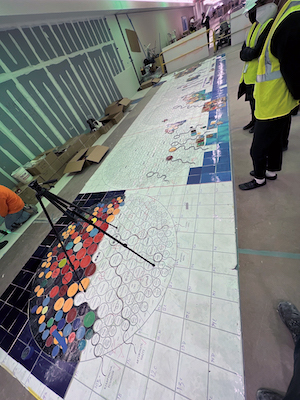 Installing the mural
The actual installation of the mural was accomplished by a union crew – Garcia Marble and Tile based in Manhattan. Juan Garcia immigrated to New York from Cuba at 8 years old, worked his way up to start his own company 30 years ago that is now the second largest union shop in New York City.
His son, Chris, managed this project. He had something else in mind when he first heard of a "mosaic art wall – maybe a simple 1″ x 1″ glass sheet mosaic" – he said. "The sheer size, different types of materials and detail involved of the wall had me wondering where to start – especially when I saw it had six large spheres consisting of both clay fired tiles and metal flight inserts. Circles inside of squares are always fun for us tile guys. Laying out this wall and making sure our tiles didn't drift apart from bottom of circle to top of circle was my biggest worry."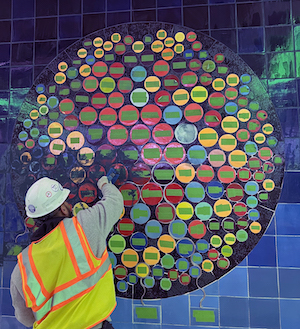 But Eron's true-to-size gridded printout – or the "bible" as Garcia called it – was a huge help, as it labeled everything down to the last sphere. "It made it possible for my team to focus more on the physical install and less on how to fit these pieces together. The clay spheres all had different languages stamped into the tile and some languages I had never seen before, so I couldn't tell you if the sphere was upside down or not!" Eron – and Ghani – were both essential is installing the circles right side up.
"The Worlds We Speak" can be enjoyed in the baggage claim area of LaGuardia Airport Delta Terminal C. And a web presence is in the works with QR code that will direct viewers to the website http://worldswespeak.com.
New York Tilemakers has a few irons in the fire currently, but there is a little breathing room. And Eron likes it that way. "For me tile is still an art," he said. "There is a business side of being self employed. But if there was more going on and more stress for me, the aesthetic side would suffer."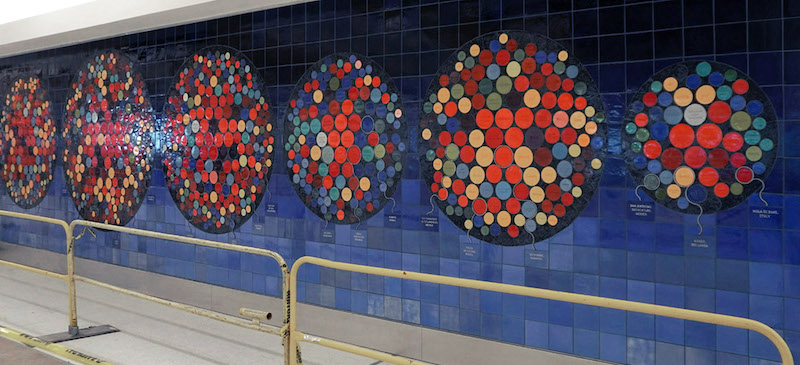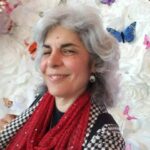 Editorial Director and Senior Writer for TileLetter and TileLetter ARTISAN
Lesley Goddin has been writing and journaling since her first diary at age 11. Her journey has taken her through a career in publishing and publicity, landing her the editor position of TileLetter and its special publications in 2006. Her goal is to educate, inspire, recognize and encourage those in the tile industry -- especially the tile and stone contractor. Other interests include the soft, purring marvels known as cats, labyrinth walking, drumming and percussion, and a range of spiritual, musical and artistic pursuits.