"We don't make mistakes. We make happy accidents." – Bob Ross
Here we are in midsummer – time for a check in. How is everyone doing?
I'm writing the last week of May, and I don't have a crystal ball that will tell me how conditions will be when you receive this magazine in July. Like many of you, I've experienced a lot of my social interactions online, including an inspirational church service I enjoyed just last week via Facebook Live. Minister Debbie O'Connor of the Unity Church of Albuquerque and Rio Rancho delivered a sermon that touched on the rules of improvisational comedy as a guide to getting through these times, which are unprecedented in our lifetime. And I just so happened to have a copy of Tina Fey's Bossypants in my library, which includes a dog-eared section that addresses these self-same rules of improvisation. These "rules" spoke to me, since more than anything these days, I feel like we are making up life as we go along.
So, in a nutshell, the rules are:
Agree, say yes – never say no. If the improvisational actor says, "I'm on fire," it grinds the skit to a halt to say, "No you're not." Fey says this rule invites you to start from an open-minded place. Basically, we are talking about acceptance. "Yes, we are in a pandemic, with a business to run." It gives us more room to move than rigidly shutting down. O'Connor says to think of it as "Given this, now what?"
Say "Yes, AND" – "You're on fire, AND I have these marshmallows to roast! Awesome!" ADD to the situation. "Yes, we are in a pandemic, with a business to run AND I can use this time to hone that marketing plan I've been putting off." Fey says, "YES, AND means don't be afraid to contribute…always make sure you're adding something to the discussion."
Make STATEMENTS. "Whatever the problem, be part of the solution. Don't just sit around raising questions and pointing out obstacles." She also says just asking questions just puts pressure on OTHERS to come up with the answers. Be definitive and claim your power with what you declare.
There are no mistakes – Maybe this is the most important rule, and one we probably never learned in school. You may start out in one direction (honing your marketing plan due to the looming pandemic), which may lead you to another path (attending a virtual training that helps you tackle a stubborn problem you've always had with installation). Leave room for "happy accidents," Fey says. Those who may be familiar with PBS artist Bob Ross knows he is famous for turning smudges or unplanned marks on his canvas into part of the scenery. "Ever make mistakes in life?" he asked. "Let's turn them into birds. Yeah, they're birds now."
At the heart of it, this is encouragement to accept what's before you and be creative, strong and gentle with yourself as you move through the current situation. We can strain and stress, but that's not going to be good for us physically or mentally and it stops the flow of creativity. Try these rules of improv and see if they don't improve your outlook or your approach to this phase of your business, and help you keep up – with more grace – in this fast-changing world.
In the meantime, check out our TileLetter content this month, from Scott Carothers' easy-as-pie recipe for creating expansion joints to Pavlo Starykov's findings on staining in marble showers, to Robb Roderick's chronicle of a day in the life of an NTCA trainer, to a profile of the husband-and-wife team of Eric and Jennifer Blumer of NTCA Member EJ Flooring. Also take a look at a recap of the historic, first-ever, virtual Coverings Connected.
Whatever you do, keep the faith.
God bless,
Lesley
[email protected]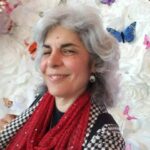 Editorial Director and Senior Writer for TileLetter and TileLetter ARTISAN
Lesley Goddin has been writing and journaling since her first diary at age 11. Her journey has taken her through a career in publishing and publicity, landing her the editor position of TileLetter and its special publications in 2006. Her goal is to educate, inspire, recognize and encourage those in the tile industry -- especially the tile and stone contractor. Other interests include the soft, purring marvels known as cats, labyrinth walking, drumming and percussion, and a range of spiritual, musical and artistic pursuits.